UConn works on new deal for Ollie as NBA speculation intensifies
The national-championship winning coach could end up as the highest paid coach in the American Athletic Conference.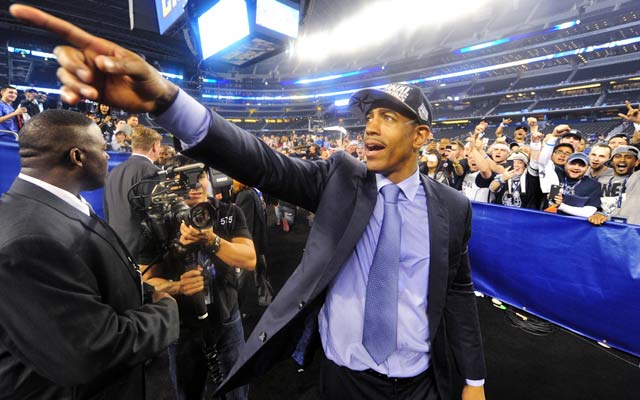 Kevin Ollie is renegotiating his contract with Connecticut but remains willing to listen to NBA franchises interested in possibly hiring him, a source confirmed to CBSSports.com on Friday.
Ollie led the Huskies to the national title this season.
He's reportedly a candidate to replace Mike D'Antoni with the Lakers.
Yahoo! Sports reported Friday that no NBA teams have contacted Ollie yet, but that's not stopping UConn from being proactive. ESPN.com reported that UConn's goal is to make Ollie the highest paid coach in the American Athletic Conference. Thus, it should be noted, that SMU coach Larry Brown's annual salary is nearly $2.8 million, according to USA Today. Memphis coach Josh Pastner makes $2.65 million per year.
Ollie made $1.25 million this past season.
Ollie, 41, is an obvious candidate for almost any NBA opening for a variety of reasons -- not the least of which is the fact that he's tight with Oklahoma City Thunder star Kevin Durant, who will become a free agent in July 2016. Ollie and Durant were teammates in OKC before Ollie joined Jim Calhoun's staff at UConn in the summer of 2010.
UConn is ranked 20th in the preseason Top 25 (and one).
Andrew Jones is Texas' second leading scorer

Oklahoma's star freshman has a father who has been there and done that

Kentucky now is at risk of slipping out of the Top 25 (and one)
Cherry's commitment gives ASU a top-20 recruiting class and its highest rated pledge since...

Matt Norlander is on a 11-7 run in college basketball picks and shares his best bets for W...

Kentucky losing this game probably cost it a shot at earning a high NCAA Tournament seed