UNC's Roy Williams is more underappreciated than overrated
Roy Williams' success as a college basketball coach was mostly dismissed in various polls CBSSports.com conducted over the past two summers. He was even labeled "overrated." But underappreciated seems more like it.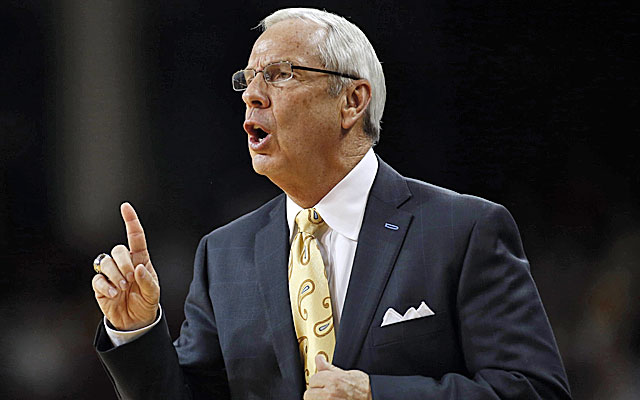 My colleagues and I spent part of the past two summers conducting a series in which various college basketball coaches were polled about topics connected to the sport. These men were granted anonymity in exchange for what we hoped would be honesty. The results were good and interesting. But I couldn't help but notice, after revisiting the data recently, that there was one coach who was consistently discounted by his peers.
The coach's name is Roy Williams.
Yes, North Carolina's Roy Williams. The one with seven Final Fours and two national titles. The one who was elected to the Naismith Hall of Fame in 2007.
Despite those achievements -- and those are some serious achievements -- Williams was voted as the nation's "most overrated" coach in the summer of 2012, edging Texas' Rick Barnes by six percent of the vote. Then, this summer, Williams didn't get a single vote when coaches were polled about the nation's best recruiter, this despite the fact that Williams has been an elite recruiter for more than two decades and had three top-25 prospects from the Class of 2014 committed at the time the poll was conducted.
So, to summarize, Williams is supposedly overrated despite 25 years of consistent winning, seven Final Fours and two national championships. And Williams supposedly isn't worthy of being mentioned among the sport's elite recruiters even though he's forever secured top prospects and is still doing it today, proof being the Class of 2014.
That's wild to me -- even though I think I understand the logic.
The logic, essentially, is that Williams has spent 25 years coaching only at Kansas and North Carolina, and that any competent coach could recruit well and win big at Kansas or North Carolina. On some level, I agree. There are inherent advantages to working at both of those programs. Nobody denies that. But to completely dismiss or discount Williams' role in his success at KU and UNC still seems unfair because even a man with a great job still has to, you know, do the job.
You still have to recruit.
You still have to take the recruits and win.
And considering there are countless examples of recruiting slipping at historically strong programs -- at Kentucky under Billy Gillispie, at Indiana under Mike Davis, at Texas right now, just to name a few, -- and countless examples of coaches taking great recruits and grossly underachieving with them, isn't it only fair that Williams gets some credit for consistently signing great recruits and consistently winning with them?
He's never had a losing season as a head coach. He's made the NCAA tournament in 23 of the 24 years his teams have been eligible for it. He's never been fired or even been on the so-called hot seat, which is almost impossible to avoid when coaching at elite programs with passionate fan bases for long periods of time.
Nobody has ever thought about firing Ol' Roy.
How many veteran college coaches can you say that about?
Tom Izzo? Rick Pitino? Bill Self? Jim Boeheim? Mike Krzyzewski?
I know there are others worth listing.
But the list is short.
And Roy Williams is most certainly on that list.
So why can't he get a little more respect than he gets?
I understand that some are turned off by Roy's aw-shucks routine, and it's fair to suggest he's mishandled the P.J. Hairston situation. But there's no denying that Williams is really good at running a basketball program, and I think it's worth reminding ourselves of that. Nobody dismisses John Calipari's recruiting at Kentucky because it's supposedly easy to get great recruits at UK, and nobody dismisses Billy Donovan's two national championships because he won them both with at least five future NBA players at his disposal. We just acknowledge, with little resistance, that Calipari and Donovan are both great at what they do because they've consistently been great for a pretty long time.
Perhaps it's time everybody viewed Roy Williams through a similar scope.
Because I don't think he's overrated, despite what the poll suggested.
But he sure does seem underappreciated.
It appears he's more than happy to pay up, given the circumstances

Lithuania seems ready for the Ball era to begin

The Sun Devils make a big jump and the Jayhawks slide after ASU pulls the big upset
Arizona's big man from the Bahamas balled out against two talented teams

Coach Shaka Smart doesn't expect him to be out for an extended period of time

Jackson isn't showing the Sun Devils much respect after beating KU