UNLV's Dave Rice has been offered head coaching position at USF
UNLV head coach Dave Rice has an offer on the table to replace Stan Heath at USF, CBSSports.com has confirmed.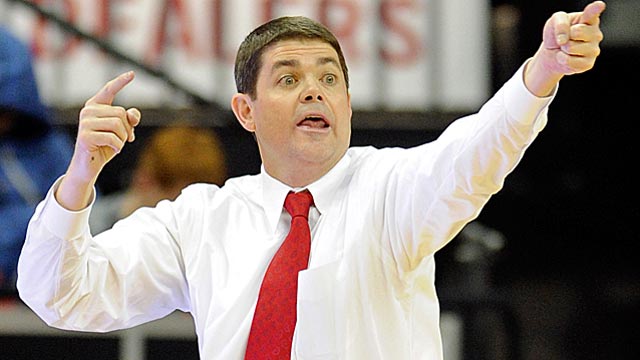 UNLV head coach Dave Rice has been offered the same position at the University of South Florida, a source confirmed to CBSSports.com on Friday.
The Las Vegas Review-Journal first reported the development. The deal on the table for Rice is five years at $1.2 million per year, according to the paper.
Rice, who just completed his third year with the Rebels, is 70-31 with two NCAA Tournament appearances. The 45-year-old UNLV graduate led the program to a 20-13 record in 2013-14, missing the postseason for the first time in his tenure. But the possibilities for next season are encouraging considering Rice has commitments from three elite recruits -- specifically Rashad Vaughn, Goodluck Okonoboh and Dwayne Morgan. Whether they would remain committed to the Rebels if Rice leaves is unclear. But the recruiting class is one obvious reason why UNLV officials might be willing to pay to keep Rice, because keeping Rice would mean keeping the recruiting class.
Earlier this week, a deal that would have brought Manhattan coach Steve Masiello to USF fell through when it was revealed Masiello did not complete his degree at the University of Kentucky, as his resume stated. 
Mikal Bridges' slam and an alley-opp started by Jalen Brunson showed Nova came ready to pl...

The Wildcats face a surging Stanford team that has risen as a potential Pac-12 contender

The reeling Mountaineers look to get back on track against Texas at home
Young is coming off his worst game as a Sooner and will try and bounce back vs. the Cowboy...

The first-ranked Wildcats travel to UConn to face a middling Huskies team that is 3-3 in league...

The men's and women's basketball teams were among the handful of events now cancelled