Upsets, injuries and wild endings headline Friday's NCAA Tournament
Mercer upset Duke. Iowa State lost a key player. Jarnell Stokes killed UMass. And why was VCU even contesting that Stephen F. Austin shot at the buzzer?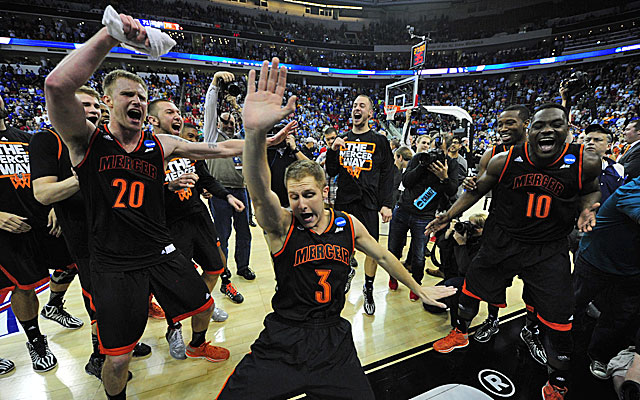 More NCAA hoops: Tournament bracket | Complete coverage of NCAAs | Latest news
ST. LOUIS -- Thursday was a historic day for the NCAA Tournament.
Friday was pretty good, too.
Did you miss anything?
Don't worry.
I've got you covered right here ...
Game of the day: It's hard to go with anything in this spot other than Mercer's 78-71 win over Duke because, you know, it was a Mercer win over Duke -- otherwise known as a No. 14 seed over a No. 3 seed. "This is what March Madness is all about," said Mercer guard Langston Hall, and, you know, it really is. March Madness is about a bounced-around coach like Bob Hoffman upsetting the winningest coach in Division I history, about an Atlantic Sun team tripping an ACC power. Where this Mercer story goes from here, who knows? But it's already a great story. And, by the way, if you're one of those who love kicking Duke when Duke is down, please, get your kicks in now because Duke won't be down long. Yeah, the Blue Devils will almost certainly lose Jabari Parker and Rodney Hood. But a killer recruiting class is on the way, and Mike Krzyzewski should have the ACC's best team next season even if Parker and Hood both enter the NBA Draft, which is scary but true.
Player of the day: Jarnell Stokes scored 26 points on 11 shots (and grabbed 14 rebounds) in Tennessee's 86-67 win over UMass, and now he's just a win over Mercer from leading the Vols to their first Sweet 16 since 2010. Stokes is averaging 22.0 points and 13.5 rebounds in this NCAA Tournament. He's the main reason Tennessee fans are no longer yelling for Cuonzo Martin to be replaced. Funny how that works, isn't it?
His great college career is over: Bryce Cotton scored 36 points in a 79-77 loss to North Carolina that doubled as his final game at Providence, and that's too bad because I really don't think he was properly appreciated. Cotton didn't have a single Division I, Division II or Division III offer until the Friars found him via a recruiting website in Arizona. Still, somehow, he scored nearly 1,400 points the past two seasons. The Big East will miss him.
His short college career is over: Oklahoma State sophomore Marcus Smart spent October as some people's preseason National Player of the Year. Now his college career is done courtesy of an 85-77 loss to Gonzaga, and, oddly, he ended up with more games missed because of a suspension (three) than he did NCAA Tournament wins (zero). Smart should be a top-10 pick in June's NBA Draft, regardless. But this season didn't even come close to going the way he (or most) envisioned it going, and that's too bad.
They really did it: Stanford lost three of its last four regular-season games and finished just 10-8 in the Pac-12. Still, the Cardinal is on its way to the Round of 32 with a 58-53 win over New Mexico that eliminated the Lobos from the NCAA Tournament earlier than projected for the 78th consecutive season. (Note: I'm not sure if that's true. But it feels true.)
They really blew it: VCU was up 60-50 with 3:16 left, ahead 65-59 with less than 40 seconds remaining, and in possession of a 67-63 advantage with less than four seconds on the clock in regulation, and do you realize how hard it is to lose from any of those spots? You really have to screw up to lose a game like this. And by screw up, I mean inexplicably foul a 3-point shooter on a made 3-pointer at the buzzer when you're up four points, which then allows the 3-point shooter -- in this case, Stephen F. Austin's Desmond Haymon -- to sink a free throw that forces an OT period in which you eventually lose 77-75. (My god, VCU. That was an all-timer. Why was JeQuan Lewis even contesting that shot?!?!)
They really looked the part: Wichita State isn't going to get credit for dismantling Cal Poly because Wichita State rarely gets credit for anything, and, I know, it was just Cal Poly. But the Shockers looked more like a No. 1 seed than any other No. 1 seed in their 64-37 win over the Big West tournament champions. They held Cal Poly to 20.7 percent shooting from the field. For what it's worth, the Mustangs played Arizona, Pittsburgh, Oregon and Stanford this season. None of those schools overwhelmed Joe Callero's team like Wichita State did.
Some notable numbers
0: That's the number NCAA Tournament wins Nebraska has recorded in history. The Huskers were looking for their first. But they lost 74-60 to Baylor in a game in which coach Tim Miles was ejected with 11 minutes to play.
2: That's the number of times in the past two years that Memphis has advanced to the Round of 32 -- this time thanks to a 71-66 win over George <span data-shortcode=" data-canon="Washington Huskies" data-type="SPORTS_OBJECT_TEAM" id="shortcode0">. Now Josh Pastner is once again just a victory away from his first Sweet 16.
4: That's the number of games Kansas has now won without Joel Embiid, who is sidelined with a back injury. The Jayhawks' fourth came courtesy of an 80-69 victory over Eastern <span data-shortcode=" data-canon="Kentucky Wildcats" data-type="SPORTS_OBJECT_TEAM" id="shortcode0">. They'll need to get one more Sunday to advance to the Sweet 16, at which point the future NBA Draft lottery pick is expected to return.
4: That's the number of schools Steve Alford has coached to a win in the NCAA Tournament -- after his UCLA Bruins cruised to a 76-59 victory over Tulsa. Alford has advanced in the Field of 68 with Southwest Missouri State, Iowa, New Mexico and now, of course, UCLA.
26: That's the number of field goals Arizona made in its 68-59 win over Weber State. The Wildcats only took 47 shots, which means they shot 55.3 percent from the field. Aaron Gordon was the best. He made 7 of 11 shots to finish with 16 points and eight rebounds.
30: That's the number of points Doug McDermott scored in Creighton's 76-66 win over Louisiana-Lafayette. The senior forward has scored at least 30 in four of the Bluejays' past five games. That's probably why it doesn't even seem like a big deal.
Sad story of the day: Iowa coach Fran McCaffery announced Friday that the thyroid tumor removed from his 13-year-old son Patrick on Wednesday was a malignant tumor. The statement, emailed to various writers in the afternoon, was tough to read. Thoughts are with Patrick and his family, obviously.
Unfortunate story of the day: Iowa State lost a key player during its 93-75 win over North Carolina Central -- namely Georges Niang. The 6-foot-7 forward fractured his foot in the second half. He's done for the year. He was averaging 16.5 points per game.
Possible unfortunate story of the day: Kentucky guard Andrew Harrison injured his right elbow toward the end of the Wildcats' 56-49 win over Kansas State. Officially, Harrison is listed as day-to-day by UK administrators. But banged-up is no way to be when you're about to go against Wichita State's Fred VanVleet for 40 minutes.
Coaching development of the day: Buzz Williams left Marquette for Virginia Tech in what was a surprising move to fans but not really to folks in basketball circles because it had been clear for weeks that Williams was ready to bolt Marquette for a variety of reasons. He didn't like not knowing who his next athletic director would be. He didn't like the Big East being on Fox Sports 1. Simply put, Williams was ready to move and determined to take the best job he could get this offseason, period. That job, apparently, is Virginia Tech. Either way, now Marquette is the top job available. Sources have told CBSSports.com that former UCLA coach Ben Howland is a target. He would listen, I'm certain. Also: He has three Final Fours.
Other coaching developments: There weren't really any others, honestly. I reported that Florida Atlantic's search has centered on Ohio State assistant Dave Dickerson, and, even if Dickerson takes FAU, there would still be two Conference USA jobs open -- specifically Marshall and Rice. Don't be surprised if Tony Barbee ends up in play for one (or both) of those jobs. Remember, before Auburn, Barbee coached in C-USA at UTEP, where he built the program and won 26 games in his fourth season at the school. If Barbee could win a tougher version of that league, one that included Memphis, then it stands to reason that he could replicate that success in this version of C-USA, which doesn't include Memphis. We'll see.
Three nice Round of 32 games now set for Sunday
Wichita State vs. Kentucky: It's the nation's only undefeated team (Shockers) vs. the nation's preseason No. 1 team (Wildcats). This is, I think, the most compelling Round of 32 matchup in NCAA Tournament history.
Virginia vs. Memphis: The contrast in styles should be noticeable from the tip. The Cavaliers will want to walk. The Tigers will want to run. Should be fun.
Creighton vs. Baylor: How will Doug McDermott attack the Bears' zone? I can't wait to find out. And I bet you can't wait, either -- provided your name isn't Scott Drew.
Final thought: The lasting image from Mercer's upset of Duke will forever be of the Mercer players celebrating, dancing, genuinely enjoying the moment, and it was awesome to watch. But I hope you also noticed the way Mike Krzyzewski handled the whole thing.
That was awesome, too.
Say what you want about Coach K (and I know you will), but he seems to have reached a point in his career where he realizes how much victories against him mean to the opponent, and he always appears to go out of his way to make sure he's gracious in defeat. Obviously, this loss stings, and it should. But Krzyzewski still made time to go into the Mercer locker room to address the players who had just ended his season, and I just think that's terrific.
Friday was the biggest day in the history of Mercer basketball.
The Bears beat Duke.
Then they got a private pep talk from the winningest coach of all-time.
What's better than that?
Vegas legend Kenny White has nailed 3 straight UNC picks and just made a play for Monday's...

Josh Nagel has almost two decades of handicapping experience and locked in a play for Monday's...

The Wildcats stumbled to an 0-2 record this week and fell out of the top 25
Gary Parrish and Matt Norlander also get into Trae Young's 48 points on 39 shots at Oklahoma...

The Wildcats had been ranked for 68 consecutive weeks

The Wildcats and Sooners have lost their last two games and drop in Jerry Palm's latest br...