USBWA nails its 12-member Midseason Oscar Robertson list
Usually, I love to pick these lists apart -- whether it's the Wooden, Naismith or Oscar Robertson awards. However, the U.S. Basketball Writers Association did a terrific job in identifying the 12 players who deserved to be on the midseason list for the Oscar Robertson award.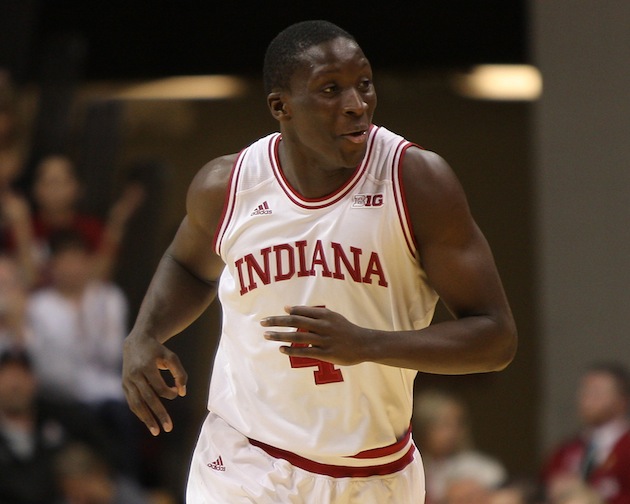 Victor Oladipo's strong recent performance found him a spot on the midseason watch list. (US Presswire)
I'm not just saying this because it's a collection of the best writers in college hoops, but the U.S. Basketball Writers Association (USBWA) panel got it right with the 12 members of the Oscar Robertson Midseason Watch List. I don't have a single complaint -- and that's extremely rare for me. OK, well, I might have found a spot for Georgetown's Otto Porter -- but it's not an egregious omission. 
Those involved in the call, according to USBWA president John Akers, were the following: Dana O'Neil (ESPN), Frank Burlison, Kirk Wessler (Peoria Journal-Star), Pat Forde (Yahoo) Matt Vautour (Daily Hampshire Gazette), Kevin Armstrong (New York Daily News), Steve Wiseman (Durham Herald-Sun), Mike Lopresti (USA Today), Tom Keegan (Lawrence Journal World), Wally Hall (Arkansas Democrat-Gazette), Tom Kensler (Denver Post) and Chris Dortch (Blue Ribbon). 
The award will be presented to the National Player of the Year on April 15 in Oklahoma City, along with the Henry Iba Coach of the Year Award and the Wayman Tisdale Freshman of the Year Award: 
Here are the dozen players on the list (in alphabetical order). 
Anthony Bennett, F, Fr., UNLV
Trey Burke, PG, Fr., Michigan
Michael Carter-Williams, PG, Soph., Syracuse
Doug McDermott, F, Jr., Creighton
Ben McLemore, 6-5, SG, RS Fr., Kansas
Victor Oladipo, 6-5, SG, Jr., Indiana
Kelly Olynyk, 7-0, C, Jr., Gonzaga
Mason Plumlee, 6-10, C, Sr., Duke
Russ Smith, 6-0, G, Jr., Louisville
Deshaun Thomas, 6-7, F, Jr., Ohio State
Jeff Withey, 7-0, C, Sr., Kansas
Cody Zeller, 7-0, C, Soph., Indiana
Andrew Jones is Texas' second leading scorer

Oklahoma's star freshman has a father who has been there and done that

Kentucky now is at risk of slipping out of the Top 25 (and one)
Cherry's commitment gives ASU a top-20 recruiting class and its highest rated pledge since...

Matt Norlander is on a 11-7 run in college basketball picks and shares his best bets for W...

Kentucky losing this game probably cost it a shot at earning a high NCAA Tournament seed