USC fires head coach Kevin O'Neill
Kevin O'Neill has been removed as the head coach at USC, the school announced on Monday morning.
• 1 min read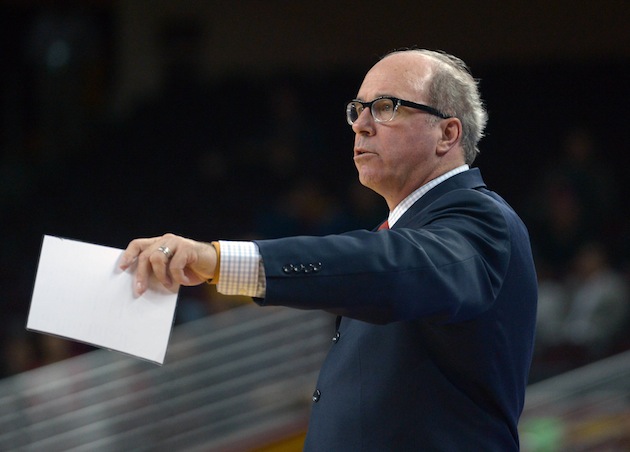 Kevin O'Neill was fired by USC after going 48-65 in four years with the Trojans. (US Presswire)
Kevin O'Neill has been removed as the head coach of USC , the school announced on Monday morning.
"It was hard for me to evaluate him as a head coach until this year when he had enough players and veterans to compete," athletic director Pat Haden said in a statement. "As the season progressed, it became evident to me that we needed new leadership in our men's basketball program."
Assistant coach Bob Cantu will serve as the interim head coach while the athletic department begins a search for O'Neill's replacement.
"I enjoyed my four years at USC," O'Neill said. "I would encourage all of our recruits to honor their commitment to USC and help build the Trojan program in the right direction."
USC was optimistic before the season, as several transfers became eligible and the Trojans returned most of their production from a year ago. However, they suffered a five-game losing streak during the nonconference season, and are just 7-10 on the season.
Interestingly, USC beat Utah by 17 over the weekend on the road. That, however, was not enough to save O'Neill.
"Despite a nice road win in our last game, I felt it was best to make a change now, with most of the Pac-12 season still ahead of us, in order to re-energize our team," Haden said.
O'Neill went 48-65 in four years at USC.
The FBI investigation took another high-profile twist

The Zags are ranked No. 9 in the CBS Sports Top 25 (and 1)

Davis is averaging 8.8 points and 2.4 rebounds per game this season
CBS Sports reached out to coaches across the country to get their reaction to Friday's huge...

Our advanced model simulated Saturday's Creighton vs. Villanova game 10,000 times

The ex-UCLA star says college players are getting paid under the table, so it's time to legalize...