Valpo signs Bryce Drew to 10-year contract
The young coach has signed on for a decade at his alma mater, the place where he's known for hitting the biggest shot in school history.
• 1 min read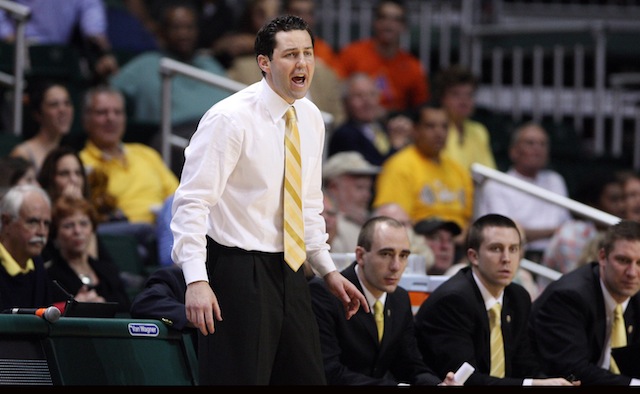 Valparaiso University announced on Wednesday that it has signed coach Bryce Drew to a 10-year contract.
It's big news for the school and Drew, who is in his third season and off to a 7-5 start this year. Overall Drew has a 55-25 record since taking the job from his father, Homer, a legend who spent decades with the Crusaders. He's won the past two regular-season titles in the Horizon League.
Drew is most famous for hitting the winning shot in 1998 in the first round of the NCAA tournament that beat Ole Miss when Valpo was a 13 seed.
"We are thrilled to have a coach of such high caliber for our men's basketball team," school president Mark A. Heckler, Ph.D., president. "Bryce Drew demonstrates extraordinary leadership, integrity and character, and I am confident he will continue to develop Valpo student-athletes who exhibit these same characteristics."
The school noted in a release that Drew's march to 50 wins was the fastest to that mark in school history and "is one of just three coaches in Horizon League history to lead teams to regular season titles in each of their first two seasons as a head coach."
"I love coaching at Valparaiso University. The leadership on our campus radiates what is exceptional about collegiate athletics and the college experience," Drew said in a release. "I feel extremely blessed to work under such great leadership and for such a great university. I definitely have a place in my heart for Valpo. Growing up I remember enjoying watching my dad and brother put their passion into building Valpo's basketball program."
The Wildcats' resume doesn't seem too impressive right now

Was there contact? 'Everybody saw it,' UK coach John Calipari said

After losing its second game this week, a deep NCAA Tournament run looks far-fetched for U...
Coach K shows he is on on top of his game by landing the best three prospects in the Class...

The Buckeyes and Boilermakers continue to assert their dominance in the Big Ten

The 5-star phenom was thought to be headed to Clemson, but was swayed to the Blue Devils