Vanderbilt's Wade Baldwin to declare for NBA Draft: What you need to know
Point guard Wade Baldwin will declare for the draft and hire and agent, according to a report from CBS Sports' Jon Rothstein. Here's a scouting report on why he's so highly valued.
The turnover at Vanderbilt continues. With long-time coach Kevin Stallings on the way out, it appears the point guard he once threatened to kill will also be departing as well. 
Point guard Wade Baldwin will declare for the draft and hire and agent, according to a report from CBS Sports' Jon Rothstein. Baldwin has since denied the multiple reports that he will declare, but in the spirit of completeness let's take a look at where his stock lies at this point.
Baldwin had the breakout season many -- yours truly, included -- scouts expected, scoring 14.1 points and dishing out 5.2 assists while also grabbing four rebounds per game for the Commodores this season. He's currently seen as a likely first round pick, and is the No. 22 overall player on the CBS Sports NBA Draft Big Board. 
It's worth noting though that scouts are relatively divided on Baldwin. This largely has to do with the fact that, at this stage, Baldwin is more of a tools-oriented prospect than a player that has produced at the highest levels. The numbers are solid, but what Baldwin brings is a higher upside than most of the secondary point guard prospects can provide. 
Baldwin is a 6-foot-3 point guard with a ridiculous 6-foot-10 wingspan (per DraftExpress). That plus-7 wingspan inch increase compared to height is the biggest difference in a point guard prospect since Rodrigue Beaubois in the 2009 NBA Draft. He's not an elite athlete, but he's a good one, and that shows on both ends of the floor.
On offense, Baldwin is a north-south point guard that gets downhill quickly and gets into the paint with a good first step. Once he's there, he has solid vision to make kickout passes to shooters and also has the explosiveness to get all the way to the rim. However, one problem Baldwin had this year was finishing inside in halfcourt settings. Per Synergy, Baldwin only finished 38.2 percent of his shots around the basket, a significant drop from an already below-average rate of 47 percent as a freshman. Now, part of the issue for Baldwin was simply the nature of the Vanderbilt offense, which was predicated upon post-ups and kept bigs inside the paint to protect the rim.
But the issue overall with Baldwin is that there isn't much in the way of shiftiness to his game. That shows both in his attempts around the rim and in his attack off the dribble. Baldwin doesn't really have much in the way of counter-moves if you take away his first option at the rim, and it results in some wild attempts. He gets fouled sometimes on those wild attempts -- his free throw rate of .614 is superb -- but when he doesn't it gets tough for him to finish through size. It's the same on the perimeter, where it's relatively possible to neutralize him if you can just move your feet to stay in front.
The key for Baldwin offensively in the NBA will be to develop those counters to the defense, as the athleticism increase could lead to issues. Better hesitation moves, better crossovers. Generally, he just needs to add better change of pace and direction to his game, as that would also help him limit his 18.2 turnover rate. 
One thing I haven't yet discussed on offense though is Baldwin's ability to shoot the basketball. That's where he differentiates himself from many long-armed point guards. Baldwin has hit 42 percent of his 3s over his college career, and exactly 80 percent of his free throws. He's particularly good off of the catch, where he shoots at a 62.3 effective field goal percent. That -- along with his length, makes him a relatively intriguing option in two point guard systems, as well as in offenses like Houston's where there is a lead ball-handler at the 2-guard position. 
That length translates on defense, too, where Baldwin can terrorize offenses with his ability to move his feet, get into passes lanes, and generally wreak havoc. His arms and large hands allow him to cover ground quicker than most, and his instincts generally helped him force turnovers in college. However, like with most players his age, Baldwin's focus can waver on that end. Like his offensive game, the tools Baldwin has are more intriguing than what we've actually seen consistently.
Potential is the name of the game for Baldwin. The tools are there. He's a big, long-armed player who can legitimately play the point due to his vision but can also guard multiple positions due to his size and length. Those players are highly valued in today's game. But so far, that hasn't quite led to the elite production that his tools would predict. He just hasn't quite diversified his skill set enough, he can get a bit reckless, and his defensive effort level isn't always quite what you'd hope. 
In a normal draft with the normal level of point guard, that would probably translate to him being a second round pick that a team takes a flier on and sees if things work out. But in this draft, which is weak overall but particularly at the point guard position behind Kris Dunn, Baldwin will likely be taken in the first round and allowed to develop over the next couple of years.
There are a lot of potential outcomes here. If he can improve his ball-handling skill and make better decisions, he could become a solid starting point guard. If that never comes and he improves his defensive intensity, he could become something like a Patrick Beverley type in that he could be a good "off-ball" point guard who can play next to a lead ball-handler. Or maybe he only gets marginally better and becomes a bench weapon or possibly doesn't quite make it in the league.
There's enough there though for Baldwin to be a project worth taking on though. If a team takes the time to work with him over the next couple of years, his upside is as high as anyone else's beyond Dunn's.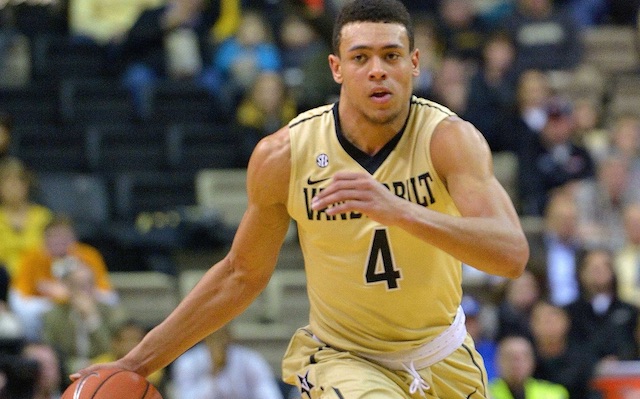 CBS Sports HQ Daily Newsletter
Get the best highlights and stories - yeah, just the good stuff handpicked by our team to start your day.
Please check the opt-in box to acknowledge that you would like to subscribe.
Thanks for signing up!
Keep an eye on your inbox for the latest sports news.
Sorry!
There was an error processing your subscription.
Class of 2019 standout picked the Mountaineers over a slew of other high-major offers

Williamson scored 14 points in a Duke scrimmage that resulted in a 44-39 win for his team

Gary Parrish and Matt Norlander spend 80 minutes discussing every big headline from the we...
Sister Jean's Loyola-Chicago Ramblers may very well be back in the mix for a spot in this year's...

Commissioner Bernadette McGlade's message to her coaches: Take chances and schedule aggres...

Wade said he's never done business of any kind with Christian Dawkins