VCU sees recruiting uptick since Final Four; what about Butler, GMU?
How much of a recruiting bump has VCU seen its Final Four run in 2011? What about George Mason and Butler? We take a look.
• 3 min read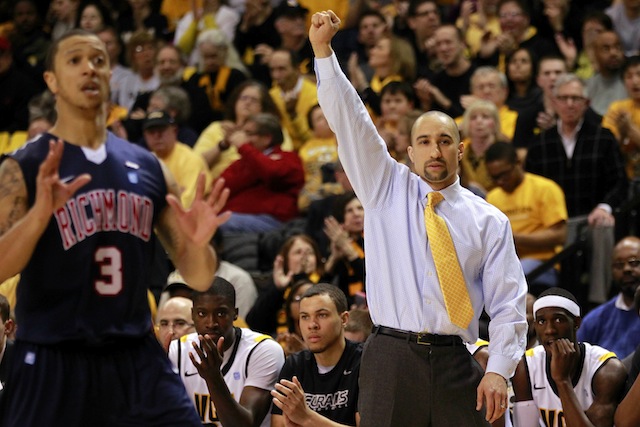 VCU Rams made a big move in the recruiting world on Monday, picking up a commitment from top-50 forward Terry Larrier. The 6-foot-8 New York native chose the Rams over Connecticut, although schools like Miami, Florida, Florida State and Seton Hall were also on his final list. Larrier was the highest-ranked recruit Shaka Smart has landed in his five seasons as the head coach of VCU.
Which, of course, got us thinking. Would Larrier have chosen VCU in its pre-Final Four days? Probably not. So how much of a bump have the Rams received from reaching the national semifinals back in 2011? Turns out, they've improved their recruiting significantly over the past three seasons. But what about Butler Bulldogs and George Mason Patriots ?
To get a better understanding of how recruiting changed at each of these schools, we went through the three recruiting classes prior to the Final Four year and the three recruiting classes after the Final Four season.
 Here's the complete breakdown. (All ratings are from Scout.com.)
George Mason
2003 – Kevin Mickens (2 stars)
2004 – Jordan Carter (2), William Thomas (3), John Vaughn (2), Folarin Campbell (2)
2005 – Sammie Hernandez (3), Chris Fleming (NR)
2006 –

Andre Smith

(3 JC), Louis Birdson (3), Darryl Monroe (3)
2007 – Jay Threatt (2), Vlad Moldoveanu (3), Cam Long (2), Isaiah Tate (2)
2008 – Michael Morrison (2), Ryan Pearson (3),

Kevin Foster

(3), Andre Cornelius (3)
2009 –

Sherrod Wright

(3),

Luke Hancock

(2), Johnnie Williams (2),

Paris Bennett

(2),

Rashad Whack

(2)
George Mason's recruiting didn't see much of an uptick in the classes following the Final Four season. Prior to the Final Four, the Patriots had two 3-star players, four 2-star players, and one player who wasn't rated. In the three years following, Mason saw itself pick up four 3-star prospects and eight 2-star prospects. They clearly were getting more recruits, and there was a slight improvement in the quality. Interestingly, the best class they signed was during the Final Four season of 2006, although only one of the three prospects actually committed after the run to Indianapolis. Jim Larranaga was the head coach from 1997-2011, before leaving for Miami.
(I've received some comments about this, so I will note it. While Mason didn't suddenly get four-star recruits, they did increase the talent level of the program. Ryan Pearson was the CAA Player of the Year, Sherrod Wright has been a big-time scorer, and Luke Hancock was the Final Four MVP with Louisville. Moreover, they rolled through the league in 2011 -- when VCU went to the Final Four.) 
Butler
2007 – Matt Howard (3), Zach Hahn (2)
2008 – Ronald Nored (2), Shelvin Mack (2), Gordon Hayward (2), Garrett Butcher (2),

Chase Stigall

(2)
2009 –

Andrew Smith

(3)
2010 –

Khyle Marshall

(3), Chrishawn Hopkins (3),

Erik Fromm

(2)
2011 –

Kameron Woods

(3),

Jackson Aldridge

(2),

Andrew Smeathers

(3),

Roosevelt Jones

(3)
2012 – Chris Harrison-Docks (3),

Devontae Morgan

(2),

Kellen Dunham

(4)
2013 – Elijah Brown (3), Rene Castro (3), Andrew Chrabascz (3), Nolan Berry (3)
2014 – Tyler Wideman (3) 
The Bulldogs are an interesting case, mostly because they had back-to-back Final Four campaigns. Prior to the back-to-back national semifinal trips, Butler added two 3-star prospects and six 2-star players. In the three classes following both Final Four appearances, the Bulldogs clearly recruited at a higher level: one 4-star prospect, six 3-stars, and just one 2-star prospect. The Bulldogs also had improvement from 2010 to 2011, after the first run to the Final Four. Brad Stevens was on staff for each of these recruiting classes, being named the head coach in April 2007. Of course, Stevens left this offseason to coach the Boston Celtics.
VCU
2008 – Bradford Burgess (3), Terrance Saintil (2)
2009 – Issaih Grayson (2),

Troy Daniels

(3),

Darius Theus

(2)
2010 – Heath Houston (2), Toby Veal (2 JC),

Juvonte Reddic

(3),

D.J. Haley

(2),

Reco McCarter

(2),

Rob Brandenberg

(2)
2011 –

Mo Alie-Cox

(NR), Jared Guest (NR),

Teddy Okereafor

(2),

Treveon Graham

(2),

Briante Weber

(2)
2012 –

Melvin Johnson

(4),

Jordan Burge

ss (4),

Justin Tuoyo

(3)
2013 – Antravious Simmons (3), Jairus Lyles (3), JeQuan Lewis (3)
2014 – Terry Larrier (4), Justin Tillman (3), Jonathan Williams (3)
VCU undoubtedly had the biggest bump after the Final Four season. In the three seasons before the Final Four run, the Rams nabbed three 3-star prospects and eight 2-star prospects. And the three after? Three 4-star players and six 3-star players. VCU has become a legitimate option for top-100 caliber prospects, and the Rams are not afraid to get involved with a variety of high-major players. Of course, there was another factor at VCU that began after the 2009 season: Shaka Smart. Smart was named the head coach in the spring of 2009 after Anthony Grant left for Alabama. The Final Four run put the Rams on display – but it also put Smart and his HAVOC system in front of the nation. It's an attractive style of play for recruits.
Moreover, conference realignment was a factor for VCU and Butler – both moved to the Atlantic 10 prior to last season, and George Mason is joining them this season.
Obviously, recruiting is not the be-all, end-all way of judging a program. After all, each of these teams reached the Final Four despite recruiting at a "lesser level" than they are now.
Nov. 10 will be here before you know it so here's what you need to know

The league would be wise to treat that series like the ACC treats Duke-North Carolina

Pacific is penalized after the NCAA found academic rules were broken
Arizona, for no good reason, doesn't have to play at USC or UCLA this season

We look at the 'Major 7' leagues and give you the best of what's to come in conference play...

Louisville's coach predicts a change is coming to the NBA's one-and-done rule by 2019