VIDEO: Nik Stauskas is now ripped and can dunk like a freak
The Michigan wing came on strong near the end of last season. Now he's looking very strong and jumping very high.
• 1 min read
Nik Stauskas earned a reputation primarily as a multi-faceted shooter for Michigan's national runner-up squad last season. While he certainly can grip and rip, in reality, Stauskas' offensive game has always been more than just living beyond the 3-point line. Fans and pundits of college hoops will likely come to realize that fact this season, now that Trey Burke and Tim Hardaway, Jr. are making a living playing basketball at the NBA level.
Stauskas' responsibilities will go up, and Michigan should remain a top-25 team throughout the season, in part, because of his impact. Evidence of Stauskas' hard work has come to the Internet. First, you see his improved jumping ability in the video above, which has been on YouTube for two months now.
Then, there's also this, the picture below, via Reddit's college basketball page. Thanks to an offseason devoted to countless hours in the gym, Stauskas added approximately 15 pounds of muscle and looks ready for an extras role in that sequel to 300 that comes out in March.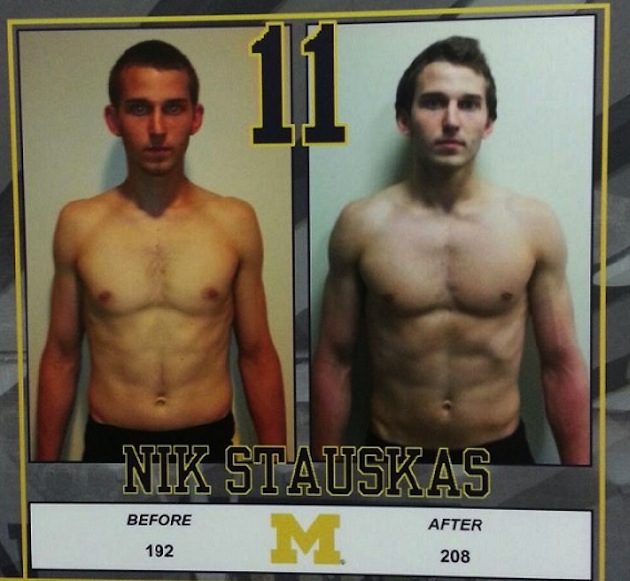 Hmm. Now I'm wondering if 68 was maybe too low to rate Stauskas. Every preseason comes with coachspeak about how guys "really worked hard over the summer" and "are buying in" and all that yada yada. At least with Stauskas the proof is right here in front of us.
(H/T, CBT)
Quickley played for John Calipari this summer with USA Basketball

A revamped Erwin Center is part of a $4.25 million upgrade to the Longhorns' hoops facilit...

Nov. 10 will be here before you know it so here's what you need to know
The league would be wise to treat that series like the ACC treats Duke-North Carolina

Pacific is penalized after the NCAA found academic rules were broken

Arizona, for no good reason, doesn't have to play at USC or UCLA this season