Viewer's Guide: ACC-Big Ten Challenge starts with top-25 battle
Monday brought a classic between UConn and Florida -- can the ACC-Big Ten Challenge keep the momentum rolling?
• 3 min read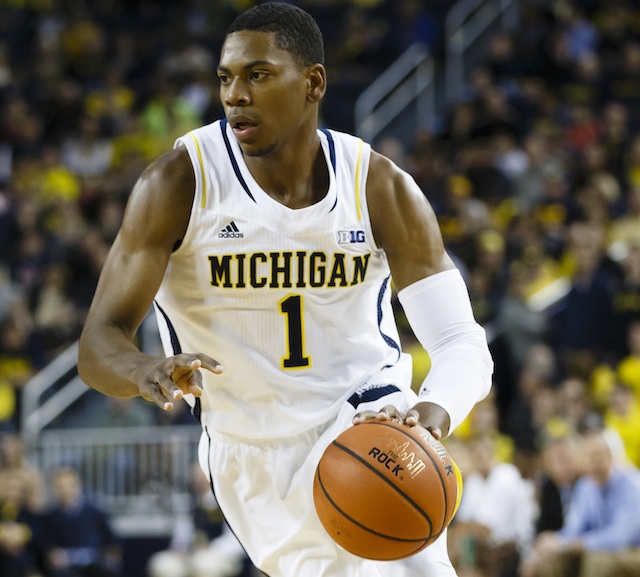 Tuesday starts the ACC-Big Ten Challenge – and Gary Parrish has a complete preview of the 12 matchups in the event. As he said, the top matchups are not as intriguing as they looked a few weeks ago, but it still brings us quality mid-week games in early December. Can't complain.
Note: All times are Eastern, and the rankings are according to the AP Poll.
Best game: No. 22 Michigan at No. 10 Duke (9:15 p.m., ESPN). This game looked a lot better back in the preseason, when both teams were ranked in the top 10 and Michigan was coming off a title game appearance. Now, both teams have two losses and Michigan has had injury issues. However, there are some very intriguing matchups to watch. Glenn Robinson III will go up against either Jabari Parker or Rodney Hood, while Nik Stauskas will also face an interesting head-to-head battle. It could come down to the point guard play – who will be more consistent, Quinn Cook or Derrick Walton?
Second-best game: Indiana at No. 4 Syracuse (7:15 p.m., ESPN). A rematch of last season's Sweet 16 battle, in which Syracuse knocked off top-seeded Indiana by 11. I expect a similar outcome on Tuesday. The Hoosiers have struggled from the perimeter this season, and Syracuse's 2-3 zone could cause issues. Moreover, the Orange thrive off turnovers, and Indiana ranks toward the 300s in offensive turnover percentage. With that said, Indiana is coming together far quicker than anticipated, and is going to be a tough out come March. Syracuse and C.J. Fair have the edge on Tuesday, though.
Another one to watch: Notre Dame at No. 23 Iowa (9:15 p.m., ESPN2). Two teams that entered the season as borderline top-25 (or better) clubs, and should be NCAA tournament teams at the end of the day. Notre Dame hasn't done much this year, losing by 13 at home to Indiana State, and beating up on some bad teams. Meanwhile, Iowa started 7-0 before falling in overtime to Villanova at the Battle 4 Atlantis. Iowa's defense has been outstanding so far, but it will be tested by the backcourt of Jerian Grant and Eric Atkins.
Guaranteed win: South Carolina State at Clemson (7 p.m., ESPN3). The Tigers should easily cruise in this one – which will move them to 7-1 on the season. Now I'm not saying Clemson is ready to compete in the ACC, but it's been a good start for them. The Tigers are locking up on the defensive end, and K.J. McDaniels has emerged as one of the better players in the conference. It wouldn't be shocking to see Clemson enter ACC play at 10-2.
Potential upset: There aren't any obvious upsets on the docket, so we'll just go with a couple close spreads where the "underdog" could get a road win. First, Colorado trips to Colorado State (9 p.m., ESPN3) in an intrastate battle. The Rams have actually been better than expected, but Colorado seems to be figuring it out after its opening-night struggles against Baylor. Next, Florida State visits Minnesota (9:30 p.m., ESPNU), and I think the Gophers are going to have a ton of trouble against Florida State's big men.
Three things to keep an eye on:
Penn State is going to be better than it was a year ago, but a road trip to Pittsburgh is no easy task (7:30 p.m., ESPNU).
An interesting battle between unbeatens takes place when Utah visits Boise State (10:05 p.m., CBS Sports Network).
Both Illinois and <span data-shortcode= Tech" data-canon="Georgia Bulldogs" data-type="SPORTS_OBJECT_TEAM" id="shortcode0"> are trying to make a run at the top half of their respective leagues – is either good enough? (7:15 p.m., ESPN2)
Other games to watch:
UC Santa Barbara at No. 18 UCLA (11 p.m., Pac-12 Network)
John Calipari's team gets a healthy home win over Alabama, and UK fans can finally calm th...

McLemore was taken to a nearby hospital for further evaluation

Bagley is leading the Blue Devils in scoring and rebounding
The Sooners lost their fifth straight and eighth out of their last 10

The school shooting, which took place on Wednesday, was only about 50 miles from Coral Gab...

The 25-0 Huskies look to keep their perfect season alive against Temple