Viewer's Guide: All eyes on Duke-Carolina
Duke's trip to North Carolina was postponed due to weather last week. But it's on for Thursday.
• 3 min read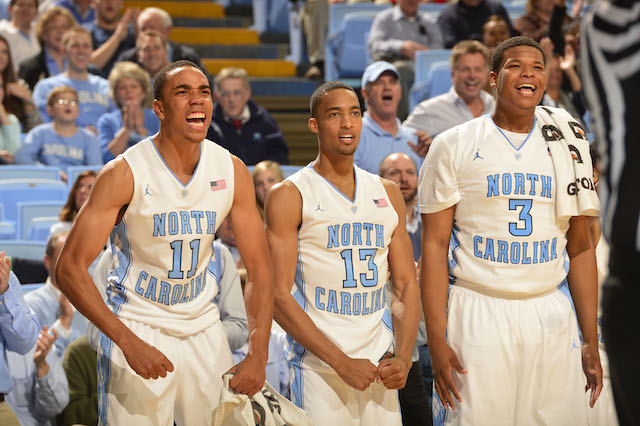 Wednesday might have been the best weekday of the college basketball season thus far. Syracuse lost its first game of the season, and three other top-10 teams were taken to the wire. I'm assuming Thursday won't have the same pop – but it's hard to say that when it's highlighted by one of the best rivalries in sports.
Note: All times are Eastern, and the rankings are according to the AP Poll.
Best game: No. 5 Duke at North Carolina (9 p.m., ESPN). Postponed from last week, Duke-Carolina is certainly the biggest game of the night. Duke is starting to play like one of the best teams in the country again, winning nine of its last 10 – with the lone loss coming in overtime at the Carrier Dome. North Carolina has solidified itself with seven straight wins, a stretch that includes a win over Pittsburgh and Monday's road victory at Florida State. Both teams are in the midst of a brutal stretch, with three games in five or six days. The key could be whether Duke can slow down North Carolina's big guys at the rim and on the glass, while UNC has to defend the perimeter.
Second-best game: No. 25 Gonzaga at BYU (11 p.m., ESPN2). One of the biggest WCC games of the season. It isn't a vintage Gonzaga team, but the Bulldogs are still 13-1 in the league and are heading toward yet another conference championship. BYU needs a win for its at-large resume. The Cougars have won 10 of their last 13 games, but they need another top 50 win to help their bubble chances. There are also too many bad losses on the resume. Gonzaga won the first meeting by 15, but the Cougars really struggled shooting from the perimeter – and BYU allowed Kevin Pangos and Gonzaga to get too many open shots.
Another one to watch: No. 13 Michigan State at Purdue (7 p.m., ESPN). The Spartans suffered a shocking home loss to Nebraska over the weekend, meaning they are just 3-4 in their last seven games. Injuries are having an impact, but their chances of a No. 1 seed dwindle with every loss. On the other side, Purdue is starting to play better, especially at home. The Boilermakers have won two of their last three games, including home victories over Minnesota and Indiana. The battle on the glass will be key, as will the play of A.J. Hammons. He has the potential to be a difference-maker, but is too inconsistent.
Guaranteed win: Syracuse's loss to Boston College was my first guaranteed win to lose this season, and the streak won't move to two. Two one-loss conference leaders are in action, and wins should be on the way. Georgia State lost its first Sun Belt game of the season over the weekend, but the Panthers should bounce back against Louisiana-Monroe (7 p.m.). Then Northeast Conference frontrunner Robert Morris looks to keep its three-game lead with a game against LIU-Brooklyn (7 p.m.).
Potential upset: Georgetown at Seton Hall (9 p.m., CBS Sports Network). When I first chose this game, it was because I thought Seton Hall was a threat to win this game at home. Then I looked at the spread, and Georgetown is a two-point underdog in some places. Therefore, I'm including this game because I think Georgetown gets a key road win. The Hoyas have played themselves into the NCAA tournament hunt, but a road loss could see them drop below the cutline.
Three things to keep an eye on:
No. 22 Memphis suffered a tough overtime loss at Connecticut over the weekend, but the Tigers should bounce back at Rutgers (7 p.m., CBS Sports Network).
No. 21 Connecticut has won nine of its past 11 games, and the hot stretch should continue at Temple (9 p.m., ESPN2).
Three bubble teams can't afford a loss: Nebraska (vs. Penn State, 7 p.m., ESPNU), Stanford (vs. USC, 11 p.m., Pac-12 Network), and Saint Mary's (at San Francisco, 11 p.m., ROOT).
Andrew Jones is Texas' second leading scorer

Oklahoma's star freshman has a father who has been there and done that

Kentucky now is at risk of slipping out of the Top 25 (and one)
Cherry's commitment gives ASU a top-20 recruiting class and its highest rated pledge since...

Matt Norlander is on a 11-7 run in college basketball picks and shares his best bets for W...

Kentucky losing this game probably cost it a shot at earning a high NCAA Tournament seed