Viewer's Guide: Boston College, Maryland need a win on Thursday
Neither Maryland or Boston College has looked particularly impressive this season -- and both need a win in their ACC opener on Thursday.
• 2 min read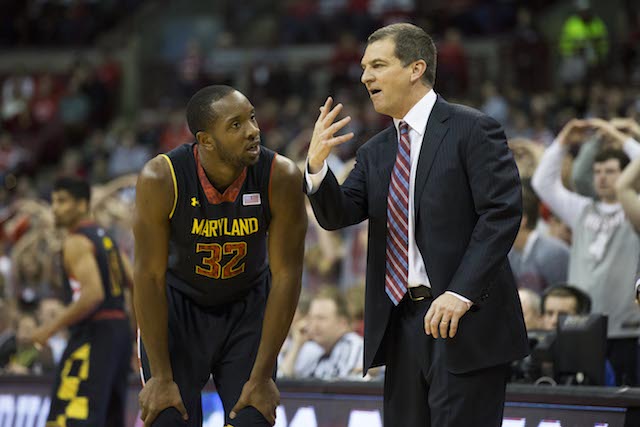 Thursday is a very quiet night on the college basketball docket, with only six games scheduled. However, two ACC teams begin their conference slate – with both teams struggling mightily after one month of the season.
Both Maryland and Boston College were expected to push for the NCAA tournament this season, with the Terrapins and Eagles trying to break into the upper half of the ACC. Neither has played anything close to an NCAA tournament team, though. Maryland is just 5-4 on the season, with back-to-back losses to Ohio State and George Washington (in addition to a home loss to Oregon State). There have been signs of promise, include three neutral-court wins in the Virgin Islands before Thanksgiving.
Meanwhile, Boston College has been one of the bigger disappointments of the season. The Eagles had plenty of optimism heading into the season, but it's dissipated completely. They are 3-6 after nine games, including back-to-back blowout losses at Purdue and USC. The lone wins were close victories over Sacred Heart and Florida Atlantic, and against Washington in New York.
With that said, the middle of the ACC isn't as strong as it looked back in October. Syracuse and Duke are solid at the top, while Pittsburgh and North Carolina are in the top 10 at KenPom.com. However, Virginia and Notre Dame haven't lived up to expectations, and there is no one else besides Florida State that looks like a clear-cut threat to finish in the top-half of the conference.
Can either team turn it around?
Maryland has been a mess offensively, primarily because it has lacked consistent point guard play. Seth Allen was supposed to take the reins this season, but he fractured his foot in the preseason and won't be back until early January at the earliest. Dez Wells has shifted over to the point guard position, but he's not a pure point, and has turned it over too often. Roddy Peters has shown flashes, but he too has been careless with the ball. As a team, the Terrapins rank toward the bottom of Division-I in turnover percentage. Once Allen comes back, that should improve – but will it be too late?
On the other side, Boston College has just been awful defensively, and far too reliant on two players offensively. However, the Eagles are reliant on Olivier Hanlan and Ryan Anderson because no one else has been a consistent scorer. Defensively, the Eagles have been torched constantly by opposing guards. They can't stay in front of anyone on the perimeter, they don't force turnovers, and they are one of the worst rebounding teams in the country. Unfortunately, they don't have a savior like Seth Allen waiting in the wings.
There is still plenty of time left in the season, but both Maryland and Boston College (7 p.m., ESPNU) could use a win on Thursday. 
LaVar argued with the CNN host over why he came off as ungrateful and why he didn't thank Mr....

The voter has Northwestern seven spots ahead of undefeated Texas Tech, which just blasted the...

The 7-foot-1 center is the No. 3 prospect in the Class of 2018, according to 247Sports
Alabama enters the top 25 while Northwestern drops out after a rough week

Four years ago, Bryant told Jimmy Kimmel that he'd have picked UNC

Dates, start times and streams of LaVar Ball's interview with CNN