Viewer's Guide: Can Texas keep its momentum going?
Kansas State and Texas clash in the Big 12, Indiana looks for an upset, and key contests in the SEC and Mountain West.
• 3 min read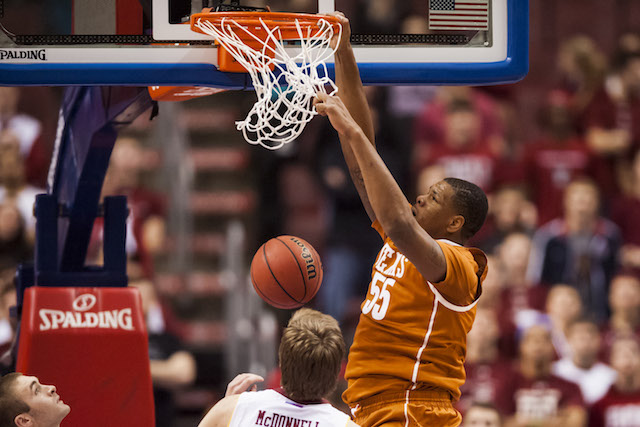 Monday was a light day on the surface, but there were plenty of storylines -- from Creighton's shooting performance to Ohio State's fourth straight loss to Kansas taking down Baylor. Tuesday is another seemingly quiet day, numbers-wise, but there will be plenty of significant action, especially when it comes to potential bubble teams.
Note: All times are Eastern, and the rankings are according to the AP Poll.
Best game: No. 22 Kansas State at Texas (7 p.m., ESPN2). Things didn't look promising early in the season. Kansas State started 2-3, including a home loss to Northern Colorado. On the other side, Texas started fine, but there were still discussions about Rick Barnes being on the hot seat and the Longhorns heading for a subpar season. Now, both teams are looking like potential NCAA tournament teams -- or at the very least, on the bubble come March. Kansas State has won 12 of its past 13 games, while Texas has won three in a row -- ncluding a 10-point win over Iowa State on Saturday. The pace of the game could be key; Texas needs to speed up Kansas State.
Second-best game: Indiana at No. 3 Michigan State (7 p.m., ESPN). Indiana didn't take advantage of its marquee win over Wisconsin, losing at home to Northwestern on Saturday. And now, the Hoosiers (12-6, 2-3 Big Ten) visit East Lansing, which doesn't sound pleasant. Michigan State has won 10 in a row and sits with only one loss this season, a home defeat to North Carolina on Dec. 4. To keep it close, Indiana has to take care of the ball and knock down perimeter shots. It won't be easy to get on the glass or to the free-throw line against Michigan State.
Another one to watch: Boise State at New Mexico (9:15 p.m., CBS Sports Network). Heading into the season, I went with Boise State to win the Mountain West, while most people had New Mexico. Neither team is the favorite at this point, though, with San Diego State taking the edge as conference play progresses. This one will be a battle between Boise State's talented perimeter group, led by Derrick Marks and Anthony Drmic, vs. New Mexico's inside duo of Cameron Bairstow and Alex Kirk. The Broncos will have to hold their own inside, though, meaning Ryan Watkins will need to come up big.
Guaranteed win: Rutgers at SMU (8 p.m., ESPNEWS). SMU hasn't really been in the nation's focus, but the Mustangs (14-4, 3-2 AAC) continue to churn out wins. Almost assuredly, they will be 4-2 in the AAC with a victory over Rutgers. The Scarlet Knights have lost three of their past four and have yet to win a road contest. That won't start on Tuesday.
Potential upset: Not much on this front, though Boise State and Kansas State could get road wins, but we've already discussed those games.
Three other things to keep an eye on:
The SEC is down, but there are a couple of candidates to make a push toward an NCAA tournament bid. Missouri and LSU are two prime options (7 p.m., ESPNU).
Clemson has won three in a row and sit at 4-1 in the ACC -- can the Tigers make another statement by winning at No. 20 Pittsburgh (8 p.m., ESPN3)? Probably not.
Texas A&M suffered its first SEC loss of the season on Saturday, and now the Aggies head to No. 14 Kentucky (9 p.m., ESPN).
Other games to watch:
Temple at Connecticut (7 p.m., CBS Sports Network)
Notre Dame at Florida State (8 p.m., ESPN3)
Butler at Providence (9 p.m., FOX Sports 1)
Purdue at Northwestern (9 p.m., Big Ten Network)
Nov. 10 will be here before you know it so here's what you need to know

The league would be wise to treat that series like the ACC treats Duke-North Carolina

Pacific is penalized after the NCAA found academic rules were broken
Arizona, for no good reason, doesn't have to play at USC or UCLA this season

We look at the 'Major 7' leagues and give you the best of what's to come in conference play...

Louisville's coach predicts a change is coming to the NBA's one-and-done rule by 2019