Viewer's Guide: Conference tournaments get underway
Madness is officially here, as the first of the conference tournaments begin on Monday. There is also a Big 12 battle between NCAA tournament teams.
• 2 min read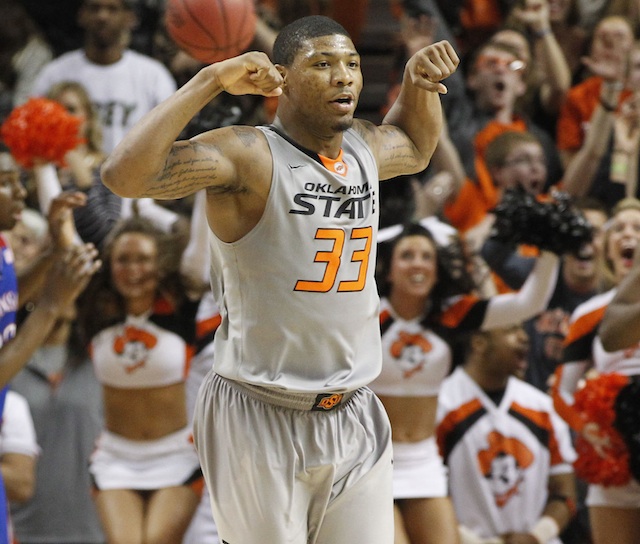 The final week of the regular season kicks off with a night lacking in marquee games, but a couple of intriguing ones. Also, the first conference tournament begins on Monday, which means one thing: Madness is officially here.
Note: All times are Eastern, and the rankings are according to the AP Poll.
Best game: Kansas State at Oklahoma State (9 p.m., ESPN). The only matchup on Monday between two NCAA tournament teams. Kansas State solidified its position last week with a road win at Texas Tech and an impressive home win over Iowa State. The Wildcats are playing for seeding at this point. Oklahoma State had a season-changing win over Kansas on Saturday, a victory that brought the Cowboys closer to punching their NCAA tournament ticket. A win over Kansas State could lock things up. The Wildcats will have to be disciplined defensively, not letting Oklahoma State get easy points at the free-throw line, while also getting back in transition to limit fast-break opportunities for Marcus Smart. 
Second-best game: North Carolina State at Pittsburgh (9 p.m., ESPNU). The Panthers had a crucial week for their NCAA tournament hopes, taking care of business on the road at Boston College and Notre Dame. While neither win was an eye-opener, avoiding bad losses was key for their resume. They are comfortably in the field for now. As long as they don't lose out, they won't be sweating much on Selection Sunday. Monday will be another chance to watch T.J. Warren, maybe the nation's most underappreciated All-American-caliber player. He hasn't scored fewer than 20 points since Jan. 11. 
Another one to watch: Notre Dame at No. 19 North Carolina (7 p.m., ESPN). The Tar Heels are one of the hottest teams in the country, winners of 11 in a row heading into the final two games of the regular season. With their collection of good wins, they are trying to play themselves into a top-four seed come Selection Sunday. It's been a disappointing season for Notre Dame, and the regular season comes to a close for the Fighting Irish on Monday. If they are going to end it on a high note, they need to slow the pace down considerably, and not let North Carolina get in transition.
Three things to keep an eye on:
Xavier took a major step forward by beating Creighton over the weekend, and the Musketeers just need to avoid a bad loss at Seton Hall (7 p.m., FOX Sports 1).
North Carolina Central can clinch the outright MEAC title by beating Savannah State (7 p.m., ESPNU).
The first conference tournament gets underway on Monday, the Patriot League. There are two matchups: Navy vs. Colgate, and Lafayette vs. Loyola (Md.).
For the first time in years, the Shockers played a must-see game with national implications...

Gary Parrish and Matt Norlander discuss a wild weekend of college basketball

Andy Kennedy announced on Sunday he will no longer coach the Rebels
Grayson Allen has taken over with Marvin Bagley (knee) out of the lineup

The loss puts the Buckeyes out of the top 16 and it may lose the one-seed in the Big Ten t...

Austin Hatch has been part of the Wolverines program since 2014