Viewer's Guide: Duke and UCLA meet at Madison Square Garden
Two of the best college basketball programs will go at it on Thursday, as Duke and UCLA look to notch a marquee win before the holidays.
• 3 min read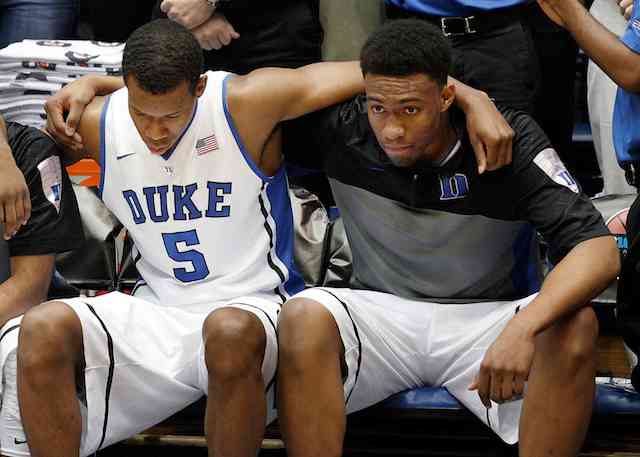 Wednesday ended up being a noteworthy night of hoops for several reasons. First, Connecticut went down at home to Stanford, dropping the number of undefeated teams remaining to 12. Also, Texas went on the road and beat North Carolina. Does Thursday have any upsets in store? Maybe, but there's certainly a high-profile game to whet our appetites.
Note: All times are Eastern, and the rankings are according to the AP Poll.
Best game: UCLA vs. No. 8 Duke (7:30 p.m., ESPN). A nice marquee game to get us ready for the weekend. UCLA has lost just one game this season, a road contest at Missouri earlier this month. Meanwhile, Duke has fallen a bit from the nation's focus after losses to Kansas and Arizona, but the Blue Devils did beat Michigan just a couple of weeks ago. Which team gets the big neutral-court win on Thursday? The key is going to be Duke's ability to get back in transition and protect the paint. UCLA wants to push the ball and attack the rim; the Blue Devils have been susceptible inside this season. On the other side, UCLA will have to figure out a matchup for Rodney Hood and Jabari Parker. The Wear twins won't be able to guard them, and Kyle Anderson would have trouble as well.
Second-best game: Iona at Dayton (7 p.m., NBC Sports Network). This could be an interesting one – and we could see a lot of points. Iona had won four in a row before falling against St. Bonaventure, and the Gaels play some of the fastest tempo in the country. Dayton drew headlines earlier this season with wins over Georgia Tech, California and Gonzaga, but the Flyers cooled off with a loss to Illinois State. Dayton will have to guard the perimeter to slow down Iona, as the Gaels love to bomb away from 3-point range. Dayton will look to win the tempo battle, too.
Guaranteed win: Southern at No. 1 Arizona (9 p.m., Pac-12 Network). After a tough stretch of games, Arizona gets something of a break with home games against Southern and Northern Arizona. The Wildcats shouldn't have much of an issue with the Jaguars, given that they have just one Division-I win this season. Only two of their losses were by double-digits, though, so maybe it's close for a few minutes.
Potential upset: Northwestern State at UTEP (9:35 p.m.). You can't say Northwestern State isn't testing itself in the non-conference. The Demons played Wednesday night at Baylor, and are now traveling to El Paso for another road contest. This is the second time this season that Northwestern State has played two games in two nights in two cities. The big question will be tempo: will the Demons have the legs to push the tempo against the Miners?
Other things to keep an eye on:
USC Upstate opened the season with a win at Virginia Tech – can Torrey Craig and co. beat in-state South Carolina (4 p.m.)?
Neither Wagner nor La Salle has been as good as expected this season, but both teams could pick up some momentum with a win (7 p.m.).
Clemson is off to an 8-2 start, but the Tigers lack quality wins. Auburn wouldn't be a very good win, but it would keep the hot start rolling (8 p.m., ESPN3).
Florida Gulf Coast lost a heartbreaker to South Florida earlier in the week; the Eagles could break through against Mississippi State (9 p.m., ESPN3).
Long Beach State is way better than its 1-9 record, and the 49ers shouldn't be overlooked by USC (10:30 p.m.).
Duke, which held the previous record of 32 set in 1950, took to Twitter to congratulate the...

Without Trier, Arizona's Final Four chances are clearly in jeopardy

Porter Jr. is a projected top 10 pick but has played just two minutes all season
Our advanced computer model simulated Friday's IUPUI vs. Wright State game 10,000 times

Dawn Staley was accused of promoting an atmosphere that induced racial slurs toward Mizzou...

KU can clinch at least a share of its 14th straight Big 12 title with a win Saturday over Texas...