Viewer's Guide: Duke-Syracuse headlines absolutely loaded slate
Big-time weekend on the way: Duke visits Syracuse, Ohio State and Wisconsin try to end their slumps, plus several key top-25 matchups.
• 8 min read
You're probably noticing something different about the Weekend Viewer's Guide. There's an easy explanation. Because everyone loves delicious hoagies, the Friday version of our Viewer's Guide will now mirror the "Hoagie Scale" used for Jason La Canfora's NFL Game Rankings. Nothing much will change with the content; only the categories separating the games. Now I'm hungry.
The Super Bowl is obviously the talk of the sports world this weekend, but don't overlook the college basketball slate. There are dozens of intriguing games across the landscape, highlighted by the marquee ACC showdown between Duke and Syracuse. Will the Orange lose their first game? While on the subject, is Saturday when Arizona falls? 

No. 17 Duke at No. 2 Syracuse (Saturday, 6:30 p.m., ESPN)
The marquee game of the weekend. Syracuse is one of three undefeated teams still remaining, while Duke has bounced back from a slow start to ACC play with five straight wins. They are both ranked in the top three at KenPom. They have the two top-performing questions in the country. Yes, it will be must-see basketball. While Jabari Parker and Tyler Ennis won't go head-to-head, their matchups could dictate the outcome. Parker will have to find holes in the Syracuse zone, around the foul-line, and then has to attack. He can't settle for jumpers, as the length of Jerami Grant and C.J. Fair will make life difficult for him on the perimeter. On the other side, Ennis has to get Syracuse into its offense in the half-court – while also taking advantage of transition opportunities. Essentially, he has to outplay Quinn Cook. Fair will also likely be defended by Rodney Hood. Hood slowed down Lamar Patterson earlier this week, but can he do the same to Fair? One other key will be the glass; which team will win the rebounding battle? 
No. 24 Ohio State at No. 14 Wisconsin (Saturday, 12 p.m., ESPN)
Two teams that really need to stop their slide. Ohio State has lost five of its last six games since starting the season 15-0 – with the latest defeat coming at home to Penn State on Wednesday. On the other side, Wisconsin is also struggling. Since opening the season with 16 straight wins, the Badgers have lost four of their last five games – including a home loss to Northwestern this week. Because both teams are so well-coached, it's hard to imagine them not turning it around – but one team will dig a deeper hole on Saturday. Ohio State has to defend Wisconsin's shooters, but the bigger key for the Buckeyes is getting offensive production from the backcourt players. 
Virginia at No. 18 Pittsburgh (Sunday, 12:30 p.m., ESPNU)
Coming into the week, Pittsburgh had two big chances to prove it was for real in the ACC title race. The Panthers failed the first test, falling at home to Duke by 15. Up next is a visit from Virginia, which is just dominating everyone right now. The Cavaliers are 7-1 in the ACC, with the wins coming by an average of 18.3 points. I would expect Sunday's showdown to be a defensive battle with half-court execution being key. On one end, Virginia has to take care of the ball and initiate good offense, while also slowing down Lamar Patterson and keeping Pittsburgh off the offensive glass. Malcolm Brogdon could be a huge key for Virginia; he's averaging 16.6 points the past five games.

No. 6 Kansas at No. 25 Texas (Saturday, 4 p.m., ESPN)
Kansas is playing some of the best basketball in the country right now, and is on the list of national title contenders. The Jayhawks have won seven games in a row and are headed for yet another Big 12 title. But Texas has won five straight contests, and Rick Barnes has the Longhorns in the top 25. A victory over the Jayhawks would go a long way toward determining Texas' NCAA tournament hopes. Texas guards inside the arc very effectively, but Joel Embiid, Perry Ellis and Andrew Wiggins are a whole new ball-game. Cameron Ridley will have to play well at both ends of the floor.
No. 11 Kentucky at Missouri (Saturday, 1 p.m., CBS)
A big game for both teams. Kentucky fell at LSU on Tuesday, and the Wildcats are now hearing plenty of questions regarding how good they really are. Meanwhile, Missouri picked up an impressive win at Arkansas during the week – and is now looking like a legitimate NCAA tournament team as of today. Can they follow up the big road win with another resume-booster? Missouri's backcourt of Jordan Clarkson, Jabari Brown (who is absolutely on fire lately) and Earnest Ross can carry the load offensively, but the Tigers need to keep Julius Randle and Willie Cauley-Stein off the offensive glass and free-throw line.
No. 1 Arizona at California (Saturday, 10:30 p.m., Pac-12 Network)
I've said for several weeks that this is where Arizona will suffer its first loss. With California on a three-game losing streak, it doesn't look as likely anymore – but I'll stick with it. The Golden Bears fell at home to Arizona State on Wednesday night, while Arizona has struggled the past two games despite the wins. The key in this one will be whether Cal can score inside against Arizona's size and half-court defense, while they also have to keep the Wildcats off the offensive glass at the other end. Justin Cobbs and Tyrone Wallace both need to come up big.

No. 22 Memphis at SMU (Saturday, 2 p.m., CBS Sports Network)
This one will be a contrast of styles and personnel. Memphis relies heavily on its perimeter quartet of guards that attack the rim and look to finish off the dribble, while SMU has shot-blockers and tons of length around the rim. This one could come down to whether Memphis can knock down enough outside shots. SMU has to take care of the ball and make Memphis play in the half-court. 
No. 23 Oklahoma at No. 16 Iowa State (Saturday, 4 p.m., ESPN3)
Expect plenty of points in this one. Oklahoma won the first meeting by five, which was Iowa State's first loss of the season. The Cyclones have lost three of four since then, but they are a different team in the friendly confines of Hilton Coliseum. Both teams love to get out and run in transition, so getting back on defense is a huge key. If Iowa State can keep Oklahoma off the free-throw line, the Cyclones should win.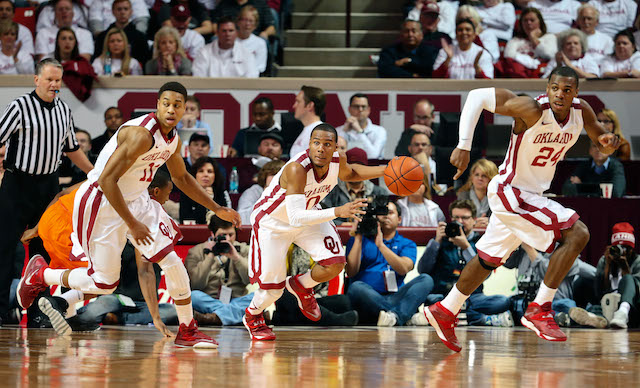 Arizona State at Stanford (Saturday, 4 p.m., Pac-12 Network)
Two of the handful of Pac-12 teams on the bubble, both teams could use the win. Arizona State has won three in a row – and gets three straight home games after Saturday's tilt. On the other side, Stanford could have really boosted its resume during the week – but the Cardinal couldn't hold off Arizona's late run and lost in the final minutes. A loss here would drop Stanford to 4-5 in the Pac-12.

Baylor at No. 8 Oklahoma State (Saturday, 2 p.m., ESPN)
Baylor has to turn it around immediately or its season could go down the tubes. The Bears have lost five in a row, but their big guys could give Oklahoma State trouble.
Utah at Colorado (Saturday, 2 p.m., Pac-12 Network)
Can one of these teams be a fifth bid out of the Pac-12? Colorado has lost four of five, and Utah has lost four of six. The Buffs aren't the same without Spencer Dinwiddie.
Arkansas at LSU (Saturday, 5 p.m., ESPNU)
LSU has a chance to go on a bit of a run after beating Kentucky during the week. Arkansas is hapless on the road, but the Razorbacks could force turnovers.
No. 15 Iowa at Illinois (Saturday, 7:30 p.m., Big Ten Network)
Illinois has two chances to save its season: Saturday against Iowa and Tuesday against Wisconsin. The Fighting Illini might need to win both.
No. 19 Michigan at Indiana (Sunday, 1 p.m., CBS)
Indiana hasn't taken advantage of its win over Wisconsin, losing three of four since beating the Badgers. Meanwhile, Michigan has rolled to 10 straight wins.
Other games to watch:
FRIDAY
Princeton at Harvard (7 p.m.)
Manhattan at Iona (9 p.m., ESPNU)
SATURDAY
Coastal Carolina at Campbell (11 a.m., ESPNU)
Richmond at VCU (11 a.m., ESPN2)
Georgia Tech at Wake Forest (12 p.m., ESPN3)
Seton Hall at Xavier (12 p.m., CBS Sports Network)
George Washington at Dayton (12:30 p.m., NBC Sports Network)
Marquette at St. John's (12:30 p.m., FOX Sports 1)
North Carolina State at North Carolina (1 p.m., ESPN2)
Providence at DePaul (1 p.m., FOX Sports Network)
Kansas State at West Virginia (1:30 p.m., ESPN3)
South Carolina at Ole Miss (1:30 p.m., ESPN3)
Northwestern at Minnesota (2 p.m., Big Ten Network)
George Mason at No. 19 Saint Louis (2:30 p.m., NBC Sports Network)
Evansville at No. 4 Wichita State (3 p.m., ESPNU)
No. 7 Michigan State vs. Georgetown (3 p.m., FOX Sports 1)
Clemson at Florida State (3 p.m., ESPN2)
Texas A&M at No. 3 Florida (4 p.m., ESPN3)
No. 9 Villanova at Temple (4 p.m., CBS Sports Network)
No. 21 Massachusetts at Saint Joseph's (6 p.m., CBS Sports Network)
Washington at Washington State (6 p.m., Pac-12 Network)
Colorado State at No. 5 San Diego State (7 p.m., ESPNU)
Indiana State at Northern Iowa (8 p.m.)
San Jose State at New Mexico (8 p.m., ROOT)
USC at Oregon (8 p.m., Pac-12 Network)
Boise State at UNLV (8:05 p.m., CBS Sports Network)
UCF at No. 12 Louisville (9 p.m., ESPNU)
Utah Valley at New Mexico State (9 p.m., ESPN3)
Tennessee at Alabama (9 p.m., ESPN2)
Gonzaga at San Francisco (10 p.m., ROOT)
Saint Mary's at BYU (11 p.m., ESPN2)
SUNDAY
South Florida at No. 13 Cincinnati (12 p.m., CBS Sports Network)
UCLA at Oregon State (2:30 p.m., ESPNU)
Cavaliers basketball coach tapes statement on behalf of his university and his city

Gary Parrish and Matt Norlander discuss all things Marvin Bagley and his immediate future

Which version of Grayson Allen will show up for Duke and other questions for every ranked...
Upon landing the nation's top recruit, Duke tops the list with other title contenders at the...

The presumptive No. 1 overall NBA Draft choice makes the Blue Devils 3/1 favorites to win it...

Commitment to Duke is the first step, but the next one is the biggest; here's what you need...