Viewer's Guide: Eight top-25 teams head on the road
Could be some upsets on the way Wednesday, as eight top-25 teams are heading on the road.
• 3 min read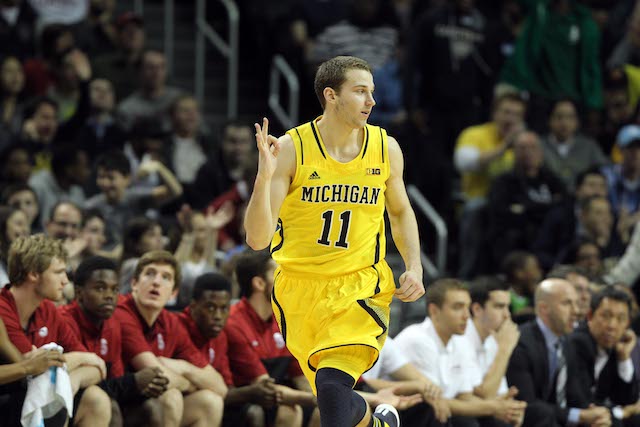 A couple of potential bubble teams got key wins on Tuesday, while Michigan State also continued to roll. Wednesday has two key Big Ten battles, along with a couple of potential upsets with eight top-25 teams heading on the road. We might see some surprises.
Note: All times are Eastern, and the rankings are according to the AP Poll.
Best game: No. 10 Iowa at No. 21 Michigan (7 p.m., Big Ten Network). The lone top-25 matchup on Wednesday, two of the hottest teams in the Big Ten will go at it. Iowa has solidified itself as a legitimate Big Ten title threat, winning three in a row. The Hawkeyes' three losses this season are by a combined 12 points. Michigan has been highly impressive since Mitch McGary went down with an injury, as the Wolverines are winners of seven games in a row. They made a statement on Saturday, going on the road and taking down Wisconsin. The battle on the glass will be important, but Iowa guarding Michigan on the perimeter will also dictate the outcome.
Second-best game: No. 9 Wisconsin at Minnesota (9 p.m., Big Ten Network). Could Wisconsin's losing streak run to three games? The Badgers lost their first game last week at Indiana, then followed it up with a home defeat to Michigan over the weekend. On the other side, Minnesota is wrapping up a brutal four-game stretch that included losses to Michigan State and Iowa, and a home win over Ohio State. Can the Gophers speed up Wisconsin, and then be disciplined when guarding them in a half-court setting? Deandre Mathieu could be key for Minnesota. 
Another one to watch: VCU at Dayton (7 p.m., CBS Sports Network). Two teams that will be looking for something of a statement win on Wednesday. VCU has been struggling on the road, having lost its last two road games to Northern Iowa and George Washington. Meanwhile, Dayton is just 1-2 in the Atlantic 10, coming off a loss to Richmond over the weekend. The key for the Flyers will be taking care of the ball and forcing VCU to get points in a half-court setting. The Rams have been struggling mightily to get points when they are not forcing turnovers. 
Guaranteed win: TCU at No. 25 Oklahoma (9 p.m., ESPNU). TCU is struggling, having lost its first five games of the Big 12 season – including an 11-point home loss to Texas Tech over the weekend. There's even a chance the Horned Frogs go winless in conference play. Going on the road to Oklahoma won't instill much confidence, either. The Sooners have been alternating wins and losses since a home defeat to Louisiana Tech on Dec. 30, but despite a road win at Baylor on Saturday, they won't lose on Wednesday.
Potential upset: Wichita State's trip to Indiana State on February 5 is the game most people have circled as the Shockers' first potential loss – but Wednesday won't be easy. The Shockers head to Illinois State (8:05 p.m.), with the Redbirds winning 10 of their last 12 games. They also haven't lost at home since falling to Manhattan on November 20. If the Redbirds can get hot from the perimeter, they could keep it close. Also, No. 13 Massachusetts could be at risk when it trips to Richmond on Wednesday (7 p.m.). 
Three other things to keep an eye on:
Two 6-0 teams in the Patriot League battle for first-place on Wednesday: Boston University at American (7:30 p.m.).
Duke and Miami have had some battles in the past; will Wednesday be another tight tilt (7:30 p.m., ESPN2)?
A couple of interesting contests in the SEC: Arkansas at Tennessee (8 p.m., ESPN3), and Ole Miss at Vanderbilt (9 p.m., ESPN3).
Other games to watch:
No. 12 Louisville at South Florida (7 p.m., ESPNU)
No. 19 Saint Louis at Duquesne (7 p.m.)
Radford at Campbell (7 p.m.)
Winthrop at UNC Asheville (7 p.m.)
No. 7 San Diego State at San Jose State (10 p.m., ESPN3)
California at USC (11 p.m., ESPNU)
Utah State at UNLV (11:05 p.m., CBS Sports Network)
Duke's much-anticipated Allen-Duval connection is off to a hot start already

It'll be Miller vs. Miller if the Hoosiers and Wildcats can finalize the proposed series

Wisconsin's Ethan Happ has made only two jumpers in his career, but is adding a long-range...
The deal is part of long-awaited $2.64 billion contract; CBS' hoops-only commitment runs through...

If Wichita State guard Landry Shamet has a breakout season, he could leave early for the N...

Athletic big man finished 3-day trip to Durham, N.C., with trips to USC, Arizona coming up