Viewer's Guide: Friday aims to top a fantastic Thursday
After a great Thursday night, here's hoping Friday keeps the momentum rolling.
• 5 min read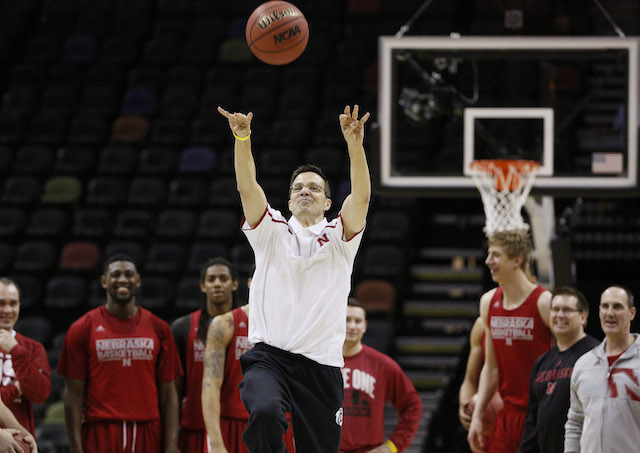 More NCAA hoops: Tournament bracket | Complete coverage of NCAAs | Latest news
Thursday started out with a bang -- Dayton beating Ohio State -- and then flowed along until a wild evening session. Four overtime games, crazy comebacks, epic collapses, clutch shots. And then Cameron Ridley's buzzer-beating layup. Everything you could ask for on the first day of the NCAA Tournament. And everyone thought Friday would be the better day. If so, count me in. On paper, the games might be better -- so strap in for another 12 hours of hoops.
Note: All times are Eastern.

No. 6 Baylor vs. No. 11 Nebraska (12:40 p.m., truTV): One of the more intriguing games of the Round of 64. Baylor was playing some of the best basketball in the country down the stretch of the season, winning 10 of its final 12 games entering the NCAA Tournament. Nebraska played itself into the dance by winning eight of its last 10. The biggest key for the Cornhuskers will be neutralizing Kenny Chery on the perimeter and then keeping Baylor's frontcourt crew from second-chance opportunities.
No. 6 Massachusetts vs. No. 11 Tennessee (2:45 p.m., CBS): Tennessee came back late to beat Iowa in the First Four, and now are many people's pick to move to the Round of 32. The Volunteers will have to keep UMass out of transition, not an easy thing to do when you're going against Chaz Williams. On the other side, the Minutemen can't allow Tennessee's bigs to dominate the offensive glass. 
No. 5 VCU vs. No. 12 Stephen F. Austin (7:27 p.m., truTV): A popular 12-over-5 upset pick, it's going to be a tempo battle. Stephen F. Austin likes to play in the half-court, but it forces turnovers with its changing defenses. VCU will look to run Havoc all game, trying to speed up and turn over SFA. Can the Lumberjacks move their winning streak to 29 games? They have to take care of the ball.
No. 8 Kentucky vs. No. 9 Kansas State (9:40 p.m., CBS): Wichita State vs. Kentucky would be a terrific Round of 32 matchup -- but don't look past Kansas State just yet. The Wildcats struggled away from home this season, but Marcus Foster is capable of getting hot from the perimeter. It will be interesting to see if Kentucky carries its SEC tournament momentum into the dance.

No. 7 New Mexico vs. No. 10 Stanford (1:40 p.m., TBS): The battle on the perimeter between Kendall Williams and Chasson Randle should be intriguing, as should the frontcourt matchups with Dwight Powell and co. going against Cameron Bairstow and Alex Kirk. Look for the backboards to decide this one; who wins the rebounding battle?
No. 8 Gonzaga vs. No. 9 Oklahoma State (4:40 p.m., TNT): Oklahoma State is 5-2 since Marcus Smart returned from suspension, and some are already looking forward to a Round of 32 game between the Cowboys and Arizona. But they will have get past Gonzaga first. Sam Dower should be able to dominate inside, but Kevin Pangos has to break out of his slump.
No. 8 Memphis vs. No. 9 George Washington (6:55 p.m., TBS): The availability of Kethan Savage will be interesting. GW's second-leading scorer is 50-50 to play, and him sitting out would rob the Colonials of a key weapon. Defensively, GW has to keep Memphis out of the lane, out of transition -- and off the offensive glass. 
No. 6 North Carolina vs. No. 11 Providence (7:20 p.m., TNT): Bryce Cotton vs. Marcus Paige will be one of the best individual matchups on Friday, but it will be interesting to see if North Carolina's transition offense wears down the thin Friars' rotation. Providence's zone was effective in the Big East tournament, though, and it could be used against UNC.

No. 3 Duke vs. No. 14 Mercer (12:15 p.m., CBS): This one could be interesting. Mercer plays poised, disciplined, fundamentally-sound basketball -- and the Bears have a stud point guard in Langston Hall who won't be rattled by Duke. The biggest issue could be Mercer's ability to guard Jabari Parker and Rodney Hood when they spread out and go off the bounce.
No. 3 Creighton vs. No. 14 UL-Lafayette (3:10 p.m., truTV): You might be watching two first-round picks in this one with Creighton's Doug McDermott and UL-Lafayette's Elfrid Payton. Obviously McDermott has more help, but Payton is a stud. And don't sleep on Shawn Long, one of the more productive all-around frontcourt players at the mid-major level. 
No. 3 Iowa State vs. No. 14 North Carolina Central (9:50 p.m., TNT): Don't overlook this game. North Carolina Central is one of the best defensive teams in the country and will enter the NCAA Tournament on a 20-game winning streak. If Iowa State settles too much for jumpers, NC Central will stay in the game. Cyclones have to push the tempo.
No. 4 UCLA vs. No. 13 Tulsa (9:57 p.m., truTV): Tulsa is one of the least-talked about lower-seeds in the tournament, but Danny Manning has the Golden Hurricane on an 11-game winning streak and playing terrific defense. Tempo and outside shooting will be the big keys -- along with finding someone to match up with Kyle Anderson. 

No. 1 Arizona vs. No. 16 Weber State (2:10 p.m., TNT): Weber State rebounded from its lackluster finish to the regular season by rolling through the Big Sky tournament -- but Arizona is obviously a completely different animal. The Wildcats seemed to have stabilized since the Brandon Ashley injury, but they did lose to Oregon and UCLA recently.
No. 2 Kansas vs. No. 15 Eastern Kentucky (4:10 p.m., TBS): How will Kansas' defense perform without Joel Embiid? That's the biggest question facing the Jayhawks for the first weekend of the tournament -- although it might not make a huge difference against Eastern Kentucky. The Colonels are led by Glenn Cosey. 
No. 1 Wichita State vs. No. 16 Cal Poly (7:10 p.m., CBS): Cal Poly had eight Division-I wins on the season heading into the Big West tournament -- and now the Mustangs have a tournament title and an NCAA Tournament win. Wichita State has a brutal road to the Final Four, but the Shockers shouldn't have trouble on Friday.
No. 1 Virginia vs. No. 16 Coastal Carolina (9:25 p.m., TBS): The Cavaliers might be getting the least respect of any No. 1 seed, but they should be able to get some momentum going against Coastal Carolina on Friday. For what it's worth, the Chanticleers played one ACC team this season, and it was a 29-point loss at Clemson. 
These teams went to The Big Dance in March, but could take a step back this season

The success of Chris Chiozza and KeVaughn Allen have the Gators ready to compete for SEC t...

FBI investigation suggests Quinerly received improper benefits from a Wildcats assistant c...
Meet the mid-major coach who refused to vote for the teams involved in the recruiting scan...

The player, now at the University of Portland, says he was injured during a workout which broke...