Viewer's Guide: Georgetown and Xavier look to keep pace in Big East
There are several games on Wednesday that could help determine the second-tier of teams in the Big East, Pac-12 and SEC.
• 3 min read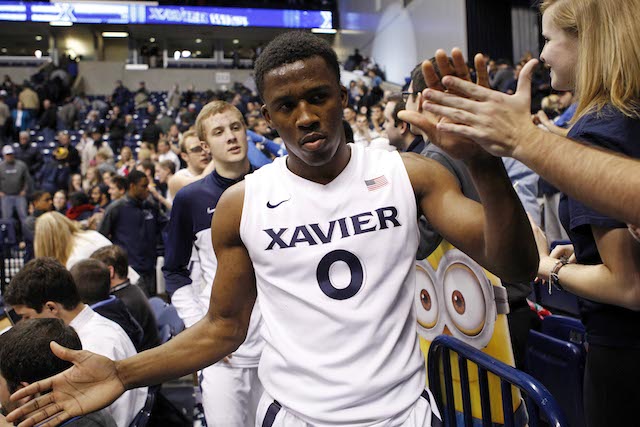 There's probably no way that Wednesday can match what happened on Tuesday, with Indiana taking down unbeaten Wisconsin, and then Arkansas beating Kentucky on a two-handed putback dunk with 0.2 seconds left in overtime. With that said, there's some intriguing games between potential at-large teams.
Note: All times are Eastern, and the rankings are according to the AP Poll.
Best game: Georgetown at Xavier (7 p.m., CBS Sports Network). The Big East is shaping up to be a battle between Creighton and Villanova at the top, but Georgetown and Xavier have emerged as the next two teams in line. Georgetown finally won a road game over the weekend, at Butler, and now sits at 3-1 in the league. Xavier lost at Creighton on Sunday, but there's no shame in losing there. That snapped an eight-game winning streak. Georgetown will be without Jabril Trawick (jaw) and Joshua Smith (academics) for Wednesday's game – but can the Hoyas handle Semaj Christon? The Hoyas foul far too much, and Christon has the ability to get to the rim whenever he wants.
Second-best game: Washington at California (11 p.m., ESPNU). The season-ending injury to Spencer Dinwiddie has opened up the Pac-12 a bit, and these two teams could be playing the best basketball of anyone in the league outside Arizona. Washington is off to a 3-1 start in the league and has won five of its last six, while California has won four in a row and could get freshman Jabari Bird (ankle) back for Wednesday's game. Washington is susceptible at the rim due to its lack of size, and California can exploit it with dribble-penetration from Justin Cobbs and Tyrone Wallace and inside play from Richard Solomon and David Kravish. C.J. Wilcox needs to come up big on the perimeter for Washington.
Another one to watch: LSU at Ole Miss (9 p.m., ESPN3). The SEC is in some trouble, with Florida and Kentucky the only two teams that look like NCAA tournament clubs right now (and Kentucky only based off talent). Tennessee and Missouri are inconsistent, Arkansas can't win on the road – can either LSU or Ole Miss step up and be a factor? LSU has lost two of three, home games to Rhode Island and Tennessee, while Ole Miss split its first two SEC games, without Marshall Henderson. If Mississippi's guards can control the game and the bigs keep LSU's talented frontcourt off the offensive glass, the Rebels could get the win.
Guaranteed win: TCU at No. 9 Oklahoma State (8 p.m., ESPN3). We discussed the Big 12 on the Monday podcast, basically asking, "Where are the guaranteed wins?" There's TCU and maybe Texas Tech. Oklahoma State gets the Horned Frogs at home on Wednesday, and the Cowboys should absolutely roll. The only way this one stays close is if Oklahoma State is looking past this game to Saturday's showdown with Kansas. Even so, this will be a blowout.
Potential upset: Florida State at Miami (9 p.m., ESPN3). Where does Florida State fall in the ACC pecking order? The Seminoles have won two in a row and six of seven, but there are still some questions about them. A road game against Miami – which is coming off a road win at North Carolina and a five-point loss at Syracuse – could help solidify some of those questions. Unfortunately, the Hurricanes are continuing to get better and could pull the upset.
Three other things to keep an eye on:
Both Notre Dame and Maryland have been disappointing this season – can either team turn it around the final two months (7 p.m., ESPN2)?
Illinois is on a two-game losing streak, but has a chance to bounce back with a home game against Purdue (9 p.m., Big Ten Network).
After back-to-back home losses to Air Force and Nevada, UNLV pretty much has to win the Mountain West to get a bid. Now the Rebels head on the road to New Mexico (9:05 p.m., CBS Sports Network).
Other games to watch: 
No. 4 Michigan State at Northwestern (7 p.m., Big Ten Network)
No. 16 Massachusetts at George Mason (7 p.m.)
South Florida at SMU (7 p.m., ESPNU)
Missouri State at Indiana State (7 p.m., ESPN3)
Clemson at Virginia Tech (7 p.m., ESPN3)
Auburn at Tennessee (7 p.m., ESPN3)
Buffalo at Toledo (7 p.m.)
St. Bonaventure at No. 24 Saint Louis (8 p.m.)
No. 12 Baylor at Texas Tech (9 p.m., ESPNU)
Fresno State at No. 10 San Diego State (10 p.m., ESPN3)
It appears he's more than happy to pay up, given the circumstances

Lithuania seems ready for the Ball era to begin

The Sun Devils make a big jump and the Jayhawks slide after ASU pulls the big upset
Arizona's big man from the Bahamas balled out against two talented teams

Coach Shaka Smart doesn't expect him to be out for an extended period of time

Jackson isn't showing the Sun Devils much respect after beating KU