Viewer's Guide: Gonzaga faces BYU, plus three more auto bids
Four more automatic bids will be handed out on Tuesday, including a showdown in the WCC title game.
• 2 min read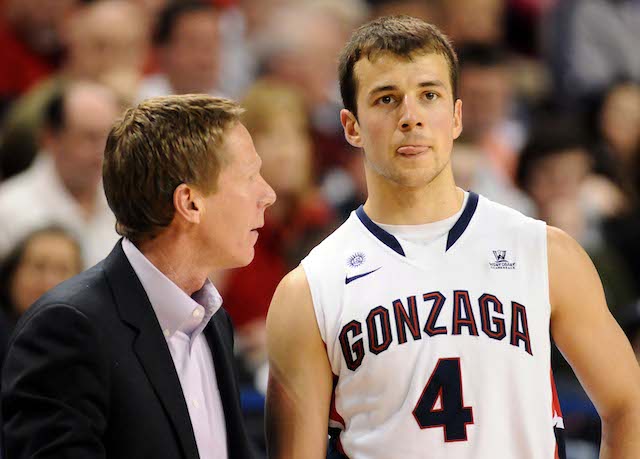 Latest in hoops: Top 25 (and one) | Bracketology | Bubble Watch
Monday really felt like March Madness. The three conference championship games went down to the wire, with Delaware, Manhattan and Wofford all pulling out wins. Hopefully that is a precursor to a tremendous week leading up to Selection Sunday. Four more bids are handed out on Tuesday.
Note: All times are Eastern, and the rankings are according to the AP Poll.
Best game: Gonzaga vs. BYU (9 p.m., ESPN). This is the game many of us wanted to see in the title game. It's a game that both teams would really like to win, given that both are still somewhat on the bubble. Both could -- and should -- get a bid even with a loss, but whichever team falls on Tuesday night will have a long five days until Selection Sunday. The two teams split their regular-season meetings. It could come down to the inside play, and whether Eric Mika can hold his own down low against Sam Dower and co. At the other end, can Gonzaga keep Tyler Haws in check? Kevin Pangos needs to break out of his slump for the Bulldogs. 
Second-best game: North Dakota State vs. IPFW (9 p.m., ESPN2). North Dakota State could be a threat in March, but the Bison need to get the automatic bid first. They split in the regular season with IPFW, with both teams winning at home by 11 points. NDSU lost just twice during the Summit's regular season, and the Bison have won eight in a row. IPFW relies heavily on the 3-point shot, and the Mastodons hit it consistently. But they will have to find ways to stop the productive duo of Taylor Braun and Marshall Bjorklund.
Two more:
Milwaukee at Wright State (7 p.m., ESPN). The favorite heading into the conference tournament was top-seeded Green Bay, but the Phoenix went down in overtime at the hands of Milwaukee on Saturday night. Can the Panthers keep their run going against third-seeded Wright State? The Raiders beat Milwaukee by 16 on their home court back in January, and have won six in a row heading into the championship game. Milwaukee really has to take care of the ball to beat Wright State, as the Raiders force turnovers at a high rate. Jordan Aaron has to have another big game, too.
Mount St. Mary's at Robert Morris (7 p.m., ESPN2). It's been a tremendous run for Mount St. Mary's in the NEC tournament, with the ridiculous comeback in the quarterfinals and the road upset at Wagner over the weekend. This could be where it ends for the Mountaineers, though. They lost to top-seeded Robert Morris twice during the regular season, and they could have trouble turning over the Colonials and getting them caught up in pressure. Karvel Anderson vs. Julian Norfleet should be fun.
Other conference tournaments:
Conference-USA: It was wild at the top of the league, and there is some talent at the bottom too. Six teams are in action. Rice vs. North Texas, Marshall vs. Florida Atlantic, UTSA vs. East Carolina.
MEAC: Three first-round games. North Carolina A&T vs. Howard, Bethune-Cookman vs. Coppin State, Delaware State vs. Florida A&M.
SWAC: Grambling State takes on Jackson State, while Mississippi Valley State faces Prairie View A&M. Both first-round matchups. 
Missouri freshman will miss the season and likely never play another minute of college bal...

College basketball fans, especially those at Missouri, are robbed of the excitement Porter...

School officials expect the five-star freshman to miss the rest of the season
Cincinnati and Iowa highlight an impressive inaugural field for the Cayman lslands Classic

The Bluejays are 4-0 with some impressive victories, including a win vs. the Bruins on Mon...

The world's most prominent Basketball Dad responded to Donald Trump calling him 'very ungr...