Viewer's Guide: How will Colorado look without Spencer Dinwiddie?
Colorado has its first game without Spencer Dinwiddie; the backcourts of UConn and Memphis match up; Ohio State visits Minnesota; Arizona has in-state showdown.
• 4 min read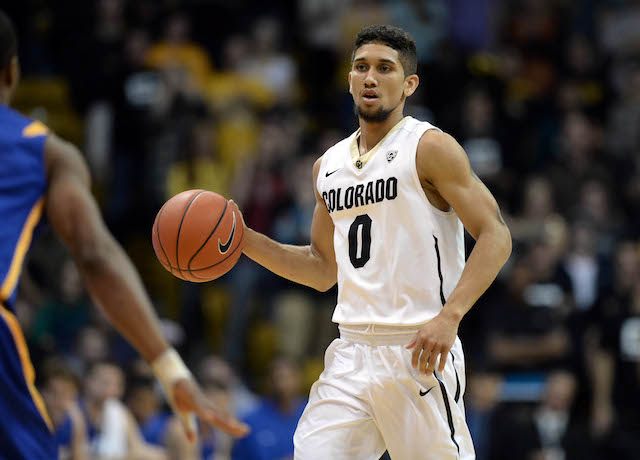 Wednesday saw plenty of interesting action, with Xavier and Massachusetts making late-game comebacks, and New Mexico and Baylor both going down in surprising games. Thursday has a few more high-profile games, while also pitting several mid-major conference contenders against one another.
Note: All times are Eastern, and the rankings are according to the AP Poll.
Best game: No. 25 UCLA at No. 21 Colorado (8 p.m., Pac-12 Network). Colorado's first full game without star guard Spencer Dinwiddie will be a major test for the Buffaloes. They were crushed by Washington on Sunday after Dinwiddie's injury, while UCLA is coming off an impressive win over Arizona State on Sunday. It's tough to predict how Colorado will play without Dinwiddie, considering he was the team's best scorer, best playmaker, and did a little of everything. Askia Booker will need to be a more consistent go-to-guy on the perimeter, and freshman Jaron Hopkins could also see more minutes. On the other side, look for UCLA to push the ball at every opportunity, while also spreading out Colorado and putting the Buffaloes' big men in tough situations. Can UCLA handle Colorado's size, though?
Second-best game: Connecticut at No. 17 Memphis (7 p.m., ESPN). Guards, guards, guards. Two of the deepest and most talented perimeter groups in the country go at it. On one side, there's Joe Jackson, Mike Dixon, Geron Johnson and Chris Crawford – while Connecticut counters with Shabazz Napier, Ryan Boatright, Omar Calhoun and Lasan Kromah. If Memphis can neutralize Napier, the Huskies will struggle offensively. Conversely, if Connecticut can keep the Memphis guards out of the lane force them to shoot jumpers, the Tigers will have trouble scoring. Shaq Goodwin could be key for Memphis; he's averaging 19.0 points and 9.5 rebounds in his last two games. 7-footer Amida Brimah has been a shot-blocking force for UConn; he needs to protect the rim.
Another one to watch: No. 11 Ohio State at Minnesota (9 p.m., ESPN2). This one will be interesting. Ohio State enters on a two-game losing streak after losing to Michigan State and Iowa, while Minnesota is coming off an overtime loss to Michigan State on Saturday. Three of Minnesota's four Big Ten games have been decided by three points or fewer, with the fourth going to overtime. On Thursday, the battle between the backcourts will be key. Minnesota relies heavily on the 3-pointer and the tandem of Andre Hollins and Austin Hollins; will Ohio State's dynamic defensive backcourt group be able to stop them? Meanwhile, it would be nice for the Gophers to get another good game from Elliott Eliason against Ohio State's suspect inside group.
Guaranteed win: Houston at No. 18 Louisville (7 p.m., CBS Sports Network). This is slightly going out on a limb, but I didn't want to just pick a random mid-major game. Louisville will be without starting point guard Chris Jones, although that could mean more minutes for talented freshman Terry Rozier. Houston has won three of its last four, with the lone loss coming last week by one point to Cincinnati. This one will be an easy victory for Louisville, though.
Potential upset: BYU at San Francisco (9 p.m., ESPNU). Some team is going to keep pushing Gonzaga in the West Coast Conference standings, and it might be one of these two (although Saint Mary's will figure it out at some point). BYU hasn't won a true road game since beating Stanford in the second game of the season, dropping four in a row, including two in WCC play. I don't think the Cougars break the streak against San Francisco, either – the Dons have the scorers in Cole Dickerson and Kruize Pinkins to keep up. 
Three other things to keep an eye on:
Arizona State isn't entering its in-state showdown with Arizona on a high note, losing by 15 at UCLA on Sunday. We could see a repeat on Thursday (9 p.m., FOX Sports 1).
St. John's has been one of the most disappointing teams in the country, but the Red Storm can start turning it around against Providence (7 p.m., FOX Sports 1).
Outside of Florida and maybe Kentucky, the rest of the SEC is up for grabs. Missouri was supposed to be that third team in line, but the Tigers have been up and down recently. A tough road trip to Vanderbilt awaits (7 p.m., ESPN2).
Other games to watch: 
Arkansas State at Georgia State (7 p.m.)
Belmont at Eastern Kentucky (7 p.m., ESPNU)
Elon at Davidson (7 p.m.)
Stephen F. Austin at Northwestern State (8:30 p.m.)
Northern Colorado at Montana State (9:05 p.m.)
USC at Utah (10 p.m., Pac-12 Network)
Gonzaga at Pepperdine (10 p.m., ROOT)
Duke's much-anticipated Allen-Duval connection is off to a hot start already

It'll be Miller vs. Miller if the Hoosiers and Wildcats can finalize the proposed series

Wisconsin's Ethan Happ has made only two jumpers in his career, but is adding a long-range...
The deal is part of long-awaited $2.64 billion contract; CBS' hoops-only commitment runs through...

If Wichita State guard Landry Shamet has a breakout season, he could leave early for the N...

Athletic big man finished 3-day trip to Durham, N.C., with trips to USC, Arizona coming up