Viewer's Guide: Iowa looks for marquee win vs. Michigan State
Iowa and Michigan State are both Final Four-caliber teams, while the SEC looks to get some order in its second-tier hierarchy.
• 3 min read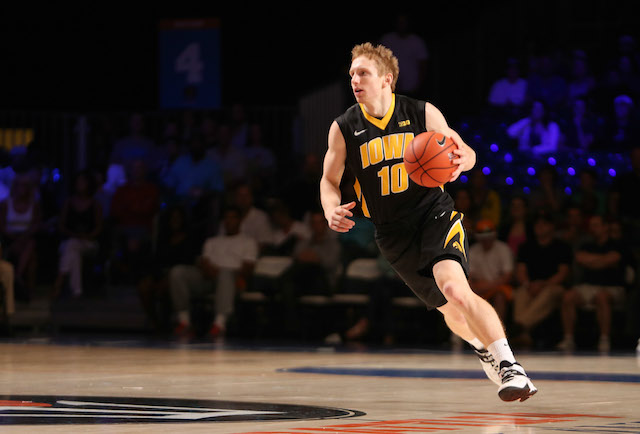 Monday got things off to a great start, with two matchups between top-25 teams. Duke downed Pittsburgh, and Bedlam saw Oklahoma take care of Oklahoma State. Tuesday brings another marquee matchup, this one in the Big Ten. Plus, some key bubble teams in the SEC and Big 12 need wins.
Note: All times are Eastern, and the rankings are according to the AP Poll.
Best game: No. 7 Michigan State at No. 15 Iowa (7 p.m., ESPN). Showdown in the Big Ten between two teams that have the pieces to make a Final Four run. Michigan State saw its 11-game winning streak snapped on Saturday by Michigan, and the Spartans are still hampered by injuries. Branden Dawson is out another four weeks, and Adreian Payne is highly questionable for Tuesday. Iowa bounced back from its road loss at Michigan with a throttling of Northwestern, and now the Hawkeyes look for a marquee win. They also welcome Ohio State and Michigan into town next week. Both teams like to push the ball in transition, and the bench and foul battle will be big. Iowa is one of the deepest teams in the country, while Michigan State has seen its depth take a hit due to injuries.
Second-best game: No. 11 Kentucky at LSU (9 p.m., ESPN). Talk about NBA talent up front. Both teams are loaded with pro prospects in the frontcourt, as Kentucky has Julius Randle and Willie Cauley-Stein – while LSU counters with Johnny O'Bryant, Jordan Mickey and Jarell Martin. But do the Tigers have the guards to take down Kentucky? Andre Stringer and Anthony Hickey need to be disciplined with the ball, while the big men have to hold their own on the glass and also stay out of foul trouble. LSU badly needs the win for its NCAA tournament resume. The Tigers are 3-4 since starting the season 9-2. Moreover, after Tuesday, there are only four more games against top-100 teams at KenPom.    
Another one to watch: Missouri at Arkansas (7 p.m., ESPNU). Are one of these teams going to be that third NCAA tournament team out of the SEC? If Arkansas never had to leave Bud Walton Arena, the Razorbacks would have a legitimate shot. As it stands, though, they need to hold serve at home – and then start winning games on the road. The first part can be accomplished on Tuesday. On the other side, Missouri is entering what amounts to a make-or-break six-game stretch. The Tigers have Arkansas (away), Kentucky (home), Florida (away), Ole Miss (away), Arkansas (home), Tennessee (home).
Guaranteed win: Loyola (Chicago) at No. 4 Wichita State (8 p.m., ESPN3). Next week, Wichita State will be tested. The Shockers have road trips to Indiana State and Northern Iowa. But that's next week. This week, Wichita State will roll. Loyola won't be much of a test on Tuesday, and neither will Evansville on Saturday. Wichita State will be 23-0 come next Monday.
Potential upset: Virginia at Notre Dame (9 p.m., ESPNU). Virginia is playing some of the best basketball in the country, and the Cavaliers have a tough trip to Pittsburgh this weekend. Will they be caught looking ahead to the Panthers? Notre Dame's season has gone off the rails since beating Duke at home, as the Irish have lost five of six. However, they are still tough to beat at home and have players like Eric Atkins who are good enough to pull off the surprise.
Three other things to keep an eye on:
Huge contrast of styles in St. John's at No. 20 Creighton (9 p.m., FOX Sports 1). Are the Red Storm disciplined enough to stay with the Bluejays' shooters?
Baylor needs to bounce back in a hurry, as the Bears are 1-5 in the Big 12 and have lost four in a row. West Virginia visits on Tuesday (7 p.m., ESPN2).
Utah State nearly took down San Diego State on Saturday; now, New Mexico comes to down (11:05 p.m., ESPNU).
Other games to watch:
SMU at South Florida (7 p.m., ESPNEWS)
Texas Tech at Kansas State (8 p.m., ESPN3)
The best basketball player in the world showed up too late to the biggest game in Las Vegas...

Thousands of fans were turned away (even LeBron!) from the LaMelo Ball-Zion Williamson sho...

"Four Sides of the Story" also takes a look at Tiger Woods' first PGA tournament and the role...
Indiana's Archie Miller and Mizzou's Cuonzo Martin have been killing it on the recruiting...

Duke's much-anticipated Allen-Duval connection is off to a hot start already

It'll be Miller vs. Miller if the Hoosiers and Wildcats can finalize the proposed series