Viewer's Guide: Iowa State, Oklahoma State look for momentum
With only about a month left in the regular season, things are shaping up for a fun final few weeks. Iowa State and Oklahoma State highlight Monday.
• 2 min read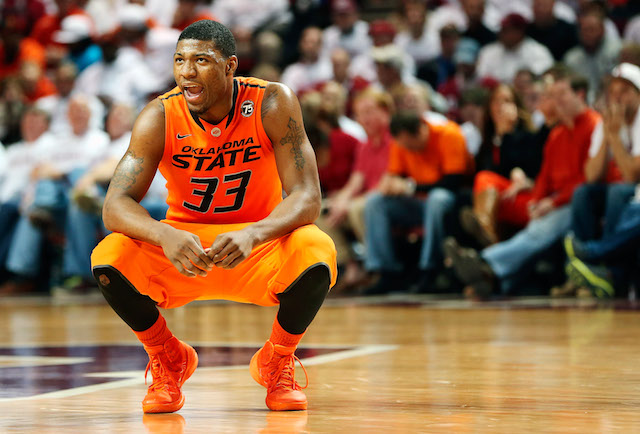 This is the first week of the season with absolutely no football -- and hopefully the momentum from Saturday carries over. It was the best day of college basketball of the season, and it sets up perfectly for a wild final month of the regular season. There's a Top 25 matchup on Monday to kick things off.
Note: All times are Eastern, and the rankings are according to the AP Poll.
Best game: No. 16 Iowa State at No. 8 Oklahoma State (9 p.m., ESPN). Both teams were expected to push Kansas for the conference title back at the start of January; one month later, and Iowa State (sixth place) and Oklahoma State (seventh) are in the middle of the pack in the Big 12. The Cyclones beat Oklahoma on Saturday, just their second win in their past six games. Meanwhile, Oklahoma State fell at home to Baylor -- and has now lost three of four. This game will feature two of the best guards in the country in DeAndre Kane and Marcus Smart, neither of whom is playing his best right now. Smart is 3 for 28 from 3-point range his past four games, settling too much for jumpers and not being a playmaker. Kane has been up and down, but his play at both ends will be key on Monday.
Second-best game: Xavier at No. 9 Villanova (7 p.m., Fox Sports 1). After winning eight in a row, Xavier has lost three of its past five -- including Saturday's home defeat to Seton Hall. The Musketeers have seen their at-large profile take a bit of a hit, and the next four games are key: at Villanova, home vs. Providence, at Butler, at Marquette. Monday would be a terrific chance for a statement win, though. Villanova moved to 19-2 with a road win at Temple over the weekend. The battle on the perimeter should be fun, with Semaj Christon going against Ryan Arcidiacono and Darrun Hilliard. Dee Davis has to be a factor for Xavier, though. He has averaged just 3.7 points in his past three games. The Musketeers also have to be disciplined defensively on the perimeter and avoid fouls.
Another one to watch: Notre Dame at No. 2 Syracuse (7 p.m., ESPN). Syracuse will be the new No. 1 when polls are released on Monday, and the Orange are already No. 1 in Gary Parrish's Top 25 (and one). They beat Duke in an overtime classic Saturday, the best game of the season thus far. Notre Dame is also coming off a win, a buzzer-beating three-point overtime victory over Boston College. If the Fighting Irish are to keep it close, Garrick Sherman has to have a big day down low; he has been inconsistent his past five games. The emergence of Zach Auguste has been a plus. It still will likely be an easy win for Syracuse.
Three other things to keep an eye on:
Delaware escaped with a one-point win over UNC-Wilmington on Saturday, and the Blue Hens look to remain unbeaten in the CAA against Northeastern (7 p.m.).
Georgia State hosts South Alabama (7 p.m.) in an attempt to move to 9-0 in the Sun Belt. USA is just 1-7 in the league, but the Jaguars do have some talent.
Will Georgetown's victory over Michigan State on Saturday be a springboard for a winning streak? The Hoyas head to DePaul (9 p.m., Fox Sports 1).
Teams not in Power 7 leagues who may earn a bid if they don't win their conference tourney...

The nation's No. 3 player will commit Saturday and here's his impact on each of his finali...

Gary Parrish and Matt Norlander also preview the weekend and Zion Williamson's announcemen...
The Sun Devils started 12-0, but since then are 2-4 after Wednesday's loss to Stanford

Andrew Jones is Texas' second leading scorer

Oklahoma's star freshman has a father who has been there and done that