Viewer's Guide: Key conference clashes, plus unbeatens on alert?
Thursday is going to be an interesting night, with some conference battles in the Big Ten, Pac-12 and WCC -- along with three unbeatens going on the road.
• 3 min read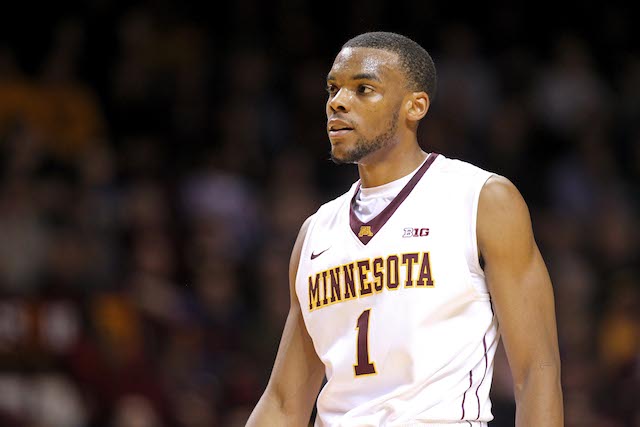 With snowstorms set to hit most of the Northeast, Thursday night is a really solid night to just sit at home and watch some hoops. Fortunately, it's a good slate – although injuries are a big storyline for several of the key games. Also, there could be at least one unbeaten going down on Thursday.
Note: All times are Eastern, and the rankings are according to the AP Poll.
Best game: Michigan at Minnesota (7 p.m., Big Ten Network). If Ohio State, Wisconsin, Michigan State and Iowa make up the top four of the Big Ten, these two teams are among a quartet fighting for the fifth spot (with Indiana and Illinois rounding out the group). The biggest storyline heading into the game is how Michigan will be without Mitch McGary, who is likely to miss the season with a back injury. The Wolverines beat Holy Cross by 20 in their first game without him, but beating Minnesota at home is a tough test. The Golden Gophers have won six in a row, and are unbeaten at home this season. Minnesota will look to force turnovers; how will Derrick Walton handle the tough environment?
Second-best game: Saint Mary's at No. 24 Gonzaga (9 p.m., ESPN2). Just because Saint Mary's had lost three in a row at the Diamond Head Classic doesn't mean the best rivalry in the West Coast Conference will be a blowout. Gonzaga is definitely without Gary Bell and could also be without Sam Dower. The Bulldogs looked fine without both of them against San Francisco on Monday, but the Gaels are a different test. Saint Mary's will obviously be relying on the 3-pointer, but the loss of Dower could mean the Gaels will get more second-chance opportunities. At the other end, the key is limiting Kevin Pangos.
Another one to watch: California at Stanford (9 p.m., FOX Sports 1). These two teams could be on the bubble come Selection Sunday – so this game might mean the difference between the top half of the standings and the bottom half of the standings. Stanford looked poised for disappointment after losing by 21 to Pittsburgh in November, but the Cardinals have won four of five, including a road win at Connecticut. California has struggled with injuries all season, and the Golden Bears might be without Jabari Bird and Ricky Kreklow on Thursday. That could be the difference for Stanford.
Guaranteed wins: Washington State at No. 1 Arizona (10 p.m., Pac-12 Network). Three unbeaten teams have to go on the road on Thursday – but Arizona is not one of them. As a result, the Wildcats shouldn't have much trouble keeping their perfect record unblemished. Washington State has actually won four of its last five, but Arizona will get off to a 1-0 start in the Pac-12.
Potential upset: No. 10 Oregon at Utah (8 p.m., Pac-12 Network). Could this be where the Ducks suffer their first loss? They flirted with defeat a few times last month, with close wins over Mississippi, Illinois and BYU. Utah could be the team to knock them off. The Utes have lost just once this season, a two-point defeat on the road at Boise State. Oregon is a tough matchup for most teams, but Utah's Jordan Loveridge and Delon Wright should be up to the task.
Three other things to keep an eye on:
Two more undefeated teams head on the road on Thursday. No. 4 Wisconsin trips to Northwestern (7 p.m., ESPN2), while No. 8 Wichita State goes to Southern Illinois (8:05 p.m., ESPN3).
Cleveland State and Green Bay, perhaps the two best teams in the Horizon, battle on Thursday (8 p.m., ESPN3).
Two more interesting Pac-12 games: Washington at Arizona State (8 p.m., ESPNU), and Oregon State at No. 20 Colorado (10 p.m., ESPNU).
Some familiar names dot the No. 1 and No. 2 seeds as Jerry Palm fills out his NCAA Tournament...

Here's how the top teams are trying to stay elite as recruiting heats up

There's never been anything like Wednesday night's LaMelo Ball-Zion Williamson showdown
The best basketball player in the world showed up too late to the biggest game in Las Vega...

Thousands of fans were turned away (even LeBron!) from the LaMelo Ball-Zion Williamson sho...

"Four Sides of the Story" also takes a look at Tiger Woods' first PGA tournament and the role...