Viewer's Guide: Maryland faces Pitt in pre-football ACC showdown
The BCS Championship Game gets most of the type on Monday night, but there is a decent ACC battle between Maryland and Pittsburgh too.
• 2 min read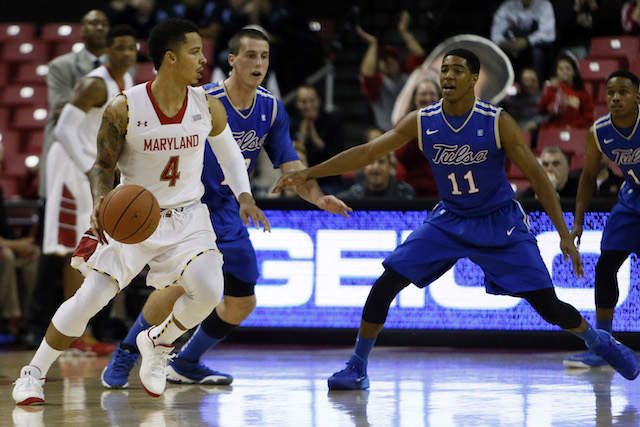 Man, conference play is just the best – and top-25 non-league battles aren't so bad either. Either way, it was a terrific weekend of college basketball, with ranked teams falling left and right and a long list of tight games. The momentum won't continue on Monday, as we have a light slate due to the BCS Championship game between Florida State and Auburn. I'll go with the Seminoles.
Note: All times are Eastern, and the rankings are according to the AP Poll.
Best game: Maryland at Pittsburgh (7 p.m., ESPN2). Back before Christmas, many people had soured on Maryland and Pittsburgh. The Terrapins dropped to 7-5 after a home loss to Boston University on December 21, while the Panthers looked inept offensively in a loss to Cincinnati at Madison Square Garden earlier that week. Now, though, both teams have picked it up. Maryland is on a three-game winning streak, including a 16-point win over Georgia Tech to move the Terps to 2-0 in the league. Meanwhile, Pittsburgh is coming off a 12-point road win at North Carolina State – a game in which they were down 17-2 to start the game.
Maryland has been taking care of the ball better lately, as the return of Seth Allen has eased some of the pressure off Dez Wells and the other perimeter players. Allen and Roddy Peters have been playing well, while Nick Faust has been getting more open shots. Meanwhile, Pittsburgh has playing its typical lockdown defense and crushing it on the glass – Lamar Patterson has proved itself as one of the most versatile and productive players in the league.
On Monday, the key could be the Terrapins continuing to take care of the ball and taking advantage of transition – it's difficult to get open shots against the Panthers' half-court defense, and Maryland has to either initiate consistent offense in the half-court, or get fast-break points. On the other side, we'll see if Pittsburgh can knock down shots from the perimeter. Maryland's size makes it tough to get points at the rim, but the Terrapins are vulnerable from 3-point range.
Other things to watch:
Iona is off to a 3-0 start in the MAAC, but the Gaels travel to Quinnipiac on Monday (7 p.m.). Behind Ike Azotam and Zaid Hearst, the Bobcats are one of the best rebounding teams in the country.
Also in the MAAC, Canisius looks to move to 4-0 with a road trip to Marist (7 p.m.).
North Florida has surprised some in the Atlantic Sun, winning its first three games – including a win over Mercer. Can the Ospreys win at Northern Kentucky (7 p.m.)?
The two best teams in the SWAC battle it out, as Southern takes a trip to Texas Southern (9 p.m., ESPNU).
The Wildcats have a good shot at staying No. 1 in the Top 25 (and 1) for the rest of the regular...

Fall is being shut down after dealing with shoulder injuries and will undergo surgery soon

The Wildcats' resume doesn't seem too impressive right now
Was there contact? 'Everybody saw it,' UK coach John Calipari said

After losing its second game this week, a deep NCAA Tournament run looks far-fetched for U...

Coach K shows he is on on top of his game by landing the best three prospects in the Class...