Viewer's Guide: Michigan vs. Michigan State highlights weekend
Michigan and Michigan State battle for Big Ten supremacy, while there are a host of teams looking to build momentum going forward.
• 7 min read
You're probably noticing something different about the Weekend Viewer's Guide. There's an easy explanation. Because everyone loves delicious hoagies, the Friday version of our Viewer's Guide will now mirror the "Hoagie Scale" used for Jason La Canfora's NFL Game Rankings. Nothing much will change with the content; only the categories separating the games. Now I'm hungry.
It's a relatively quiet weekend of college basketball, which is strange considering there are no real football games going on. There are two matchups between top-25 teams, but the real thing to watch will be the teams looking to get some traction and momentum going forward. With only seven weeks until Selection Sunday, it's statement time for several times. 

Clearly the most intriguing game of the weekend, the winner moves into sole possession of first place in the Big Ten. Michigan State will be without Branden Dawson and could be without Adreian Payne, both due to injury. The Spartans will have to rely more heavily on role players Kenny Kaminski and Matt Costello this weekend. Michigan is one of the big surprises of conference play, off to a 6-0 start in Big Ten play after winning eight in a row. Nik Stauskas has emerged as a legitimate All-American candidate, while Jordan Morgan's play down low has helped the Wolverines overcome the loss of Mitch McGary. Point guard play could be a key on Saturday: can Spike Albrecht and Derrick Walton handle Keith Appling? The Stauskas vs. Gary Harris battle should also be tremendous.
Florida State at No. 18 Duke (Saturday, 12 p.m., ESPN)
It's tough to figure out Florida State right now. The Seminoles are 13-5 overall, 4-2 in the ACC – with both losses coming to Virginia by double-figures. They haven't defeated any of the top-five contenders in the ACC, although they did beat VCU and Massachusetts back in non-conference play. An impressive showing against Duke would help their stature. The Blue Devils have won three in a row since their rough start to ACC play, although this game is followed up by road trips to Pittsburgh and Syracuse. Florida State does most of its damage in the paint, where Duke is susceptible. If Jabari Parker or Rodney Hood is having an off-night from the perimeter, the Seminoles could keep it close.
California at UCLA (Saturday, 8 p.m., ESPNU)
After Arizona, these are likely the two best teams in the Pac-12 at this moment. The battle on the perimeter should be terrific. California's Justin Cobbs is making a push for all-Pac-12 honors, while Tyrone Wallace had scored in double-figures in nine straight games prior to Wednesday's loss to USC. On the other side is Kyle Anderson, one of the best all-around players in the country, as well as scorer Jordan Adams. If California can limit UCLA's transition opportunities and force the Bruins to make plays in the half-court, that will be a huge boost. Meanwhile, California has to take care of the ball and get the ball inside to Richard Solomon and David Kravish.

No. 22 Kansas State at No. 16 Iowa State (Saturday, 1:45 p.m., ESPN3)
The other battle between top-25 teams this weekend, it's a chance for Iowa State to bounce back from its three-game losing streak back in the confines of Hilton Coliseum. Kansas State still seems like it will end up on the bubble come March, but the Wildcats have won 12 of their last 14 games. Pace will be a factor on Saturday, as Iowa State wants to get out in transition and shoot a bunch of 3-pointers, while Kansas State would prefer to slow the pace down. The Wildcats do defend the 3-point arc very well, though. 
Tennessee at No. 6 Florida (Saturday, 4 p.m., ESPN)
Another weekend, another chance for Tennessee to prove it can be the third-best team in the SEC. The Volunteers came up short against Kentucky last weekend, and now head on the road to Gainesville. Florida has won 10 in a row, and the Gators continue to churn out victories despite not playing all that efficiently on the offensive end. The key for Tennessee offensively will be getting Jarnell Stokes and Jeronne Maymon on the offensive glass. At the other end, limiting Michael Frazier on the perimeter is a key; when he shoots well, Florida is much more difficult to defend.   
Texas at No. 24 Baylor (Saturday, 1:30 p.m., ESPN3)
As the temperature dropped across the country this past week, Rick Barnes' hot seat also cooled off considerably. The Texas head coach seems likely to come back next season after winning four in a row, including victories over Iowa State and Kansas State. Now they head into Wace to face a Baylor team that has lost three in a row and is struggling at 1-4 in Big 12 play. Texas will look to push the ball as much as possible, but the key will be whether Cameron Ridley can continue his stellar play against Baylor's duo of Isaiah Austin and Cory Jefferson. 

No. 9 Wisconsin at Purdue (Saturday, 5 p.m., Big Ten Network)
Wisconsin has dropped three in a row after starting 16-0, and the Badgers' defense has been highly vulnerable during the streak. Meanwhile, Purdue had won three in a row before losing at Northwestern in overtime on Tuesday. The key will be the Boilermakers being able to take the Badgers off the dribble; Bryson Scott and Ronnie Johnson could be important.  
This is a battle between two teams who could be on the bubble come March. For Colorado, it has to prove that it can win without Spencer Dinwiddie. The Buffaloes have struggled mightily without him. On other side, Arizona State got back on the right track after beating Utah, and Jahii Carson should have a huge edge against the Buffs' backcourt without Dinwiddie.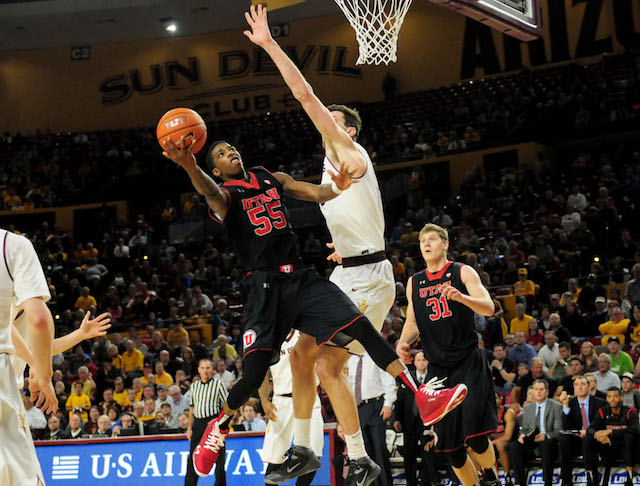 Utah at No. 1 Arizona (Sunday, 8 p.m., FOX Sports 1)
This should be Arizona's 20th win of the season, but Utah has some pieces that will test the Wildcats. Delon Wright has emerged as a very talented all-around player, while Jordan Loveridge has been a difficult matchup for some teams. Unfortunately for the Utes, scoring around the basket and defensive rebounding won't be easy against the size of Arizona.  

Xavier at Providence (Saturday, 12 p.m., FOX Sports 1)
A big change for Providence to prove it can be a potential at-large team, as the Frairs have won four in a row -- including last week's win over Creighton. Xavier has won 10 of its last 11.
No. 2 Syracuse at Miami (Saturday, 1 p.m., CBS)
Miami nearly took down the Orange at the Carrier Dome, and the Hurricanes' ability to slow the game down could create problems. Will they be able to get points against the zone?
No. 20 Pittsburgh at Maryland (Saturday, 6 p.m., ESPN2)
Maryland had lost three of its last four games, but the Terrapins haven't lost at home in over a month. The key for Pitt will be finding ways to score inside against the Terps' size. 
BYU at Gonzaga (Saturday, 10 p.m., ESPN2)
This might not be a vintage Gonzaga team (yet), but the Bulldogs continue to roll through the WCC. BYU has the scorers to keep up with Gonzaga, but the Cougars can't stop anyone.
Is this where San Diego State's 16-game winning streak comes to a close? The Aztecs are rolling, but Utah State can match them on the glass and have the ability to get hot from deep.
Illinois at Indiana (Sunday, 3 p.m., Big Ten Network)
Both teams need to turn it around in a hurry in order to make a run at the bubble. Illinois has lost five in a row after falling at Ohio State, while Indiana has dropped two in a row and is 2-4 in the league.
Other games to watch:
FRIDAY
Vermont at Stony Brook (9 p.m., ESPNU)
SATURDAY
No. 10 Iowa at Northwestern (12 p.m., Big Ten Network)
Towson at Delaware (12 p.m.)
VCU at La Salle (12 p.m., ESPN2)
Georgia at No. 14 Kentucky (1:30 p.m., ESPN3)
No. 4 Villanova at Marquette (2 p.m., FOX Sports 1)
West Virginia at No. 11 Oklahoma State (2 p.m., ESPN2)
Virginia Tech at Virginia (3 p.m., ESPN3)
No. 25 Oklahoma at Texas Tech (4 p.m., ESPN3)
American at Army (4 p.m.)
Saint Joseph's at Richmond (4 p.m., NBC Sports)
New Mexico at Colorado State (4 p.m., ESPN3)
Mississippi State at Ole Miss (4 p.m., ESPN3)
St. John's at Butler (4 p.m., FSN)
South Carolina at Missouri (4 p.m., ESPN3)
Connecticut at Rutgers (7 p.m., ESPNU)
Eastern Kentucky at Belmont (8 p.m.)
LSU at Alabama (8 p.m., ESPN2)
No. 5 Wichita State at Drake (8:05 p.m.)
No. 8 Kansas at TCU (9 p.m., ESPNU)
SUNDAY
Fordham at No. 13 Massachusetts (12 p.m., NBC Sports Network)
South Florida at No. 23 Memphis (2 p.m., CBS Sports Network)
SMU at Houston (3 p.m., ESPNEWS)
No. 15 Cincinnati at Temple (4 p.m., CBS Sports Network)
Stanford at USC (5 p.m., Pac-12 Network)
Clemson at North Carolina (6 p.m., ESPNU)
Minnesota at Nebraska (6 p.m., Big Ten Network)
Oregon at Washington State (7 p.m., Pac-12 Network)
It appears he's more than happy to pay up, given the circumstances

Lithuania seems ready for the Ball era to begin

The Sun Devils make a big jump and the Jayhawks slide after ASU pulls the big upset
Arizona's big man from the Bahamas balled out against two talented teams

Coach Shaka Smart doesn't expect him to be out for an extended period of time

Jackson isn't showing the Sun Devils much respect after beating KU