Viewer's Guide: New Year's Eve marathon of conference clashes
Happy New Year's Eve, folks. If you're home, you get a great helping of conference play in the AAC, Big East and Big Ten.
• 4 min read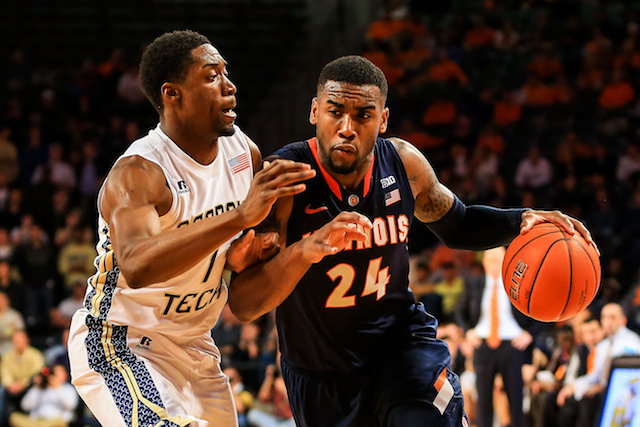 Conference play really gets going on Tuesday, with the AAC, Big East and Big Ten firing up the league slates. Plus, because it's New Year's Eve, we have a full day of hoops ahead of us. It gets going at noon – and should end around the time the ball drops. Hopefully no one thinks you're "that guy" when you ask to check the score of Marquette-Creighton near midnight.
Note: All times are Eastern, and the rankings are according to the AP Poll.
Best game: Indiana at Illinois (3 p.m., ESPN2). The Big Ten is going to be a beast this season. It's loaded at the top, and then the middle of the pack is a jumble right now. Two of those teams meet on Tuesday. For Indiana, it's the first of a brutal seven-game stretch to start Big Ten play – a stretch where the Hoosiers could conceivably go 2-5. At Illinois, vs. Michigan State, at Penn State, vs. Wisconsin, vs. Northwestern, at Michigan State, vs. Illinois. To avoid 2-5, they need to win road games or beat one of the big boys at home. Illinois has been somewhat surprising this season, going 11-2 with wins over UNLV and Missouri. The Fighting Illini have to keep Noah Vonleh off the glass and off the free-throw line, while Indiana has to focus on Rayvonte Rice's perimeter scoring.  
Second-best game: Marquette at Creighton (10 p.m., FOX Sports 1). Coming into the season, this looked like it could be the two best teams in the conference. However, Villanova has emerged as the likely team to beat, while Marquette has struggled immensely. The Golden Eagles are just 8-5 on the season, with the lone remotely impressive win coming over George Washington. Creighton has rebounded nicely since dropping two in a row to San Diego State and George Washington, winning five in a row. Marquette has been susceptible to hot shooting from the perimeter – and that's where Creighton excels. If Doug McDermott and co. have open shots all night, it's going to be a long game.
Another one to watch: St. John's at Xavier (12 p.m., FOX Sports 1). After Villanova and maybe Creighton, the Big East is going to be fairly wide-open this season. Both St. John's and Xavier have the chance to make a push for a top-three spot in the league, as well as a spot in the NCAA tournament. St. John's had struck out in its three toughest games this season, but the Red Storm have as much talent as anyone in the league. Xavier has won five in a row since dropping three in the Bahamas. If Xavier makes St. John's score consistently in the halfcourt, it could be a tough night for the Red Storm. Can the Red Storm contain Semaj Christon?
Guaranteed wins: After winning the Diamond Head Classic, Iowa State is now 11-0 with just a home game against Northern Illinois (7 p.m.) between the Cyclones and an unbeaten non-conference record. It shouldn't pose too much of a problem. Side note: Northern Illinois transfer Abdel Nader is sitting out this season for Iowa State. Meanwhile, it's hard to bet on North Carolina given its inconsistencies this season, but the Tar Heels should find a way to beat UNC-Wilmington (5 p.m., ESPNU).
Potential upset: No. 11 Villanova at Butler (7:30 p.m., FOX Sports 1). Early in the Syracuse game on Saturday, Villanova looked like a title contender. The Wildcats were up 25-7 . . . then the 3-pointers stopped falling, and Syracuse ended up cruising to a win in the second half. Will Butler make it two in a row? The Bulldogs have only lost two games this season, and guard the arc very effectively. If Butler keeps Villanova from pushing the ball in transition, it could win this one.
Three other things to keep an eye on:
Purdue is undefeated at home this season, and it also owns a road win at West Virginia. Can the Boilermakers throw a scare into Ohio State (1 p.m., ESPN2)?
Penn State has excellent guards, and a chance to win some games in the Big Ten. Michigan State needs to be on alert (5 p.m., Big Ten Network).
Louisville's first game without Chane Behanan comes on Tuesday at UCF (5 p.m., ESPN2).
Other games to watch:
Kent State at Princeton (12 p.m.)
No. 7 Duke at Elon (1 p.m., ESPNU)
Albany at Pittsburgh (1 p.m., ESPN3)
North Carolina Central at Maryland (2:30 p.m., ESPN3)
Seton Hall at Providence (2:30 p.m., FOX Sports 1)
Eastern Michigan at No. 2 Syracuse (3 p.m., ESPNU)
George Washington at Kansas State (3 p.m.)
DePaul at Georgetown (5 p.m., FOX Sports 1)
No. 18 Memphis at South Florida (7 p.m., ESPN2)
Nebraska at No. 22 Iowa (7 p.m., Big Ten Network)
No. 17 Connecticut at Houston (9 p.m., ESPN2)
Zack Cimini has been on a roll in college basketball and locked in a play for Texas-West V...

Zack Cimini is on a college basketball heater and just locked in a strong pick for Saturda...

Our advanced computer model simulated Saturday's Arizona-Stanford game 10,000 times
'If you want it, you're world champs,' A-Rod told the Spartans, which isn't exactly correc...

The players have the right to appeal the decision within three business days

Young is coming off his worst game as a Sooner and will try and bounce back vs. the Cowboy...