Viewer's Guide: Ohio St., Michigan heading in opposite directions
Michigan's offense vs. Ohio State's defense. Sounds like a football battle, but the hardwood will get the attention on Tuesday.
• 3 min read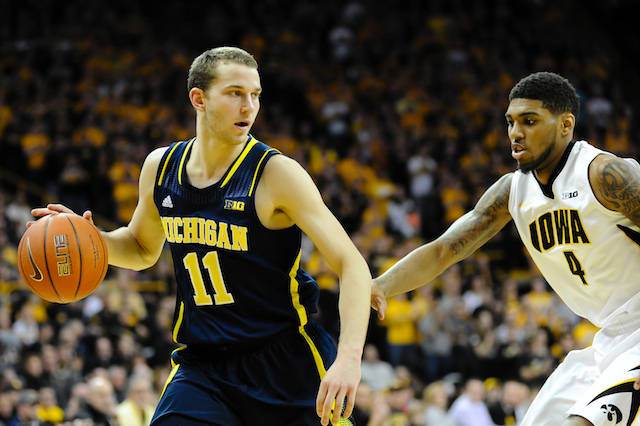 Monday was the start to a week of rivalries, and it got off to a great start, with Kansas State taking down Kansas in overtime. Tuesday brings a few more key conference tilts, highlighted by a showdown in the Big Ten. Plus, there are few opportunities for bubble teams to enhance their resumes.
Note: All times are Eastern, and the rankings are according to the AP Poll.
Best game: No. 15 Michigan at No. 22 Ohio State (9 p.m., ESPN). While the rivalry might not be as big in basketball as in football, this game will still have plenty of eyeballs. Michigan was the talk of the Big Ten in January, jumping out to an 8-0 start in conference play, including wins over Iowa and Michigan State. The Wolverines have since dropped two of three, though. Ohio State is heading in the opposite direction, winning three in a row after dropping five of six. The battle to watch in this game is Michigan's offense against Ohio State's defense. Both rank in the top-five in efficiency, respectively. The Buckeyes defend the 3 better than anyone in the country, while Michigan relies heavily on the outside shot. Derrick Walton has to initiate good offense against Aaron Craft, while Glenn Robinson III can't disappear. Will Shannon Scott guard Nik Stauskas?
Second-best game: No. 3 Florida at Tennessee (7 p.m., ESPN). This is a big chance for the Volunteers. They have won three of their last four and have an at-large resume that points to a lot of sweating on Selection Sunday – for now. This week, Cuonzo Martin's club faces Florida at home and then Missouri on the road. Two wins and Tennessee is in good shape. Two losses, and we'll have to wait and see. Up first are the Gators, which have won 15 games in a row and are 10-0 in the SEC. The key in this game could be on the glass and inside, as Florida has the size and depth down low to stifle Jarnell Stokes and Jeronne Maymon. If those two struggle, Tennessee becomes too reliant on Jordan McRae. Antonio Barton also has to be effective against Florida's aggressive defense.
Another one to watch: Oklahoma State at No. 19 Texas (7 p.m., ESPN2). The first game for Oklahoma State without Marcus Smart. The Cowboys head to Austin with a thin bench, no pure point guard and no consistent inside play – while Texas had won seven in a row prior to falling at Kansas State over the weekend. Texas has some injury concerns, as starting forward Jonathan Holmes will be a game-time decision with a right knee injury. Can Oklahoma State handle Cameron Ridley on the inside? Moreover, can the Cowboys run efficient offense – either through LeBryan Nash inside or with Markel Brown leading the way?
Guaranteed win: Southern Illinois at No. 4 Wichita State (8 p.m.). Getting back last week was huge for Wichita State, which went on the road and took down Indiana State – the second-best team in the Missouri Valley – and Northern Iowa – a team that had won 10 straight home games prior to this month. While Southern Illinois has won four in a row and is better than expected, Wichita State shouldn't have much trouble at home.
Potential upset: Xavier at Butler (9 p.m., FOX Sports 1). Xavier has moved from solidly in the NCAA tournament field to a team that's squarely on the bubble – although the weekend win over Providence was a big boost. But now the Musketeers head to Butler, which has struggled in the new Big East under new head coach Brandon Miller – but they seem to be involved in close games every night. The Bulldogs could win if they force Xavier to settle for jumpers. 
Three things to keep an eye on:
It's still tough to get a handle on Clemson, despite its 6-4 ACC record. Wins this week at Notre Dame (7 p.m., ESPN3) and Virginia could help.
Ole Miss picked up a key bubble win over the weekend against Missouri, but the Rebels now have to follow that up with a trip to Alabama (9 p.m., ESPNU).
No. 5 San Diego State looks to move its winning streak to 21 games with what could be a difficult game at Wyoming (11 p.m., ESPNU).
The best basketball player in the world showed up too late to the biggest game in Las Vegas...

Thousands of fans were turned away (even LeBron!) from the LaMelo Ball-Zion Williamson sho...

"Four Sides of the Story" also takes a look at Tiger Woods' first PGA tournament and the role...
Indiana's Archie Miller and Mizzou's Cuonzo Martin have been killing it on the recruiting...

Duke's much-anticipated Allen-Duval connection is off to a hot start already

It'll be Miller vs. Miller if the Hoosiers and Wildcats can finalize the proposed series