Viewer's Guide: Ohio State vs. Iowa, plus the debut of Chris Walker
There are several intriguing games to watch on Tuesday, but many eyes will be on the debut of Florida freshman Chris Walker.
• 3 min read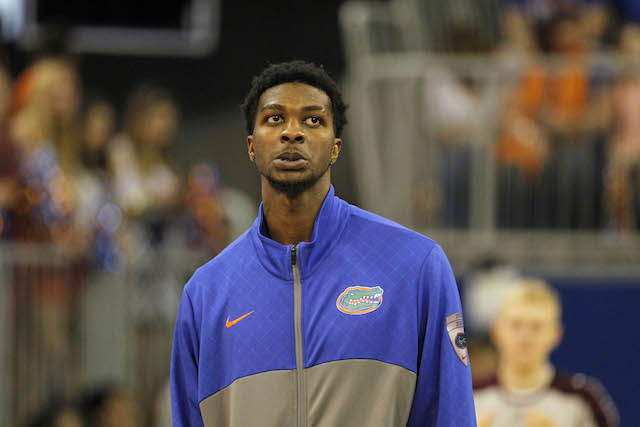 College basketball has a pretty good sense of timing this season. It sandwiched the Super Bowl with maybe its two best games of the season, with Oklahoma State and Iowa State's three-overtime classic on Monday welcoming those casual fans with a bang. There are some more quality tilts on Tuesday.
Note: All times are Eastern, and the rankings are according to the AP Poll.
Best game: Ohio State at No. 17 Iowa (7 p.m., ESPN). When Ohio State lost at home to Iowa by double-digits on Jan. 12, we suddenly knew that something was wrong with the Buckeyes. They ended up losing five of six games, but went on the road and knocked off Wisconsin on Saturday – which could signal a turnaround is coming. Iowa has actually been up and down lately, although the Hawkeyes have lost just one game by more than five points this season (an eight-point defeat at Michigan). The battle between Iowa's versatile and balanced offense and Ohio State's lockdown defense will be interesting, but the key will be whether Ohio State can create offense consistently.
Second-best game: No. 8 Kansas at Baylor (7 p.m., ESPN2). Before the weekend, this game looked like another easy win for the Jayhawks. However, then Baylor seemingly saved its season with a road win at Oklahoma State, while Kansas dropped one at Texas. Baylor lost by 10 in Lawrence a couple weeks ago, but the Bears have the size to compete with Kansas down low – if Isaiah Austin is a factor at both ends. Point guard play will also be a key for Baylor. Kenny Chery missed Saturday's game with a foot injury, and Gary Franklin knocked down three 3-pointers and dished out five assists. If Chery is out again, can Franklin perform effectively?
Another one to watch: Missouri at No. 3 Florida (9 p.m., ESPN). All eyes are on Chris Walker. The former top-10 recruit will make his debut for the Gators, and while he might only play 12-15 minutes, he should provide something of a boost for Billy Donovan's frontcourt off the bench. Florida is one of the hottest teams in the country, winning 13 in a row and looking like a Final Four favorite. Meanwhile, Missouri needs to add to its at-large profile. The Tigers missed a chance at home against Kentucky on Saturday; can Jordan Clarkson and SEC Player of the Year candidate Jabari Brown keep it close in Gainesville?
Guaranteed win: Rutgers at No. 24 Memphis (7 p.m., CBS Sports Network). There aren't too many options for this one, but I just don't think Rutgers is going to go into Memphis and come out with a win. The Scarlet Knights haven't won a road game all season, and are just 9-13 in Eddie Jordan's first season at the helm. This is Memphis' final tune-up before a home game against Gonzaga on Saturday.
Potential upset: Wisconsin at Illinois (9 p.m., Big Ten Network). This can't happen, right? The Bo Ryan-coached Badgers can't possibly lose again – for the third game in a row and the sixth time in seven games. Especially against an Illinois team that has lost seven games in a row. Well, that's what I'm predicting here. Wisconsin hasn't been able to stop anyone lately, and Rayvonte Rice might have broken out of his slump with 16.5 points in his last two games.
Three things to keep an eye on:
Ole Miss is 6-2 in the SEC, but the Rebels lack multiple resume-boosting wins. But Marshall Henderson and co. head to Rupp Arena to face Kentucky (7 p.m., ESPNU).
St. John's has won four of its last five, while Providence has pulled off six wins in its last seven games. The Red Storm travel to the Friars (7 p.m., FOX Sports 1).
North Carolina has become sort of normal of late, winning three in a row – in games the Tar Heels were expected to win. They host Maryland (8 p.m., ESPN3).
Other games to watch:
No. 15 Texas at TCU (8 p.m., ESPN3)
Georgia Tech at Clemson (8 p.m., ESPN3)
Wake Forest at No. 11 Duke (9 p.m., ESPNU)
Butler at Marquette (9 p.m., FOX Sports 1)
Josh Nagel is a Reno-based handicapper who has his finger on the pulse of Nevada basketbal...

Zack Cimini is a contrarian thinker who's tailed throughout the handicapping industry

The Seahawks could be back in the NCAA Tournament next year if Cacok returns for his senior...
Kenny White used to set lines for the biggest casinos. Now, he's locked in a Syracuse vs. UNC...

Rhode Island also secured at least a share of the Atlantic 10 and is No. 20 in the Top 25 (and...

Stephen Oh has his finger on the pulse of South Carolina basketball and released a play for...