Viewer's Guide: OK State-Colorado leads weekend filled with quality
Be sure to get everything done Saturday morning -- the evening hours of Saturday are jam-packed with quality games.
• 5 min read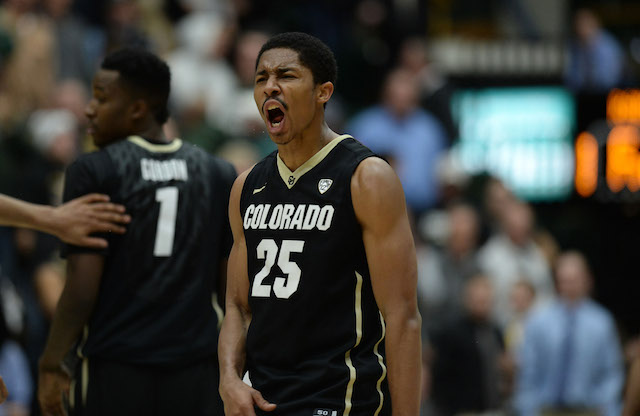 For the first time in a few weeks, there's no marquee Friday game to watch -- but that doesn't lessen the quality of the weekend. There are several interesting games on Saturday, especially Saturday night -- including a late-night top-20 game that might not end up until 2 a.m. Sunday. So get your caffeine up.
Note: All times are Eastern, and the rankings are according to the AP Poll. 
Best game: No. 7 <span data-shortcode= State" data-canon="Oklahoma Sooners" data-type="SPORTS_OBJECT_TEAM" id="shortcode0"> vs. No. 20 Colorado (Saturday, 11:30 p.m., ESPN2). The lone top-20 game of the weekend, taking place in Vegas. I'm excited about the battle on the perimeter. Marcus Smart and Markel Brown form a dynamite duo, while Phil Forte can shoot the heck out of the ball. Colorado counters with Spencer Dinwiddie, a terrific penetrator and defender, and Askia Booker, he of the winning Kansas shot. The key for Colorado to pull the upset will be limiting the turnovers; Oklahoma State ranks in the top 20 nationally in defensive turnover percentage. On the other side, the Buffaloes need to guard the perimeter more effectively; Oklahoma State could find itself with a lot of open shots. Le'Bryan Nash vs. Xavier Johnson could be a good matchup.
Second-best game: Georgetown at No. 18 Kansas (Saturday, 12 p.m., ESPN). This one looked slightly more attractive at the start of the season, but this is going to a must-watch game. Georgetown lost two of three to begin the season, but the Hoyas have rolled six in a row since then. Meanwhile, Kansas has dropped three of its last five games. It could be a tempo battle. Kansas likes to get its athletes out in transition, with Wayne Selden and Andrew Wiggins attacking the rim. Georgetown will have to take care of the ball and not allow long rebounds. Another big factor could be the foul situation. Both teams have struggled with foul trouble this season; which team's interior group will stay on the floor the longest?  
Another one to watch: No. 22 Massachusetts vs. <span data-shortcode= State" data-canon="Florida Gators" data-type="SPORTS_OBJECT_TEAM" id="shortcode0"> (Saturday, 2 p.m., FOX Sports). We're going to learn a lot about both teams in this one. Massachusetts has started off with a 10-0 record, but the Minutemen will be tested in the Sunshine State. Florida State has been inconsistent, but the Seminoles are capable of impressive performances. Can they be a factor in the ACC? Can Massachusetts be the favorite in the Atlantic 10? The Minutemen will have to take care of the ball against Florida State, while the Seminoles have to keep UMass off the offensive glass. Can the Seminoles slow down Chaz Williams and the up-tempo ways of Massachusetts?
Guaranteed wins: There's a bunch of options here, but let's limit it to two. We'll start with No. 15 Memphis, which impressed immensely despite its loss to Florida earlier this week. Now the Tigers welcome Southeast Missouri State (Saturday, 8 p.m., ESPN3) to town. The Redhawks are 7-3, but the best win is over Texas State. No. 24 San Diego State pummeled <span data-shortcode= Utah" data-canon="Utah Utes" data-type="SPORTS_OBJECT_TEAM" id="shortcode0"> by 38 on Wednesday, and it should handle McNeese State (Saturday, 10 p.m., Regional TV) by at least 20. 
Potential upsets: I came into the season loving Boise State, and I still think the Broncos have the backcourt to make a run in March. However, they really struggle away from home – and a trip to Hawaii (Sunday, 1 a.m., ESPNU) will be a problem. I think Boise could go down. La Salle has struggled this season despite making a Sweet 16 run a season ago, and that's why the Explorers are probably underdogs at Miami (Sunday, 3 p.m., ESPN3). I think La Salle's guards will be too much for the Hurricanes.
Eight other must-see games:
Belmont at No. 19 Kentucky (Saturday, 12 p.m., ESPNU). Kentucky has lost two of three, and the Wildcats have one final tune-up before the big Louisville game.
No. 5 Michigan State at Texas (Saturday, 4 p.m., CBS). Can Texas make it two big wins in a row? Michigan State has had some injury issues, and the Longhorns have momentum.
No. 23 Missouri vs. Illinois (Saturday, 5:30 p.m, ESPN2.) Braggin' Rights. Missouri is unbeaten but has some questions; Illinois needs to slow the Tigers' perimeter group.
No. 3 <span data-shortcode= State" data-canon="Ohio Bobcats" data-type="SPORTS_OBJECT_TEAM" id="shortcode0"> vs. Notre Dame (Saturday, 7:30 p.m., ESPN2): Will be an interesting battle between Notre Dame's deep and talented perimeter and Ohio State's stifling backcourt defense.
Michigan vs. Stanford (Saturday, 8:30 p.m., FOX Sports 1): This game took on some extra pop when Stanford beat Connecticut on the road this week; Michigan already has four losses.
Marquette vs. New Mexico (Saturday, 9 p.m., ESPNU): Back-to-back losses and no Hugh Greenwood could mean trouble for the Lobos. Has Marquette found its offense?
BYU at No. 13 Oregon (Saturday, 10:30 p.m., Pac-12 Network): Guaranteed to be one of the more fun games of the weekend. Oregon has rolled to a 10-0 start.
California at Creighton (Sunday, 7:07 p.m, FOX Sports 1.): California has dropped three of its last six, and a win at Creighton would be huge. Might be tough to get it, though.
Other games to watch:
FRIDAY
SATURDAY
East Carolina at North Carolina State (12 p.m., ESPN3)
Boston University at Maryland (1 p.m., ESPN3)
Middle Tennessee at Cincinnati (2 p.m., ESPN3)
Butler at Evansville (3:05 p.m.)
No. 21 Gonzaga at Kansas State (3:30 p.m., ESPN2)
Cal Poly at Pittsburgh (4 p.m., ESPN3)
Fresno State at No. 16 Florida (4:30 p.m., FOX Sports Net)
Davidson at No. 14 North Carolina (5 p.m., ESPNU)
VCU at Virginia Tech (5:30 p.m., NBC Sports Network)
No. 6 Louisville at Florida International (6 p.m., FOX Sports 1)
Oklahoma at Texas A&M (7 p.m., ESPNU)
USC Upstate at Charlotte (7 p.m.)
Xavier at Alabama (7 p.m., ESPN3)
Towson at <span data-shortcode= State" data-canon="North Dakota Fighting Hawks" data-type="SPORTS_OBJECT_TEAM" id="shortcode0"> (8 p.m.)
SUNDAY
The game will be finished on Thursday at noon at Providence's on-campus basketball gym

The five-star forward put on a dunking and blocking clinic in high school's state quarterfinal...

Pitino dug in and maintained he ran a 'clean program' after the NCAA stripped UL of its 2013...
Bagley is still recovering from a knee injury he suffered during the Blue Devils' loss to...

Izzo was emotional as he coached the seniors on their final home game in East Lansing

The Shockers look to build on their four game winning streak as they return home to face T...