Viewer's Guide: Opening night filled with intriguing games
College basketball is finally here -- and we're getting off to a terrific start on Friday. There are plenty of interesting games to get your five-month sprint to the Final Four kicked off.
• 4 min read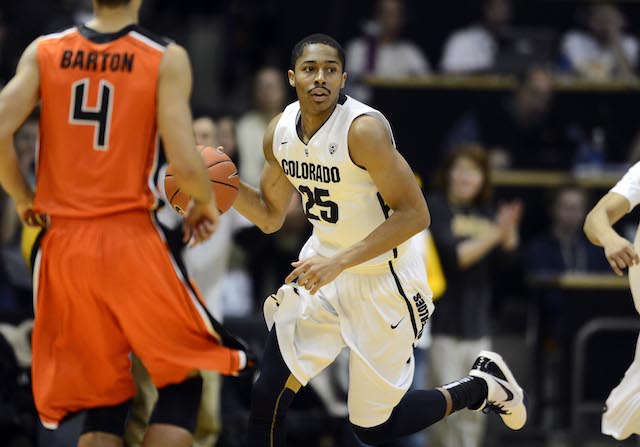 It's finally here! Welcome to the 2013-14 college basketball season. Sure, there's been exhibition games and "secret" scrimmages, but Friday will mark the official tip-off of the campaign. And unlike a few years ago, when there would just be a few random games scattered about the schedule, there are several interesting contests to watch. But more than anything else, just get ready to camp in front of the TV for the next five months.
Note: All times are Eastern, and the rankings are according to the AP Poll. 
Best game: Colorado Buffaloes at No. 25 Baylor (10 p.m., FOX Sports Affiliates). As the week progressed, this is the game I became increasingly more excited about. Colorado loses Andre Roberson from a year ago, but the Buffaloes bring back the backcourt of Spencer Dinwiddie and Askia Booker , as well as inside force Josh Scott . Baylor counters with the potentially dominant frontcourt duo of Isaiah Austin and Cory Jefferson . Will Baylor get consistent point guard play from Kenny Cherry? Can Scott and Wesley Gordon bang down low for Colorado? Two teams with contrasting personnel makes for a fun night in Dallas.
Second-best game: St. John's vs. No. 20 Wisconsin Badgers (7 p.m., Big Ten Network). Speaking of contrasts, it should be a complete battle of styles in Sioux Falls, S.D. St. John's might have the most talented team in the Big East, with athletes up and down the roster. Wisconsin loses its entire frontcourt, but Bo Ryan and the Badgers are just incapable of having bad seasons. They will look to slow it down and force the Red Storm to make plays in a half-court setting. Rysheed Jordan and D'Angelo Harrison can't get frustrated by the Badgers' defense.
Another one to watch: No. 19 Oregon Ducks vs. Georgetown Hoyas (8 p.m., ESPN). This game would have a little more luster had the Ducks not suspended starting point guard Dominic Artis and potential breakout forward Ben Carter for nine games after selling sneakers. With that said, a game being played in South Korea is interesting nonetheless. Oregon is still loaded with talent, with transfers Joseph Young , Jason Calliste and Mike Moser joining returning guard Damyean Dotson . Georgetown loses Otto Porter, but D'Vauntes Smith-Rivera is ready for a big year. Markel Starks ' consistency and a healthy Josh Smith are keys.
Guaranteed wins: With so many ranked teams playing cupcakes at home to start the season, there are plenty of potential blowouts. But we're going to go with three games featuring returning stars – in what will likely be the final collegiate season-opener for each one. Player of the Year candidate Marcus Smart leads No. 8 Oklahoma State against Mississippi Valley State (8 p.m., FOX Sports Affiliates), while All-American Doug McDermott and Creighton host Alcorn State (8 p.m., FOX Sports Affiliates). Don't forget Jahii Carson beginning his national campaign with Arizona State against UMBC (8 p.m., Pac-12 Network).
On the flipside, we get our first chance to watch a host of talented freshmen play their first games on Friday, with the most interesting ones being UNC-Asheville at No. 1 Kentucky (7 p.m., ESPN3) and Louisiana-Monroe at No. 5 Kansas (8 p.m., ESPN3). Both games will be blowouts, but Julius Randle, the Harrison twins, James Young, Andrew Wiggins, Wayne Selden, Joel Embiid – it will be fun no matter what.
Potential upsets: There are actually a few potential surprises on the opening-night docket. Three of them are late-night West coast games: Weber State at BYU (9 p.m., BYUTV), Louisiana Tech at Saint Mary's (11:30 p.m.), and Drexel at No. 22 UCLA (Midnight, Pac-12 Network). BYU brings back Tyler Haws, but Weber State is the Big Sky favorite and could get the upset. Louisiana Tech could send a message to the rest of Conference-USA with a win over Matthew Dellavedova-less Saint Mary's, while Drexel's physical style will cross the country for Steve Alford's debut. One other game to watch could be Florida Gulf Coast visiting Nebraska (9 p.m., Big Ten Network) for the return of "Dunk City."
Five things to keep an eye on:
There's a case to be made that this could be the best game of the night – but both No. 18 Connecticut and Maryland (6:30 p.m., ESPN2) have something to prove after last season's up-and-down campaign. How will Maryland replace the injury Seth Allen?
A couple of New England teams, Boston College at Providence (6 p.m., FOX Sports 1), are looking to make a jump in their respective conferences this season.
One of the more underrated rivalries nationally is the Battle of the Boulevard, between Belmont at Lipscomb (7 p.m., ESPN3). It takes place on Friday.
Albion at Eastern Michigan (12 p.m., ESPNU) is the first game of the season, so you might as well watch it.
The story of Devonte Graham not being let out of his Appalachian State letter of intent was fairly big in September – and the team head coach Jason Capel believes was tampering with Graham? North Carolina State. The two teams play at 7 p.m (ESPN3).
Other games to watch:
North Florida at No. 10 Florida (3 p.m., ESPN3)
Alabama vs. Oklahoma (5 p.m., FOX Sports)
McNeese State at No. 2 Michigan State (7 p.m.)
Davidson at No. 4 Duke (7 p.m., ESPNU)
UMass-Lowell at No. 7 Michigan (7 p.m.)
Cornell at No. 8 Syracuse (7 p.m., ESPN3)
Illinois State at No. 14 VCU (7 p.m., Regional TV)
Miami (Ohio) at No. 21 Notre Dame (7 p.m., ESPN3)
James Madison at No. 24 Virginia (7 p.m., ESPN3)
Chicago State at Indiana (7 p.m.)
Southern at No. 17 Marquette (8 p.m., FOX Sports Affiliates)
NC-Central at Cincinnati (8 p.m., ESPN3)
Buffalo at Texas A&M (8 p.m., ESPN3)
Southeast Missouri State at Saint Louis (8:30 p.m., FOX Sports Midwest)
Oakland at No. 12 North Carolina (9 p.m., ESPN3)
USC at Utah State (9:05 p.m., CBS Sports Network)
Cal Poly at No. 6 Arizona (10 p.m., Pac-12 Network)
The UConn women's basketball coach stepped in to offer up a solution in an education budget...

Duke and North Carolina players will skip ACC Operation Basketball because of new NCAA pol...

After a close game against Michigan, Air Force is playing San Diego State with some moment...
Quickley played for John Calipari this summer with USA Basketball

A revamped Erwin Center is part of a $4.25 million upgrade to the Longhorns' hoops facilit...

Nov. 10 will be here before you know it so here's what you need to know