Viewer's Guide: Oregon, Arkansas in need of marquee wins
The biggest games to keep an eye on Thursday could come from mid-major conferences -- and then Oregon and Arkansas going on the road in huge spots.
• 3 min read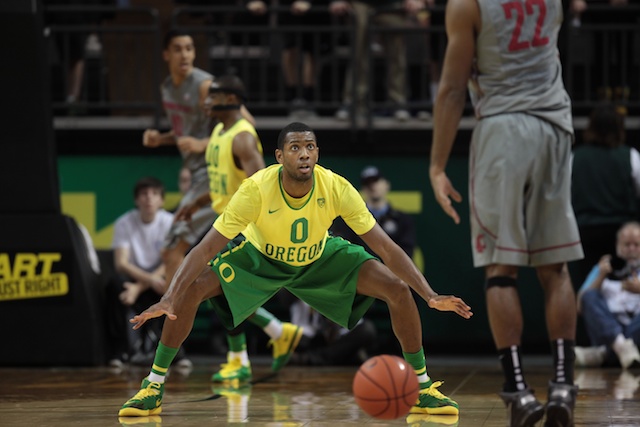 Wednesday saw two last-second winning shots from Top 25 teams, as well as a large crew of bubble teams stumbling at key times. Thursday doesn't have any marquee games, but it does feature two bubble teams heading on the road hoping for résumé-boosting wins. Moreover, plenty of conference titles can be clinched on Thursday.
Note: All times are Eastern, and the rankings are according to the AP poll.
Best game: Oregon at UCLA (11 p.m., ESPN2). Oregon has played itself back into the tournament picture without really doing much of note besides taking care of business at home against the bottom tier of the Pac-12. The Ducks still don't have a win against a sure-fire NCAA tournament team -- this would obviously change that. UCLA had won four in a row before losing at Stanford over the weekend. The perimeter battle in this one will be terrific, with Joseph Young and Co. taking on Kyle Anderson, Jordan Adams and the Bruins. Mike Moser had zero points in the first meeting, a two-point UCLA win -- he needs to step up on Thursday.
Second-best game: Arkansas at No. 17 Kentucky (7 p.m., ESPN). The first game between the two teams was one of the better games of the season, with Michael Qualls' putback dunk giving Arkansas the win. Now the Razorbacks might need another win to take the next step toward the at-large field. After dropping to 2-6 in the league, they have won five of six (including two road games!) to get back in the mix. Kentucky is playing for NCAA tournament seeding at this point, but the Wildcats would like to keep improving their chemistry and continuity. Julius Randle is emerging as a leader.
Another one to watch: Georgetown at Marquette (9 p.m., Fox Sports 1). Quite the bubblicious game in the Big East. Georgetown is right on the cutline, and while the Hoyas are 7-8 in the Big East, their three top-50 wins compare favorably to other bubble teams. After Thursday, Georgetown plays Creighton and Villanova to finish the season. Meanwhile, Marquette has played itself onto the periphery of the conversation by winning four of five to get to 8-6 in the league. The Golden Eagles might need three wins in their final four -- against Georgetown, Villanova, Providence and St. John's.
Guaranteed win: UNC Greensboro at Davidson (7 p.m.). By the end of the night, it should be three straight conference championships for Davidson. The Wildcats have won 10 straight games since falling at home to Elon in mid-January, and a win Thursday would clinch the outright Southern Conference championship. Brian Sullivan has been a key for Davidson lately, averaging 19.5 points in the four games before the weekend win over Wofford.
Potential upset: No. 20 Iowa at Indiana (9 p.m., ESPN). This game was rescheduled from last week after a piece of metal fell from the Assembly Hall ceiling the morning of the game. Both teams played Tuesday night, and also have a games Sunday. Iowa's defense hasn't been great lately, giving up 95 points to a Minnesota team that hadn't cracked the 55-point mark in the previous three games. I think Indiana takes advantage and comes together for a big win. 
Three things to keep an eye on:
Three monster conference clashes: Stony Brook at Vermont (7 p.m., ESPN3); New Mexico State at Utah Valley (9:05 p.m.), UC Santa Barbara at UC Irvine (10 p.m., ESPN3).
Gonzaga can clinch the outright WCC title at Pacific (10 p.m., ESPNU) -- but the Bulldogs also can't afford a loss for at-large purposes.
Stephen F. Austin (at New Orleans, 8:45 p.m.) and North Dakota State (vs. South Dakota, 8 p.m.) can clinch outright league titles with wins, while Georgia State (at Texas-Arlington, 8:30 p.m.) can clinch at least a share.
Other games to watch:
No. 22 Ohio State at Penn State (7 p.m., ESPN2)
Florida International at Southern Miss (7 p.m.)
VCU at Fordham (7 p.m., CBS Sports Network)
Middle Tennessee at Louisiana Tech (7:30 p.m.)
Duquesne at No. 10 Saint Louis (8 p.m., NBC Sports Network)
Temple at No. 7 Louisville (9 p.m., ESPN2)
No. 21 Memphis at Houston (9 p.m., CBS Sports Network)
The NCAA formally notified MSU of its investigation into Nassar on Tuesday

The Sooners' freshman, pilloried for his recent performances, showed a different side Tues...

Young is leading the NCAA in both scoring and assists per game
Our advanced computer model simulated Tuesday's UNLV vs. Fresno State game 10,000 times

Our advanced computer model simulated Tuesday's Kansas-Oklahoma game 10,000 times

Our advanced computer model simulated Tuesday's Virginia vs. Clemson game 10,000 times