Viewer's Guide: Patriot League title game, big leagues get underway
Wednesday sees several of the major conference tournaments begin, while a bid will be handed out in the Patriot League.
• 2 min read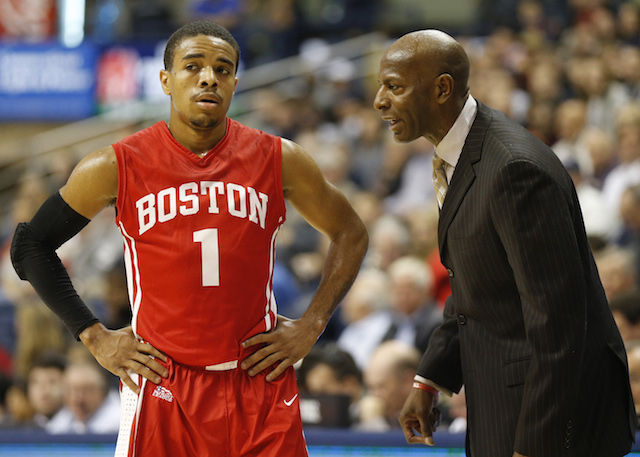 Latest in hoops: Top 25 (and one) | Bracketology | Bubble Watch
Four tickets were punched on Tuesday night, highlighted by North Dakota State's last-minute win over IPFW in the Summit. Wednesday only sees one NCAA Tournament handed out, but the major conference tournaments get going – and there are a handful of bubble games to watch.
Note: All times are Eastern, and the rankings are according to the AP Poll.
Best game: American at Boston University (7:30 p.m., CBS Sports Network). The lone conference championship game on Wednesday comes in the Patriot League. These were the two best teams in the league throughout the season, with BU coming out on top by two games. They split the two regular-season meetings, with American winning on its homecourt by 30 points and Boston University winning at home by nine. American lost five of its final eight regular-season games to lose its grip on the league, but the Eagles have righted the ship in the conference tournament. Both teams rely on the 3-point shot, while American guards the perimeter a bit better. The backcourt of Maurice Watson and D.J. Irving could be the difference for BU.
Bubble games:
Washington at Utah (3 p.m., Pac-12 Network): I don't think the Utes have much of a shot, but maybe a run to the Pac-12 title game gets them in the conversation. Non-conference SOS is just so bad.
USC at Colorado (5:30 p.m., Pac-12 Network): The Buffaloes are in good shape, but a loss here would drop them back to the bubble. They are just 7-7 since Spencer Dinwiddie's injury.
Texas Tech at Oklahoma State (7 p.m., ESPN3): Much like Colorado, the Cowboys are in solid position for the NCAA Tournament. As long as they avoid a bad loss on Wednesday, they're in.
DePaul at Georgetown (9:30 p.m., FOX Sports 1): The Hoyas have five top-50 wins, which is more than most bubble teams, but also three sub-100 losses. They need at least two wins in NYC.
Washington State at Stanford (11:30 p.m., Pac-12 Network): The Cardinal stabilized with a win over Utah on Saturday to snap a three-game losing streak. Surviving a loss to Washington State would be risky.
Best of the rest:
AAC: Two first-round games: South Florida vs. Rutgers (7 p.m., ESPNU), UCF vs. Temple (9:30 p.m., ESPN2).
ACC: Three first-round games, with the most intriguing coming between Notre Dame and Wake Forest (1 p.m., ESPN2). Could it be Jeff Bzdelik's final game?
Atlantic 10: Fordham plays George Mason in an opening round game (7 p.m.).
Conference-USA: UTEP could make a run as the tournament is played in El-Paso, and the Miners open with East Carolina (8 p.m.).
MEAC: Favorite and No. 1 seed North Carolina Central is in action, playing Howard (6 p.m.).
Mountain West: Once upon a time, Boise State was considered a Mountain West title contender. That time isn't now. But the Broncos play San Jose State (10 p.m.).
SEC: Two first round games. South Carolina vs. Auburn (7 p.m., ESPN3) is more interesting, with the uncertainty surrounding Tony Barbee's future.
SWAC: The two best teams in the SWAC are in action, with Southern facing Prairie View A&M (9 p.m.) and Texas Southern playing Grambling State (1:30 p.m.).
Others: Southland (first round); MAC (second round)
Was there contact? 'Everybody saw it,' UK coach John Calipari said

After losing its second game this week, a deep NCAA Tournament run looks far-fetched for U...

Coach K shows he is on on top of his game by landing the best three prospects in the Class...
The Buckeyes and Boilermakers continue to assert their dominance in the Big Ten

The 5-star phenom was thought to be headed to Clemson, but was swayed to the Blue Devils

The nation's No. 3 player will commit Saturday and here's his impact on each of his finali...