Viewer's Guide: Round of 32 gets underway after terrific two days
Saturday features eight Round of 32 matchups -- and all eight are intriguing. Will any double-digits seeds move to the Sweet 16?
• 3 min read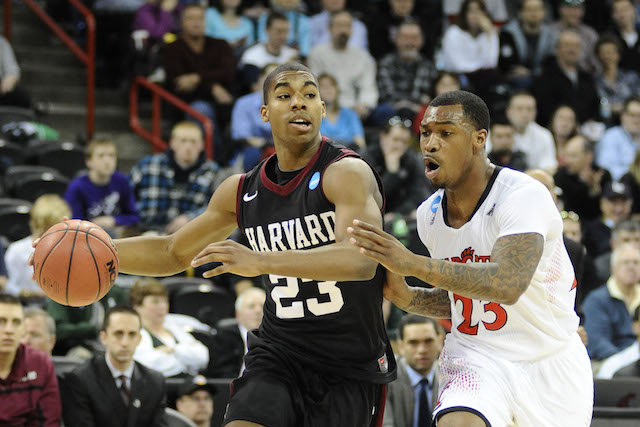 More: NCAA Tourney News | Bracket Hub | Expert Brackets
My memory isn't the world's best, but I can't remember a better Round of 64 than we had this season. There were multiple double-digit upsets, tons of great finishes, memorable moments, etc. I will say it lacked a multitude of amazing buzzer-beaters, but game-tying four-point plays at the end of regulation certainly tide me over. And now we enter what could one of the better NCAA Tournament weekends we've seen in awhile. Not much separates these squads.
Note: All times are Eastern.
No. 1 Florida vs. No. 9 Pittsburgh (12:15 p.m., CBS): The Panthers were one of the most impressive teams during the Round of 64, absolutely steamrolling Colorado in the 8/9 matchup. Meanwhile, Florida let Albany hang around for too long before pulling away down the stretch. The key could be Pittsburgh's outside shooting. The Panthers might find it difficult to score inside against Florida's interior defense, so they need to extend and spread out the Gators. Florida has to attack the offensive glass and get Michael Frazier going. 
No. 4 Louisville vs. No. 5 Saint Louis (2:45 p.m., CBS): Neither team looked all that impressive on Thursday, with Louisville needing a late run to overtake Manhattan and Saint Louis having to go on a monumental run to take down North Carolina State in overtime. Tempo will be the big factor on Saturday. Saint Louis has to take care of the ball and not allow Louisville to get out in transition. Moreover, the Billikens have to hope their late offensive momentum carries over. 
No. 2 Michigan vs. No. 7 Texas (5:15 p.m., CBS): Two very different styles. Michigan wants to spread the floor, take 3-pointers, play mostly in the half-court, and get some transition opportunities when the opening presents itself. Texas likes to push the ball, use its size inside, and attack the rim. Can the Longhorns guard the Wolverines' crew of shooters and scorers on the perimeter? Can Michigan handle Cameron Ridley and co. down low? The clash of personnel and strategy makes for a fun game.
No. 4 San Diego State vs. No. 12 North Dakota State (6:10 p.m., TNT): This one will be interesting, with both teams coming off overtime wins in the Round of 64. At one end, San Diego State will have to knock down perimeter shots against the North Dakota State pack-line defense. The other end is more intriguing, though. North Dakota State is one of the most efficient and accurate offenses in the country -- while San Diego State's length and size make the Aztecs a dominant defense. 
No. 3 Syracuse vs. No. 11 Dayton (7:10 p.m., TBS): Syracuse seemingly snapped out of its funk against Western Michigan, although Dayton will pose a stiffer test. The Flyers got the NCAA Tournament off to a rousing start with its win over Ohio State on Thursday afternoon. Dayton will be able to spread out the 2-3 zone and knock down shots, but it has to be able to care of the ball. At the other end, the Flyers have to continue doing an excellent job on the defensive glass. 
No. 2 Wisconsin vs. No. 7 Oregon (7:45 p.m., CBS): This game does have some upset potential -- although it comes down to which side is hitting its outside shots and getting to the free-throw line. Oregon struggled from outside against BYU, but it went to the free-throw line 36 times and constantly attacked off the bounce. That could give Wisconsin some issues on the perimeter. At the other end, Wisconsin will put out at least four players at all times that can make jumpers. Will Oregon be disciplined? 
No. 4 Michigan State vs. No. 12 Harvard (8:40 p.m., TNT): Harvard was one of the big stories of Thursday, as the Crimson took down a top-five seed for the second season in a row. They outplayed Cincinnati from start to finish, and will be up to the task against Michigan State. The Spartans received a career performance from Adreian Payne in the Round of 64, as he scored 41 points and dominated. Harvard has no answer for Payne on the inside, but it also has to defend the perimeter.
No. 2 Villanova vs. No. 7 Connecticut (9:40 p.m., TBS): An old-school Big East clash. Big guys won't be the focus in this one at all, as Villanova is led by a couple of matchup problems at the forward position in James Bell and JayVaughn Pinkston, while Connecticut counters with the dynamite backcourt duo of Shabazz Napier and Ryan Boatright. DeAndre Daniels needs to play well again on Saturday, as he needs to match Pinkston's physicality. Whichever team gets hot from 3-point range will likely win this one.
Here's how the top teams are trying to stay elite as recruiting heats up

There's never been anything like Wednesday night's LaMelo Ball-Zion Williamson showdown

The best basketball player in the world showed up too late to the biggest game in Las Vega...
Thousands of fans were turned away (even LeBron!) from the LaMelo Ball-Zion Williamson sho...

"Four Sides of the Story" also takes a look at Tiger Woods' first PGA tournament and the role...

Indiana's Archie Miller and Mizzou's Cuonzo Martin have been killing it on the recruiting...