Viewer's Guide: Saturday features this season's best slate of hoops
Don't leave the couch on Saturday. This weekend is jam-packed with high-level games.
• 9 min read
You're probably noticing something different about the Weekend Viewer's Guide. There's an easy explanation. Because everyone loves delicious hoagies, the Friday version of our Viewer's Guide will now mirror the "Hoagie Scale" used for Jason La Canfora's NFL Game Rankings. Nothing much will change with the content; only the categories separating the games. Now I'm hungry.
Maybe we'll get bad weather across the country again this weekend. Maybe we won't. Either way, I highly recommend staying inside for most of the weekend, especially on Saturday. Why? Well, Saturday is likely going to be the best day of college basketball this season. At least it's the most-hyped day of college basketball this season. There are five games between top-25 teams, plus another 13 or so between NCAA tournament teams or bubble teams. 

No. 1 Syracuse at No. 5 Duke (Saturday, 7 p.m., ESPN)
This one had a little more pop on Tuesday, before Syracuse lost at home to an awful Boston College team on Wednesday and Duke fell at North Carolina on Thursday. Either way, it is still a rematch of perhaps the best game of the season, when Syracuse beat Duke in overtime at the Carrier Dome. A couple of notes on the first meeting, when it comes to carrying things over: Jabari Parker only played 26 minutes before fouling out, and Duke was on fire from 3-point range, knocking down 15 trifectas. Amile Jefferson was excellent inside, but Parker and Rodney Hood are going to be key attacking the Syracuse 2-3 zone. They can both hit the mid-range shot, while also finding guys from the high post. The loss to BC might have woken Syracuse up, and especially Trevor Cooney. He's basically the only consistent 3-point shooter on the Orange, and he's just 9-for-27 in his last four games. Tyler Ennis and C.J. Fair will have to shoulder the load for Syracuse.
No. 11 Louisville at No. 7 Cincinnati (Saturday, 12 p.m., CBS)
One of many conference clashes that could decide regular-season titles on Saturday. Louisville is one game behind Cincinnati in the loss column, even though the Cardinals seem to be getting little attention nationally. Cincinnati has won 17 of its last 18 games, although the Bearcats have been playing with fire in its last three home games. This will be a matchup of two of the best defenses in the country, although they do it in different ways. Louisville is aggressive and changes from zone to man, while Cincinnati defends the rim extremely well and closes out on shooters effectively. Can Louisville get out in transition and get points off turnovers? Ge'Lawn Guyn and Troy Caupain can get rattled and inconsistent at the point guard position, and the Cardinals will attack. This game could come down to whether Sean Kilpatrick gets his 25 points. Fortunately for Cincinnati, he usually does.
No. 13 Michigan State at No. 20 Michigan (Sunday, 12 p.m., CBS)
The winner of this could have the edge for the Big Ten regular-season title. Both teams aren't playing their best basketball of the season right now, as Michigan has lost three of five and Michigan State had lost four of seven before hitting 17 3-pointers in a win at Purdue on Thursday. In the first meeting between the two teams, Derrick Walton was absolutely terrific for the Wolverines and his matchup with Keith Appling will be key. Moreover, Nik Stauskas has to break out of his slump. Teams are starting to defend him differently, forcing him along the baseline and to put it on the floor. For Michigan State, guarding the perimeter and attacking in transition will be important. Adreian Payne didn't play in the first meeting, and he could prove to be a matchup problem against the Wolverines.  

No. 16 Wisconsin at No. 15 Iowa (Saturday, 12 p.m., ESPN2)
It's still hard to get a feel for either of these teams. Wisconsin has won four in a row since losing five of its previous six, and the Badgers are coming off a 13-point win at Michigan. Meanwhile, Iowa has won two in a row since losing three of its previous five. Wisconsin won the first meeting between the two teams, in a game that was highlighted more by Fran McCaffery's ejection than the actual game. Wisconsin plays some of the most disciplined defense in the country, but it is vulnerable at the rim. Can the Badgers get consistent production from Sam Dekker and emerging freshman Nigel Hayes? 
No. 6 San Diego State at New Mexico (Saturday, 10 p.m., ESPN2)
Perhaps the game of the year in the Mountain West. New Mexico currently sits one game back of the Aztecs in the conference standings, but playing at The Pit is never an easy task for opponents. This is the first of two meetings between the teams, as they will also play in the season finale. Both teams look to get to the free-throw line, meaning the interior defense will have to be disciplined. Look for the key to be how San Diego State's big men defend Cameron Bairstow and Alex Kirk. Moreover, the point guard matchup between Xavier Thames and Kendall Williams should be great.
No. 19 Texas at No. 8 Kansas (Saturday, 7:30 p.m., ESPNU)
Texas handed Kansas its first Big 12 loss of the season at the beginning of February, and they did it by holding Andrew Wiggins and Joel Embiid to single digits (and a combined 5-for-21 shooting from the field). Moreover, they more than held their own inside, grabbing 19 offensive rebounds and getting 31 points and 14 rebounds from Jonathan Holmes and Cameron Ridley. Can the Longhorns do the same in Lawrence? Embiid is healthy again, and Texas will have to once again play well down low and protect the rim. How will freshman Isaiah Taylor handle Phog?

VCU at Massachusetts (Friday, 7 p.m., ESPN2)
Nice Friday evening showdown in the Atlantic-10. And this one should be awesome to watch. Both teams like to play in transition, and two of the most exciting players in the country will go head-to-head with Chaz Williams and Briante Weber. The biggest key for the Minutemen will be taking care of the ball and attacking the rim off penetration.
Kansas State at Oklahoma (Saturday, 4 p.m., ESPN3)
Two of the Big 12 surprises this season are looking to solidify their at-large resumes – both teams could be wearing home jerseys in the Round of 64. Kansas State won the first meeting back in January, with Marcus Foster leading the way. He has emerged as one of the best freshmen in the country, but the Wildcats will need to get back in transition against the Sooners.
No. 23 UCLA at Stanford (Saturday, 6 p.m., ESPN2)
This one is intriguing. UCLA has been playing terrific basketball lately, and it's not a stretch to say the Bruins could be the best team in the Pac-12 at this moment. They have won seven of eight, and are only one game behind Arizona in the standings. Stanford is squarely on the bubble, but wins in eight of 11 have put the Cardinal in decent position. Tough schedule upcoming.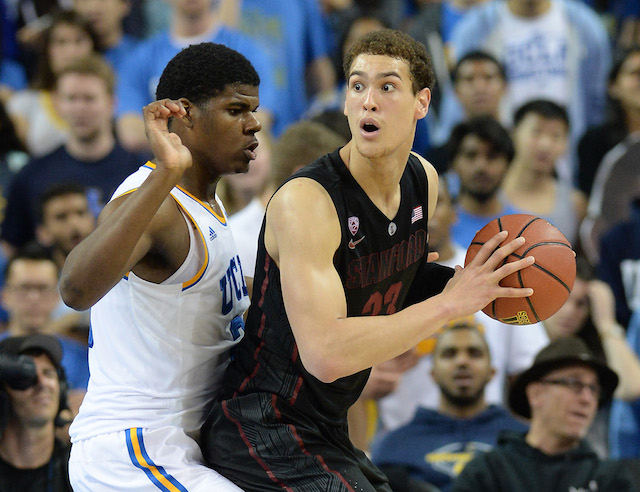 SMU at No. 21 Connecticut (Sunday, 2 p.m., CBS Sports Network)
Larry Brown has done a terrific job with SMU this season, but the Mustangs have had some struggles on the road – leaving their NCAA tournament future still up in the air. A win in Storrs would do wonders, though. Connecticut has won 10 of its last 12 behind the play of Shabazz Napier, maybe the best guard in the country right now. Can the Huskies bang down low? 

Xavier at Georgetown (Saturday, 11:30 a.m., FOX Sports 1)
Both teams could use a win. Xavier is currently in the NCAA tournament field, but the upcoming schedule is difficult. Georgetown suffered a bad loss to Seton Hall on Thursday, and needs to bounce back.
No. 2 Florida at Ole Miss (Saturday, 12 p.m., CBS)
Florida is looking more and more like the national title favorite heading down the stretch, but Ole Miss is desperate. If the Rebels lose this one, they are likely heading to the NIT.
St. John's at No. 9 Villanova (Saturday, 1:30 p.m., FOX Sports 1)
St. John's has won nine of its last 10 games, but the Red Storm's tournament chances could come down to this game and Tuesday's bubble battle with Xavier. Villanova only has three losses, and could still win a Big East title.
Baylor at West Virginia (Saturday, 1:30 p.m., ESPN3)
Two bubble teams from the Big 12. Baylor has played itself back into the mix with three straight wins, while West Virginia has a nice list of quality wins but can't afford too many more losses.
LSU at No. 18 Kentucky (Saturday, 4 p.m., ESPN)
LSU made a statement last month with its win over Kentucky – but the Tigers have struggled since then. They need to turn it around to get back to the bubble, and a win at Rupp Arena would help their case.
Minnesota at No. 24 Ohio State (Saturday, 6 p.m., Big Ten Network)
Minnesota was one of the biggest bubble losers of the week, falling at home to an Illinois team that had lost 10 of its previous 11 games. The Golden Gophers don't have a great resume. Ohio State has won five of six.
George Washington at No. 10 Saint Louis (Saturday, 8 p.m.)
Saint Louis is in striking distance of clinching the A-10 regular-season title, but George Washington wants to solidify its at-large resume. The Colonials picked up a big road win at Richmond, but this would be huge.
No. 4 Arizona at Colorado (Saturday, 9 p.m., ESPN) 
After initially struggling without Spencer Dinwiddie, Colorado has steadied itself with wins in five of its last six games. The Buffaloes are tough at home, and Arizona isn't the same team since losing Brandon Ashley. 
Other games to watch:
FRIDAY
Mercer at Florida Gulf Coast (7 p.m., ESPNU)
SATURDAY
Wake Forest at North Carolina (12 p.m., ESPN3)
Clemson at Georgia Tech (12 p.m., ESPN3)
Indiana State at Missouri State (1 p.m., ESPNU)
Texas Tech at Oklahoma State (1:30 p.m., ESPN3)
Notre Dame at No. 14 Virginia (2 p.m., ESPN2)
North Carolina State at Virginia Tech (2 p.m., ESPN3)
Dayton at Duquesne (2 p.m.)
Fordham at Saint Joseph's (2 p.m.)
South Dakota State at North Dakota State (3 p.m.)
Tennessee at Texas A&M (3 p.m., ESPNU)
No. 17 Iowa State at TCU (4 p.m., ESPN2)
St. Francis (N.Y.) at Robert Morris (4 p.m.)
La Salle at Richmond (4 p.m., CBS Sports Network)
Arkansas at Mississippi State (4 p.m., ESPN3)
UTEP at Southern Miss (6 p.m., CBS Sports Network)
North Carolina Central at North Carolina A&T (6 p.m.)
Northwestern State at Stephen F. Austin (7 p.m.)
Wofford at Davidson (7 p.m., ESPN3)
Drake at No. 3 Wichita State (8 p.m., ESPN3)
Harvard at Princeton (8 p.m., ESPN3)
Missouri at Alabama (8 p.m., ESPN2)
UNLV at Boise State (8:05 p.m., CBS Sports Network)
Louisiana-Lafayette at Georgia State (8:30 p.m., ESPN3)
Portland at BYU (9 p.m.)
Temple at No. 22 Memphis (9:30 p.m., ESPNU)
No. 25 Gonzaga at San Diego (12 a.m., ESPN2)
SUNDAY
Bucknell at Boston University (12 p.m., CBS Sports Network)
Hartford at Vermont (2 p.m., ESPN3)
Drexel at Delaware (3 p.m.)
Purdue at Nebraska (4:15 p.m., Big Ten Network)
Seton Hall at No. 11 Creighton (5 p.m., FOX Sports Network)
Florida State at Pittsburgh (6 p.m., ESPNU)
Providence at Butler (6 p.m., FOX Sports 1)
Arizona State at Utah (8 p.m., ESPNU)
USC at California (8 p.m., FOX Sports 1)
Washington State at Oregon (9 p.m., Pac-12 Network)
CBS Sports HQ Daily Newsletter
Get the best highlights and stories - yeah, just the good stuff handpicked by our team to start your day.
Please check the opt-in box to acknowledge that you would like to subscribe.
Thanks for signing up!
Keep an eye on your inbox for the latest sports news.
Sorry!
There was an error processing your subscription.
Joeviair Kennedy was a freshman on Western Michigan's basketball team when a WMU student died...

Gary Parrish and Matt Norlander also discuss James Wiseman, CJ Walker and other elite prospects...

Jaden McDaniels has the body of a young Kevin Durant and might be the best NBA prospect in...
Los Angeles, which is building a covered stadium, was snubbed from Final Four consideration...

The big man, favored to ultimately pick Kentucky or Memphis, has some interesting rivals pushing...

Cole Anthony, son of UNLV great Greg Anthony, averaged 26.2 points at recruiting's biggest...