Viewer's Guide: SEC-Big 12 Challenge continues with Big 12 up 2-1
It's a quiet Thursday in the college basketball world, but there are certainly some noteworthy games to check out.
• 3 min read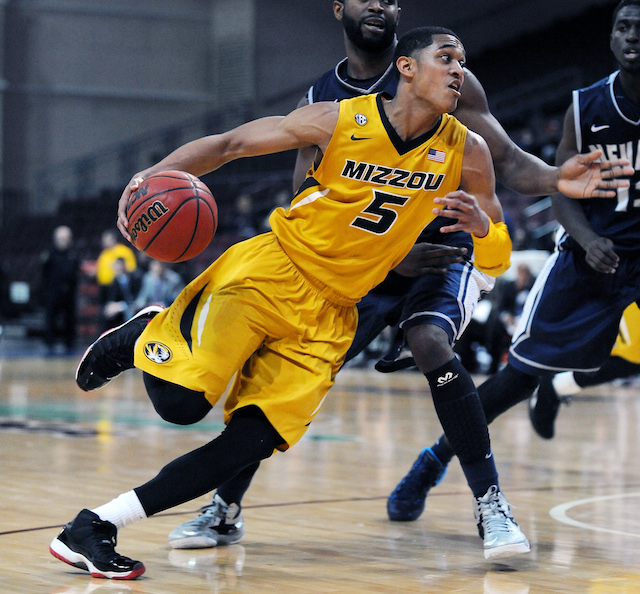 After two days of excellent ACC/Big Ten matchups, we're heading for a quiet Thursday. The SEC-Big 12 Challenge continues on Thursday night, although it never gets the same attention as the inter-conference event from earlier this week. Moreover, the bigger games aren't until Friday.
Note: All times are Eastern, and the rankings are according to the AP Poll.
Best game: West Virginia at Missouri (7 p.m., ESPN2). Not exactly a marquee matchup, but it should be closer than we thought heading into the season. West Virginia is 6-2, with two losses by a combined 12 points against Virginia Tech and Wisconsin. With that said, the Mountaineers haven't really beaten anyone. That could change against Missouri – but the Tigers are rolling at 7-0, with the backcourt of Jordan Clarkson and Jabari Brown each scoring more than 19 a game. West Virginia will have to get hot from 3-point land if it is going to pull off the road upset. The Tigers won't be caught looking ahead to UCLA this weekend.
Second-best game: Ole Miss at Kansas State (9 p.m., ESPN2). Two NCAA tournament teams from a season ago – but one team is much closer to returning than the other. Ole Miss is 6-0 after going to Brooklyn and coming out with a Barclays Center Classic championship, while Kansas State has already lost to Northern Colorado and Charlotte and is just 4-3 on the season. The Wildcats have struggled offensively, not making perimeter shots and turning the ball over a ton. They will stay in the game with their defense, but guarding the perimeter group Jarvis Summers, Derrick Millinghaus and Marshall Henderson isn't easy.
Another one to watch: No. 24 San Diego State at San Diego (11 p.m.). After winning the Wooden Legacy, San Diego State moved into the top 25 – and the Aztecs are rolling faster than expected after losing three starters. I'm not sure Thursday will be an easy win, though. San Diego is coming off a close seven-point loss at New Mexico, although the best win this season is over Southern Illinois. Johnny Dee will have to put the Toreros on his back – although that won't make up for the severe height discrepancy between the two sides.
Guaranteed win: Texas A&M-Corpus Christi at Oklahoma (3 p.m.). Outside the top four teams in the Big 12, there's going to be a push for the fifth spot – which could be an NCAA tournament bubble position. Oklahoma could have the edge right now. The Sooners only have one loss, a single-digit defeat to Michigan State. They won't lose to Corpus Christi on Thursday night.
Potential upset: Providence at Rhode Island (8 p.m., CBS Sports Network). Intrastate battle between two programs trying to get back on the rise. I expect both teams to be much better in a couple months, when Providence is at full strength and Rhode Island's newcomers and veterans have more time to mesh. On Thursday, the key for URI could be slowing down Bryce Cotton – and also knocking down perimeter shots.
Three things to keep an eye on:
If High Point's

Allan Chaney

was playing, they might have a shot to beat Georgetown. Without him, I doubt it (9 p.m., FOX Sports 1).
Under-the-radar game: Eastern Kentucky at VCU (7 p.m.). Eastern Kentucky was my pick to win the Ohio Valley, and Thursday is a huge chance to make a statement.
Two more worthwhile games: TCU at Mississippi State (7 p.m., ESPNU), Marshall at Vanderbilt (8 p.m.).
The selection committee will again reveal what it is thinking ahead of Selection Sunday

Teams not in major conferences with a shot at an at-large NCAA Tournament bids

The nation's No. 3 player will commit Saturday and here's his impact on each of his finali...
Gary Parrish and Matt Norlander also preview the weekend and Zion Williamson's announcemen...

The Sun Devils started 12-0, but since then are 2-4 after Wednesday's loss to Stanford

Andrew Jones is Texas' second leading scorer