Viewer's Guide: Showdowns in Big 12, ACC highlight monster Saturday
High-level slate of hoops coming up on Saturday, with marquee matchups in the Big 12, ACC, AAC and SEC. Statements will be made this weekend.
• 7 min read
You're probably noticing something different about the Weekend Viewer's Guide. There's an easy explanation. Because everyone loves delicious hoagies, the Friday version of our Viewer's Guide will now mirror the "Hoagie Scale" used for Jason La Canfora's NFL Game Rankings. Nothing much will change with the content; only the categories separating the games. Now I'm hungry.
There's a jam-packed Saturday ahead, with a couple of marquee matchups between Top-25 teams and several intriguing upset possibilities. With the NFL playoffs taking center stage on Sunday, we have 151 games to keep an eye on Saturday. The two biggest ones include perhaps co-favorites in the Big 12 and ACC. 

No. 9 Oklahoma State at No. 15 Kansas (Saturday, 4 p.m. ET, CBS)
Heading into the season, this was one of the games that everyone had circled on their calendar. Two top-10 teams, Big 12 favorites, Marcus Smart vs. Andrew Wiggins. While it's now two top-15 teams instead of top-10 teams, nothing else has changed. It will be interesting to see how Oklahoma State deals with Joel Embiid on the inside; without starting big man Michael Cobbins, Kamari Murphy has been shouldering most of the interior load. He and Brian Williams will be counted on to slow down Embiid and Perry Ellis. Meanwhile, the point guard matchup will be huge for Kansas. Can Naadir Tharpe get Kansas into its offense against Smart? He can't be careless with the ball. Don't forget the battle on the wings, either: Markel Brown and Le'Bryan Nash against Wiggins and Wayne Selden. This should be a good one.
No. 22 Pittsburgh at No. 2 Syracuse (Saturday, 4 p.m. ET, ESPN)
The two best teams in the Big East -- er, ACC -- will go at it for conference supremacy. Despite being one of only six one-loss teams remaining, Pittsburgh hasn't gotten much respect nationally. The Panthers had the ugly one-point loss to Cincinnati that everyone saw, and haven't had a chance to prove themselves against quality opponents otherwise. This would be a good place to start. Jamie Dixon has had Jim Boeheim's number lately, winning six of his past eight games against the Syracuse head coach. To pull out the upset in this one, Pittsburgh has to take care of the ball and force Syracuse to execute in a half-court setting for 40 minutes. Moreover, the Panthers crash the offensive glass very well; Syracuse is vulnerable because of the zone defense.  
No. 18 Louisville at Connecticut (Saturday, 9 p.m. ET, ESPN)
This game got a little more interesting after Thursday night, when Connecticut went into Memphis and came out with a 10-point victory. Meanwhile, Louisville obliterated Houston despite playing without injured point guard Chris Jones. Jones will also miss Saturday's game, but the Cardinals have reinforcements in the form of freshman guard Terry Rozier. The battle on the perimeter will be terrific, as Russ Smith and Shabazz Napier will go head-to-head. The key for the Huskies will be taking care of the ball offensively, and limiting Louisville to one shot at the other end. DeAndre Daniels proving to be a matchup problem would be another huge plus for Kevin Ollie's squad. 

Tennessee at No. 13 Kentucky (Saturday, 12 p.m. ET, CBS)
Outside of Florida, the SEC has been fairly unimpressive this season. Kentucky, given its talent, is likely the second-best team in the league -- but where does Tennessee fall in the pecking order? The Volunteers looked like a threat in blowouts of Virginia and LSU, but a home loss to Texas A&M last weekend brought them back down to Earth. This will be a good test for both sides, as Kentucky can match Tennessee inside with Julius Randle and Willie Cauley-Stein against Jarnell Stokes and Jeronne Maymon. Can Jordan McRae carry Tennessee offensively?  
Michigan at No. 3 Wisconsin (Saturday, 6 p.m. ET, ESPN)
We haven't heard much about Michigan since Mitch McGary got hurt, but the Wolverines are 4-0 in the Big Ten and also own a win at Minnesota. But this is where the fun starts: at Wisconsin on Saturday, home against Iowa, and then at Michigan State. We'll find out if Michigan is a top-four threat in the Big Ten. As for Wisconsin, the Badgers suffered their first loss of the season at Indiana on Tuesday, dropping to 16-1. This game will feature plenty of 3-pointers -- but it will be imperative for Michigan to limit Sam Dekker and Frank Kaminsky because of their ability to score inside and out.
No. 25 Oklahoma at No. 12 Baylor (Saturday, 2 p.m. ET, ESPN2)
Both teams will be looking for a win on Saturday, as Oklahoma lost at Kansas State on Tuesday and Baylor was surprisingly blown out by Texas Tech on Wednesday. Will Baylor's zone defense be able to keep Jordan Woodard out of the lane and off the free-throw line? Can the Sooners push the tempo and not allow Baylor to get set defensively? On the other side, Baylor's size will create issues for Oklahoma, as Isaiah Austin and Cory Jefferson love to crash the offensive glass -- are Cameron Clark and Ryan Spangler up to the task inside?  

Florida State at Virginia (Saturday, 12 p.m. ET, ESPN3)
Both teams look like potential NCAA tournament teams, and they will likely be pushing toward a top-four ACC finish all season. This will be a defensive battle, as both teams rank in the top six nationally in defensive efficiency. Which team has the edge down low could come out with the win, as Florida State is one of the biggest teams in the country and Virginia counters with Mike Tobey and Akil Mitchell.
Indiana State at No. 5 Wichita State (Saturday, 4 p.m. ET, ESPN2)
The first of two matchups between these two teams, although most people have the second meeting (at Indiana State) circled. This one won't be a blowout. Indiana State has won seven in a row and is 5-0 in the Missouri Valley, while Wichita State is unbeaten at 18-0. I'm intrigued by the point guard battle in this one, between Indiana State's Jake Odum and Wichita State's Fred VanVleet.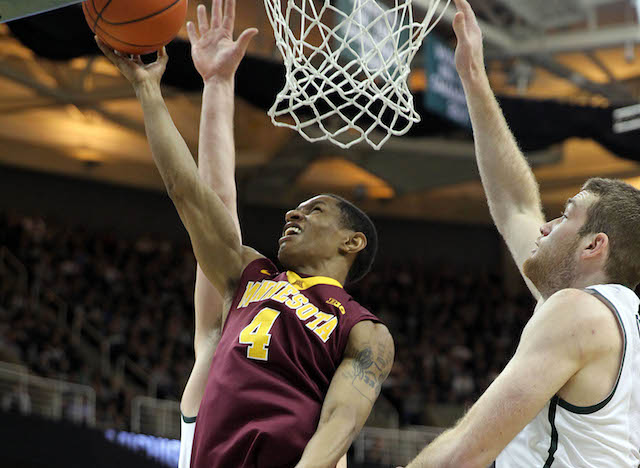 Minnesota at No. 14 Iowa (Sunday, 1 p.m. ET, Big Ten Network)
After Minnesota's home win over Ohio State on Thursday, the Gophers look like a team that will push for an NCAA tournament bid come Selection Sunday. But can they win on the road? They took Michigan State to overtime last weekend, but Iowa is playing some of the best basketball in the country. If Minnesota is to pull the upset, it needs to make outside shots and keep Aaron White and the Hawkeyes from second chances and free throws.

No. 8 Iowa State at Texas (Saturday, 4 p.m. ET, ESPN3)
On a two-game losing streak after its 14-0 start, Iowa State now heads on the road to face a Texas team looking for a big win. The Longhorns need to close out on the perimeter. 
No. 25 UCLA at Utah (Saturday, 4 p.m. ET, Fox Sports 1)
This will feature a matchup between two of the best all-around players in the country: Kyle Anderson and Delon Wright. The Utes have lost three of five since an 11-1 start.
UNLV at No. 10 San Diego State (Saturday, 6:05 p.m. ET, CBS Sports Network)
UNLV might have turned its season around with Wednesday's road win at New Mexico, but San Diego State is the likely Mountain West favorite. Khem Birch and Roscoe Smith have to hold their own against SDSU's frontcourt.
No. 4 Michigan State at Illinois (Saturday, 8 p.m. ET, Big Ten Network)
With three losses in a row, including to Northwestern and Purdue, Illinois is fading fast. After this, the Illini go to Ohio State and Indiana, and then play Iowa and Wisconsin. This is a huge chance for Illinois.
No. 20 Creighton at Providence (Saturday, 8 p.m. ET, Fox Sports 1)
Creighton continues to roll without Grant Gibbs, beating Xavier and Butler in the past two games. Providence has bounced back nicely from a three-game losing streak, but it can't stop Doug McDermott. 
Other games to watch (all times ET):
FRIDAY
Green Bay at Wright State (7 p.m., ESPNU)
Canisius at Iona (9 p.m., ESPNU)
SATURDAY
Toledo at Akron (11 a.m., ESPNU)
Boston College at North Carolina (12 p.m., ESPN)
Seton Hall at Georgetown (12 p.m., Fox Sports 1)
West Virginia at Kansas State (1:30 p.m., ESPN3)
Arkansas at Georgia  (1:30 p.m., ESPN3)
Texas A&M at Mississippi State (1:30 p.m., ESPN3)
LeMoyne-Owen at No. 17 Memphis (2 p.m., ESPN3)
USC at No. 21 Colorado (2 p.m., Fox Sports 1)
North Carolina State at No. 23 Duke (2 p.m., CBS)
Marquette at Butler (2 p.m., CBS Sports Network)
Alabama at Missouri (2 p.m., ESPN)
Fordham at No. 24 Saint Louis (2:30 p.m., NBC Sports Network)
Arkansas-Little Rock at Georgia State (2:30 p.m.)
Northwestern at Indiana (2:30 p.m., Big Ten Network)
Dayton at Richmond (3 p.m., ESPNU)
DePaul at No. 6 Villanova (4 p.m., FOX Sports Network)
No. 7 Florida at Auburn (4 p.m., ESPN3)
Wake Forest at Clemson (4 p.m., ESPN3)
Washington State at California (4 p.m., Pac-12 Network)
No. 19 Cincinnati at South Florida (5 p.m., ESPNU)
No. 16 Massachusetts at Elon (7 p.m.)
Utah State at Boise State (9 p.m., ESPN3)
Vanderbilt at LSU (9 p.m., ESPNU)
Washington at Stanford (11 p.m., ESPNU)
SUNDAY
Louisiana Tech at Southern Miss (1 p.m.)
Oregon at Oregon State (8 p.m., ESPNU)
The Sun Devils make a big jump and the Jayhawks slide after ASU pulls the big upset

Gary Parrish and Matt Norlander spend some time on the SEC, too

Having shocked Kansas at Allen Fieldhouse, Duke legend Bobby Hurley is coaching the Sun Devils...
Jay Wright's undefeated Wildcats are now No. 1 in the Top 25 (and one)

Coach K's Blue Devils are the fourth preseason top-10 team to lose to a sub-75 KenPom team

TCU, which downed Nevada late Friday, continues to flourish under second-year coach Jamie...