Viewer's Guide: SMU, Louisville engage in AAC showdown
The AAC standings are still in flux, and Wednesday's battle between SMU and Louisville could help decide that.
• 4 min read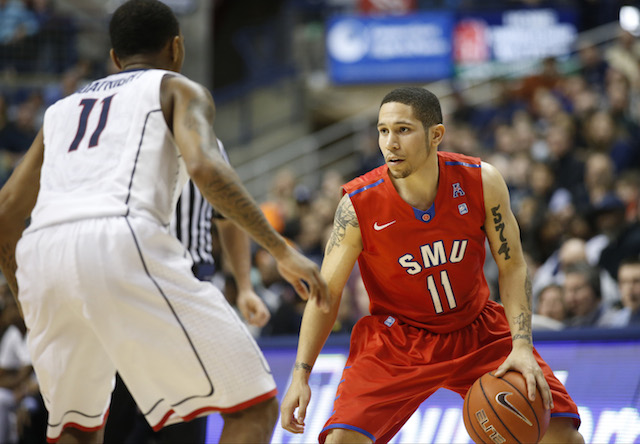 Latest in hoops: Top 25 (and one) | Bracketology | Bubble Watch
Tuesday saw Syracuse lose for the fourth time in five games, although bubble teams had a fantastic day. Wednesday features another batch of bubble contests, along with a top-25 matchup in the AAC that could have a major impact on the regular-season title hunt.
Note: All times are Eastern, and the rankings are according to the AP Poll. 
Best game: No. 11 Louisville at No. 18 SMU (7 p.m., CBS Sports Network). The lone game on Wednesday between top-25 teams, it's also a battle between two teams still in conference championship contention. Louisville is tied atop the AAC standings with Cincinnati, as SMU sits one game back of both teams. The Cardinals won the first meeting between the two teams, but that was nearly two months ago – and SMU is playing better now. The Mustangs rely on their size and interior defense to change the game, but they will have to take advantage of that on the offensive glass to beat Louisville. Moreover, they need to take care of the ball and not allow the Cardinals' pressure to be the deciding factor. 
Second-best game: Saint Joseph's at George Washington (9 p.m.). A nice Atlantic 10 showdown. Saint Joseph's has won 17 of its last 20 games, yet the Hawks don't seem to get enough attention. They're on a six-game winning streak and are actually just one game behind Saint Louis in the league standings. Meanwhile, George Washington has lost three of its last five games, and could use a split this week to feel more comfortable about its NCAA Tournament prospects. On Wednesday, the Colonials need to defend the perimeter, while also slowing down Ronald Roberts around the rim. Offensively, look for George Washington to crash the offensive glass and look for second-chance opportunities. Maurice Creek also needs to continue to play well.
Another one to watch: Colorado at Stanford (9 p.m., ESPN2). Two Pac-12 teams that could use a win to solidify their standing in the NCAA Tournament. Colorado is just 6-6 since Spencer Dinwiddie got hurt, and the Buffaloes have lost two straight games to fall close to the bubble. Another loss could be trouble. Stanford is in slightly better position after two consecutive losses, especially since the Cardinal are heading home for their final two games of the regular season. The key battle could be inside, between Colorado's Josh Scott and Stanford's Dwight Powell. Powell is a matchup nightmare for most teams. The Buffaloes also need a good performance from Askia Booker, as Chasson Randle is a stud at the point guard spot for Stanford.
Guaranteed win: Air Force at No. 21 New Mexico (9 p.m., ESPN3). I probably won't pick Syracuse as my guaranteed win again anytime soon, as the Orange have been the only team to lose in the past two years after being picked. New Mexico won't let me down. The Lobos have a huge showdown at San Diego State this weekend, so I guess they could be caught looking ahead, but Air Force is coming off a 26-point home loss to UNLV and will make for an easy victim for New Mexico.
Potential upset: Massachusetts at Duquesne (7 p.m.). Massachusetts' resume is better than most people think, and it could be the best in the Atlantic 10 – if the Minutemen's league record was just a little bit better. Unfortunately, they are just not the same team away from home, losing four of their last six road games. Duquesne awaits on Wednesday, and while the Dukes have struggled for the most part, they are coming off a win last week at Saint Louis and have been competitive in nearly every home game.
Three things to keep an eye on:
Dayton got back on the right track with a win over Massachusetts last weekend, and the Flyers have another big opportunity at Saint Louis (9 p.m., CBS Sports Network).
Nebraska can continue playing itself into the mix with a trip to Indiana (7 p.m., Big Ten Network). Meanwhile, a couple more wins, and the Hoosiers will get in the conversation.
Three more bubble teams face must-wins: California (vs. Utah, 11 p.m., ESPNU); Missouri (vs. Texas A&M, 8 p.m., ESPN3); Arkansas (vs. Ole Miss, 8 p.m., ESPN3).
BONUS: Four conference tournaments are in action: Big South (first round); Patriot (quarterfinals); NEC (quarterfinals); Ohio Valley (first round).
Other games to watch:
No. 4 Duke at Wake Forest (7 p.m., ESPN2)
Rutgers at No. 19 Connecticut (7 p.m., ESPNU)
Texas Tech at No. 8 Kansas (8 p.m., ESPN3)
TCU at Texas (8 p.m., Longhorn Network)
Tennessee at Auburn (8 p.m., ESPN3)
Purdue at No. 9 Wisconsin (9 p.m., Big Ten Network)
West Virginia at No. 23 Oklahoma (9 p.m., ESPNU)
No. 3 Arizona at Oregon State (11 p.m., FOX Sports 1)
No. 10 San Diego State at UNLV (11:05 p.m., CBS Sports Network)
The men's and women's basketball teams were among the handful of events now cancelled

The first-ranked Wildcats travel to UConn to face a middling Huskies team that is 3-3 in league...

Our advanced computer model simulated every college basketball game on Saturday 10,000 tim...
John Calipari's Wildcats, 0-2 against teams ranked in the Top 25 (and one), are in need of...

NCAA issues led to the McDonald's All-American never actually playing for KU

Our advanced computer model simulated Saturday's Xavier-Seton Hall game 10,000 times