Viewer's Guide: Stanford-Arizona State, plus marquee win chances
Wednesday will once again be headlined by bubble teams, as there are several teams in need of a win to either boost their hopes or solidify their standing.
• 3 min read
Tuesday was all about the bubble, with Minnesota taking advantage of a big opportunity and Saint Joseph's and Xavier winning bubble battles. Wednesday isn't much different. There is a bubble game leading the way, while two teams near the cutline could come close to locking up a bid with a marquee win.
Note: All times are Eastern, and the rankings are according to the AP Poll.
Best game: Stanford at Arizona State (11 p.m., ESPNU). Two teams that are in the NCAA tournament field right now, but seem to be going in opposite directions. Stanford has won three in a row, including a huge win over the weekend against UCLA. Arizona State, on the other hand, has lost back-to-back games since beating Arizona for a marquee victory. The Sun Devils can't afford to keep slipping too much. The point guard battle should be outstanding in this one. Chasson Randle is one of the more underrated guards nationally, while Jahii Carson is trying to play his way back into the first round. Stanford has to guard the perimeter effectively, and not allow too many open shots.
Second-best game: Baylor at No. 24 Texas (9 p.m., ESPNU). Nice intrastate game in the Big 12. Baylor has righted the ship after a 2-8 start in conference play, winning four in a row, including Saturday's 13-point win at West Virginia. The Bears have played themselves into the NCAA tournament for now, and a win in Austin would really help their cause. Meanwhile, Texas has lost two games in a row after winning nine of its previous 10. The Longhorns won the first meeting by getting a monster day from freshman guard Isaiah Taylor, and holding Isaiah Austin and Cory Jefferson to just 15 points total. Can Cameron Ridley and Jonathan Holmes win the interior battle once again?
Another one to watch: California at No. 3 Arizona (9 p.m., ESPN2). The first meeting between these two teams is when Arizona's season changed. It was the first loss for the Wildcats – but it was also the game Brandon Ashley was lost for the season with an injury. The revenge factor will be in effect, and Arizona should equal the season series. The Wildcats are 4-1 since the loss to California, including Saturday's 27-point drubbing of Colorado. California faces a tough closing stretch, with Arizona State, Utah and Colorado coming up after Wednesday. The inside battle will be key; can Richard Solomon and David Kravish hold their own? Moreover, Justin Cobbs needs to initiate good offense against Arizona's backcourt.
Guaranteed win: Butler at No. 8 Villanova (8 p.m., FOX Sports 1). I guess this is a little risky since Butler isn't a terrible team and Villanova only beat the Bulldogs by three the first time. Oh, well. The Wildcats have only lost three games all season –twice to Creighton, once to Syracuse – and Butler isn't nearly as good as either one. Villanova is pushing for a two-seed on Selection Sunday, and a loss to Butler would cripple those hopes. It's not happening, though.
Potential upset: No. 19 North Carolina at North Carolina State (8 p.m., ESPN3). North Carolina turned its season around over the past four weeks, winning nine games in a row, including victories over Duke and Pittsburgh. The Tar Heels are now clearly a lock for the NCAA tournament are pushing for a top-four seed due to their collection of great wins. But North Carolina State will come up big on Wednesday. The Wolfpack haven't lost at home since Jan. 11, and T.J. Warren is good enough to carry the load. He has scored at least 20 points in each of the last 10 games in which he has played (he missed one game), and has six 30-plus-point performances.
Three things to keep an eye on:
1. The Big South could be decided on Wednesday, when VMI travels to High Point (7 p.m.). The two teams are tied at 10-4 in the league with two games remaining.
2. Pittsburgh probably shouldn't lose at Boston College (8 p.m., ESPN3). If the Panthers fall, it's officially bubble trouble time.
3. Bubble teams in action: Richmond (at George Mason, 7 p.m.); Tennessee (at Mississippi State, 8 p.m., ESPN3); LSU (vs. Texas A&M, 8 p.m., ESPN3); Nebraska (at Illinois, 9 p.m., Big Ten Network); West Virginia (at No. 15 Iowa State, 8 p.m., ESPN3).
Other games to watch:
Miami at No. 12 Virginia (7 p.m., ESPN3)
No. 16 Michigan at Purdue (7 p.m., Big Ten Network)
Connecticut at South Florida (7 p.m., CBS Sports Network)
Rhode Island at Massachusetts (7 p.m.)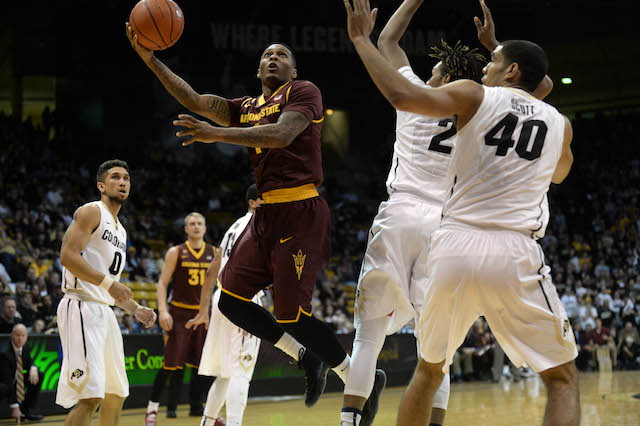 Calipari threw major shade at Duke and the coaching staff's recruiting pitch

Brown is the No. 2 center in the Class of 2018 and a big get for the Bruins

The Sooners are on a two-game losing streak but still rising on one AP ballot
Vegas legend Kenny White has nailed 3 straight UNC picks and just made a play for Monday's...

Josh Nagel has almost two decades of handicapping experience and locked in a play for Monday's...

The Wildcats stumbled to an 0-2 record this week and fell out of the top 25