Viewer's Guide: Sweet 16 gets going with four games
After three days off, it's time to get back on the couch with the NCAA Tournament. The Sweet 16 begins.
• 3 min read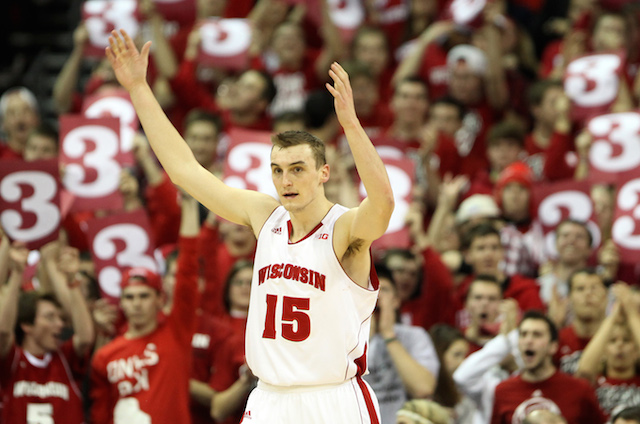 More: NCAA Tourney News | Bracket Hub | Expert Brackets
You've had three days to recover from a wild first weekend of the NCAA Tournament, and the action returns on Thursday night. By the end of the night, there will be a double-digit seed in the Elite Eight, and we'll see if a No. 1 seed also goes down. Only a dozen teams will remain at the end of the day.
Note: All times are Eastern.
No. 10 Stanford vs. No. 11 Dayton (7:15 p.m., CBS): The two biggest Sweet 16 surprises face off for a spot in the Elite Eight. Stanford held on to beat New Mexico in the Round of 64, and then pulled off an upset of Kansas in the Round of 32. Meanwhile, Dayton escaped against Ohio State and Syracuse by a combined three points. On paper, Stanford has more talent and would likely match up better with Florida or UCLA, but it's impossible to count out Dayton at this point. If the Flyers are to pull off another win, they need to get hot from 3-point range, while also finding ways to match up with Stanford's frontcourt. The Cardinal have the edge in size. Dayton can't allow Chasson Randle into the lane, either. The smaller Flyers will have to create matchup problems.
No. 2 Wisconsin vs. No. 6 Baylor (7:47 p.m., TBS): One of the more intriguing games in the Sweet 16, it will be interesting to see if Baylor can keep its outstanding play going. The Bears have won 12 of their last 14 games, including victories over Nebraska and Creighton in the NCAA Tournament. Baylor had one of the most impressive performances of the tourney so far, beating Creighton by 30, holding Doug McDermott to 15 points, and forcing the Bluejays into a 5 of 24 outing from 3-point range. Wisconsin has won 11 of its last 13 games, knocking off American and Oregon so far in the dance. The key for the Badgers will be to make shots against the Baylor zone. Creighton couldn't make a thing; Wisconsin has to work Sam Dekker or Frank Kaminsky at the foul line, and then make shots from the perimeter.
No. 1 Florida vs. No. 4 UCLA (9:45 p.m., CBS): This game is a battle of styles and tempo. Florida is one of the nation's best defenses, holding Albany and Pittsburgh to a combined 100 points in two NCAA Tournament games. The Gators have allowed only three teams to reach 70 points this season. UCLA loves to push the ball and light up the scoreboard. The Bruins rolled past Tulsa and Stephen F. Austin, and have scored fewer than 74 points just one time since February 2. Something has to give. Florida hasn't seen an offense like this in a long time, but the Gators will look to make it a halfcourt game. If they slow the pace, UCLA could have trouble scoring, given the way Florida eliminates driving lanes and rotates inside the paint. Who gets the task of guarding Kyle Anderson?
No. 1 Arizona vs. No. 4 San Diego State (10:17 p.m., TBS): A rematch of a mid-November game, in which Arizona went into San Diego State and came out with a nine-point win. At the time, San Diego State was supposed to be a secondary contender in the Mountain West; things have changed. The Aztecs have the size and length in the frontcourt to match up with Arizona on the glass -- but will they find ways to score. They hit shots in the Round of 32 against North Dakota State after beating New Mexico State in overtime, but Xavier Thames likely needs another Herculean effort. Arizona's ability to stifle opposing backcourts with Nick Johnson and T.J. McConnell is impressive; the Wildcats held Gonzaga's Gary Bell scoreless in the Round of 32, after going through the motions in a win over Weber State. 
Calipari threw major shade at Duke and the coaching staff's recruiting pitch

Brown is the No. 2 center in the Class of 2018 and a big get for the Bruins

The Sooners are on a two-game losing streak but still rising on one AP ballot
Vegas legend Kenny White has nailed 3 straight UNC picks and just made a play for Monday's...

Josh Nagel has almost two decades of handicapping experience and locked in a play for Monday's...

The Wildcats stumbled to an 0-2 record this week and fell out of the top 25