Viewer's Guide: Texas vs. Iowa State, plus bubble opportunities
There are several intriguing contests on Tuesday, highlighted by Texas' trip to Iowa State, along with marquee win opportunities for Providence and Ole Miss.
• 3 min read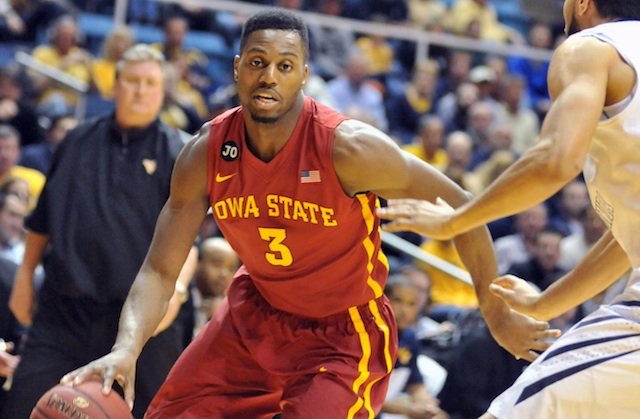 The stretch run of the college basketball season officially began on Monday night, with North Carolina and Baylor getting key close wins, and Florida State and Oklahoma State seeing their at-large profiles take a hit. Tuesday is much bigger, with nine top-25 teams in action and several bubble teams looking to make statements.
Note: All times are Eastern, and the rankings are according to the AP Poll.
Best game: No. 19 Texas at No. 17 Iowa State (7 p.m., ESPN2). The Big 12 is still Kansas' to lose, but Texas is only one game back and still certainly within striking distance. Meanwhile, Iowa State probably has the second-best resume in the conference. Texas has won nine of its last 10 games, with back-to-back wins over Oklahoma State and West Virginia by a combined 36 points. Iowa State has won four of five, and the Cyclones are nearly impossible to beat at home. The big key will be the frontcourt battle between Jonathan Holmes and Cameron Ridley, and Iowa State's Melvin Ejim and Georges Niang. Texas' transition defense is also a major key against DeAndre Kane and the Iowa State fast-break game.
Second-best game: No. 9 Villanova at Providence (7 p.m., FOX Sports 1). A big bubble opportunity for Providence. The Friars played themselves into the mix with a five-game winning streak in January, but losses in four of their last six games have put them right on the cutline. A marquee win over Villanova would be a huge boost for the profile. Meanwhile, Villanova is looking to bounce back after another blowout loss to Creighton. The Wildcats need to keep pace with Creighton for the Big East title. Villanova won the first meeting by 30 points, knocking down 14 3-pointers and forcing 17 turnovers. The Friars need a big performance from LaDontae Henton, who has been inconsistent the past few games.
Another one to watch: No. 18 Kentucky at Ole Miss (7 p.m., ESPN). Both teams could really use a win on Tuesday. Kentucky doesn't have a great NCAA tournament resume, and while the Wildcats are safely in the field, their seed won't rise too much – and a loss at Ole Miss would only magnify the holes in their profile. On the other side, Ole Miss' two losses last week at Alabama and Georgia (by a combined four points) really put the Rebels in a precarious bubble position. They host Kentucky and Florida this week. If they lose both, Ole Miss' only tourney future resides in the NIT. The biggest key for the Rebels could be keeping Kentucky off the offensive glass.
Guaranteed win: South Florida at No. 11 Louisville (7 p.m., CBS Sports Network). Rick Pitino seems to have Louisville right where he wants the Cardinals to be. They're hitting their stride at the right time, and have shown the ability to absolutely steamroll teams. Louisville beat South Florida by 39 on the road in January, and Tuesday won't be any different. The Cardinals' 10 AAC wins have come by an average of 23.4 points, including Sunday's 48-point thrashing of Rutgers.
Potential upset: No. 15 Iowa at Indiana (9 p.m., ESPN). The wheels are falling off in Bloomington, as Indiana has lost six of its last eight games and isn't anywhere near the NCAA tournament picture. But the Hoosiers are still capable of getting up for big games at home – like they did when they took down Michigan on Super Bowl Sunday. Iowa has been a bit up and down in conference play, but the Hawkeyes have generally handled their business against teams below them – will that change Tuesday?
Three things to keep an eye on:
Intriguing matchup in the Atlantic 10: George Washington at Richmond (7 p.m., NBC Sports Network). Richmond has to prove it's an NCAA tourney team without Cedrick Lindsay.
Georgia is somehow in third place in the SEC, but a road trip to face Tennessee (9 p.m., ESPNU) could be trouble. The Vols need a win.
St. John's has won eight of its last nine games, and it has to hold serve at home against inferior teams. Butler visits Tuesday (9 p.m., FOX Sports 1).
Other games to watch:
North Carolina State at Clemson (7 p.m., ESPNU)
No. 8 Kansas at Texas Tech (8 p.m., ESPN3)
No. 5 Duke at Georgia Tech (9 p.m., ESPN3)
No. 14 Virginia at Virginia Tech (9 p.m., ESPN3)
Boise State at Colorado State (9 p.m., ESPN3)
Utah State at No. 6 San Diego State (11 p.m., ESPNU)
Arizona's had a rough 24 hours, but Kansas and Virginia had big days on the court

Coaches should know better, but players are the real victims in the corruption that rules college...

Shareef O'Neal, a 4-star recruit who signed with Arizona in November, has changed his mind
Despite not being on the sideline Saturday, Miller states he is "confident that I will be...

Bridges was mentioned in Friday's report, but has been cleared to be on the court

Miller may actually be owed $10 million if he is fired for cause and $5 million if he is fired...