Viewer's Guide: Thanksgiving week begins with a bang
It looks like another great week of college basketball -- and it starts on Monday with the Maui Invitational, the Paradise Jam title game, and Marquette-Arizona State.
• 3 min read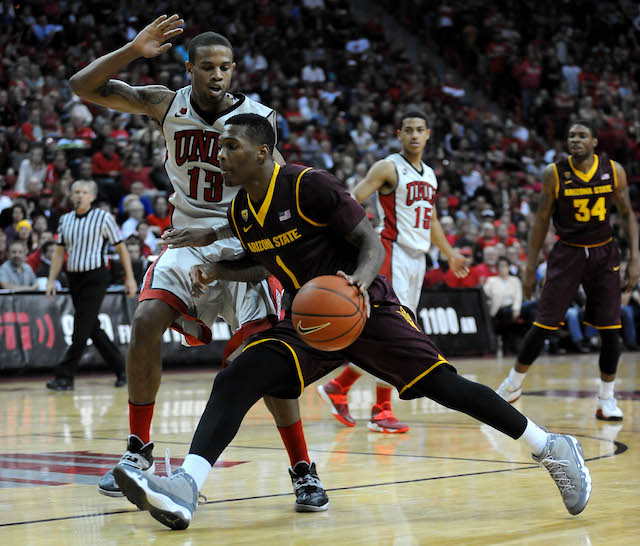 Another terrific weekend of college basketball, and we're off to an outstanding start to the season. And now we head into Thanksgiving week, with more early-season tournaments and some marquee potential battles. It starts on Monday, with the beginning of the Maui Invitational – which always produces exciting finishes and story lines.
Note: All times are Eastern, and the rankings are according to the AP Poll.
Best game: No. 25 Marquette vs. Arizona State (9 p.m., FOX Sports 1). Marquette's 35-point performance against Ohio State a couple of weekends ago has dimmed the outlook on the Golden Eagles' season – but they won't go down without a fight against Arizona State. The Sun Devils are off to a 5-0 start – and Jahii Carson has established himself as one of the best guards in the country. For Marquette, though, defense hasn't been the issue. The Golden Eagles have had loads of trouble scoring, and they've knocked down just 18 percent of their 3-pointers. Will they snap of their funk against Arizona State? It could be tough.
Second-best game: Minnesota vs. No. 9 Syracuse (5:30 p.m., ESPN2). Quite the contrast of styles. Minnesota has moved to a full-court press under new head coach Richard Pitino – and, of course, Syracuse runs its 2-3 zone. The biggest key for the Orange is going to be the backcourt of Tyler Ennis and Trevor Cooney handling the Minnesota pressure. If the Golden Gophers are to get the upset, though, they will need to make shots from the perimeter – which they have done at a 34 percent clip this season. If Minnesota keeps Syracuse from getting turnovers and quick run-outs in transition, they could keep it close.
Another one to watch: Maryland vs. Providence (10 p.m.). The championship of the Paradise Jam. Maryland went to the Virgin Islands with just one win, but the Terps have knocked off Marist and Northern Iowa. Providence has been an impressive surprise this season, sitting at 6-0 after Sunday's win over La Salle. The key for both teams will be taking care of the ball. Maryland has struggled in that regard without the injured Seth Allen, while Providence is still getting Kris Dunn acclimated from his injury. Bryce Cotton's ability to get his own shot and Providence's dominance on the offensive boards could be the difference.
Guaranteed win: A couple of Big 12 teams should cruise on Monday. First, Iowa State is coming off two wins over Michigan and BYU – and will now welcome UMKC to Ames (8 p.m.). The Kangaroos are 1-3 this season, with the lone win coming over <span data-shortcode=-Martin" data-canon="Tennessee Volunteers" data-type="SPORTS_OBJECT_TEAM" id="shortcode0"> last week. Iowa State won't have trouble. Meanwhile, Baylor will handle Chaminade (9:30 p.m., ESPNU). Chaminade has won games in the past, but I think the Bears will get through this one just fine.
Potential upset: Weird things happen in Maui. And weird things happen at late hours. So keep an eye on Dayton vs. No. 13 Gonzaga (Midnight, ESPN2). Both teams are off to 4-0 starts, with Dayton's road win at Georgia Tech last week as the most impressive win for either side. Gonzaga's offense has been outstanding this season, and Dayton will have to defend the perimeter. Moreover, the Flyers have been going with a smaller lineup for the majority of the game – how will they battle Przemek Karnowski and Sam Dower?
Three things to keep an eye on:
Kind of a cool note for the Canisius vs. Georgia State (5 p.m.) matchup. Both teams have father-son coach-player duos. For Georgia State, it's Ron and R.J. Hunter (18.0 ppg), while Canisius has Jim and

Billy Baron

(22.0 ppg).
Both Arkansas and California (3 p.m., ESPN2) are undefeated, with neither team playing a game in single-digits yet. Arkansas' Bobby Portis and California's Jabari Bird are two of the nation's premier freshmen.
Look who is ranked No. 1 at KenPom – Oklahoma State. The Cowboys will be tested at South Florida (7 p.m., ESPN3).
BONUS: Every team in the Maui Invitational is still undefeated. The eight teams are a combined 30-0.
Other games to watch:
Gary Parrish and Matt Norlander discuss Louisville's punishment from every angle

Those Cardinals were fun to watch, but those memories are forever tainted

Josh Nagel is a Reno-based handicapper who has his finger on the pulse of Nevada basketbal...
Zack Cimini is a contrarian thinker who's tailed throughout the handicapping industry

The Seahawks could be back in the NCAA Tournament next year if Cacok returns for his senior...

Kenny White used to set lines for the biggest casinos. Now, he's locked in a Syracuse vs. UNC...