Viewer's Guide: The best day of the college basketball season
Sixteen games, 12 hours. Here's what to watch, when to watch, where to watch.
• 4 min read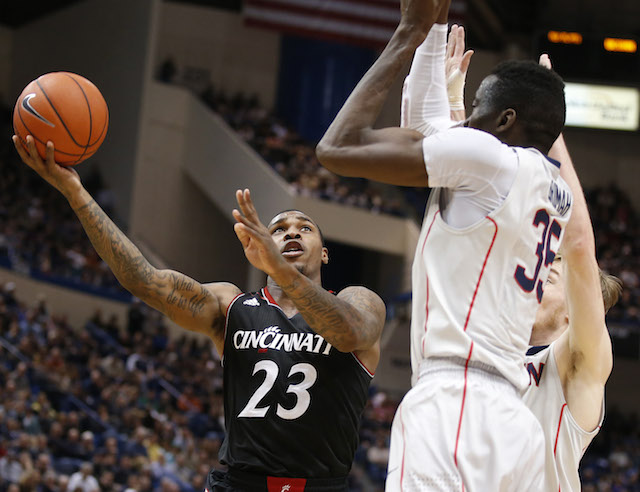 More NCAA hoops: Tournament bracket | Complete coverage of NCAAs | Latest news
No matter what you think of the First Four, that's in the rearview mirror now. The best two days of the college basketball season are officially here. The Thursday and Friday of the NCAA Tournament are days where you're expected to skip work, sit at home from noon until midnight, order food -- and just watch basketball all day. If that's not the ideal two-day stretch, I don't know what to tell you. Keep this guide handy, too. 
Note: All times are Eastern.
No. 6 Ohio State vs. No. 11 Dayton (12:15 p.m., CBS): Intrastate battle with a little extra intrigue due to Jordan Sibert transferring from Ohio State to Dayton a two years ago. Will Dayton be able to manufacture offense, especially against Ohio State's defensive backcourt of Aaron Craft and Shannon Scott?
No. 2 Wisconsin vs. No. 15 American (12:40 p.m., truTV): Don't expect a ton of points in this one. Both teams like to play a half-court game on the offensive end, and American is one of the slowest-paced teams in the country. Mike Brennan's squad will have to get hot from the perimeter to get a win.
No. 8 Colorado vs. No. 9 Pittsburgh (1:40 p.m., TBS): This one will be interesting. Colorado is not loved by Vegas, and the Buffaloes are obviously not the same team since Spencer Dinwiddie got hurt. Meanwhile, Pittsburgh was on the bubble until the final week. Lamar Patterson could be a tough matchup.
No. 5 Cincinnati vs. No. 12 Harvard (2:10 p.m., TNT): A popular upset pick, but Harvard could have some difficulties with Cincinnati on the glass. The Bearcats get a lot done with second-chance points, and Harvard could struggle. The Crimson should be able to guard Cincinnati, but Sean Kilpatrick can be unstoppable.
No. 3 Syracuse vs. No. 14 Western Michigan (2:40 p.m., CBS): Syracuse isn't playing well lately, losing five of its last seven -- but Western Michigan should be a decent matchup for the Orange. Western Michigan likes to draw contact and get to the free-throw line, which it will find hard to do against the Syracuse zone.
No. 7 Oregon vs. No. 10 BYU (3:10 p.m., truTV): This two teams played earlier this season, combining for 196 points. Expect another high-scoring, up-tempo battle. The biggest question revolves around BYU's Kyle Collinsworth, who was injured in the WCC championship game. How will the Cougars perform without him?
No. 1 Florida vs. No. 16 Albany (4:10 p.m., TBS): Albany already has an NCAA Tournament win, beating Mount St. Mary's in the First Four on Tuesday. The Great Danes' magic March run likely comes to an end against Florida, though. Fun fact: both head coaches (Will Brown, Billy Donovan) are from Long Island.
No. 4 Michigan State vs. No. 13 Delaware (4:40 p.m., TNT): This is just a bad matchup for Delaware. The Fightin' Blue Hens will have trouble getting good looks out of their ball-screen and isolation offense, and Michigan State should be able to take advantage of their deficiencies down low. Could this be the start to a deep Spartans' run?
No. 7 Connecticut vs. No. 10 Saint Joseph's (6:55 p.m., TBS): The winner of this could push Villanova to the brink in the Round of 32. The biggest individual battle in this one will Shabazz Napier against Langston Galloway. Both players are capable of getting hot from 3, and both have shown the ability to hit big shots.
No. 2 Michigan vs. No. 15 Wofford (7:10 p.m., CBS): I wouldn't be surprised to see this one close for a hal. Wofford defends the perimeter very well, where Michigan usually thrives with its 3-point shooting. Unfortunately, Wofford can go through long droughts on the offensive end -- something that it can't afford against the Wolverines.
No. 5 Saint Louis vs. No. 12 North Carolina State (7:20 p.m., TNT): A lot of people are on the NC State bandwagon after T.J. Warren led the Wolfpack to a First Four win over Xavier. But Saint Louis is one of the best defensive teams in the country, and could slow down Warren. Can the Billikens score enough, though?
No. 5 Oklahoma vs. No. 12 North Dakota State (7:27 p.m., truTV): Another popular upset pick, as North Dakota State's duo of Taylor Braun and Marshall Bjorklund could be on the verge of breaking out on a national scale. The key will be Oklahoma knocking down its open 3s and getting out in transition -- NDSU has to get back.
No. 2 Villanova vs. No. 15 Milwaukee (9:25 p.m., TBS): Milwaukee made a great run through the Horizon League tournament, but that momentum likely stops here. The last time we saw Villanova, it lost to Seton Hall in the Big East quarterfinals. This one should help the Wildcats get their confidence back.
No. 7 Texas vs. No. 10 Arizona State (9:40 p.m., CBS): Neither team was playing its best basketball toward the end of the season, as Texas lost five of its final games, while Arizona State dropping five of its last seven games entering the tournament. Texas will have to contain Jahii Carson, but the Sun Devils need help from their secondary options.
No. 4 Louisville vs. No. 13 Manhattan (9:50 p.m., TNT): This one should be fun. Both teams play the same pressing style, as Manhattan head coach Steve Masiello is Rick Pitino's protege. The issues for the Jaspers is that the Cardinals do mostly the same stuff -- just better. Manhattan won't be rattled, though, and could stay in the game.
No. 4 San Diego State vs. No. 13 New Mexico State (9:57 p.m., truTV): New Mexico State has an advantage on most teams because of its size, with two 6-foot-10 guys and a 7-foot-5 guy carrying the load inside. But San Diego State should be up to the task on the interior, and NMSU has no one to guard Xavier Thames.
Coach Shaka Smart doesn't expect him to be out for an extended period of time

Jackson isn't showing the Sun Devils much respect after beating KU

One AP voter must not know ASU is undefeated with wins over the Jayhawks and Musketeers
Duke and Kansas take a hit in the coaches poll

The top 10 gets a major shakeup after a wild week of upsets

The Sun Devils make a big jump and the Jayhawks slide after ASU pulls the big upset