Viewer's Guide: The field soon dwindles to 16
Sunday has plenty of intriguing matchups, none more so than Wichita State's battle with Kentucky.
• 4 min read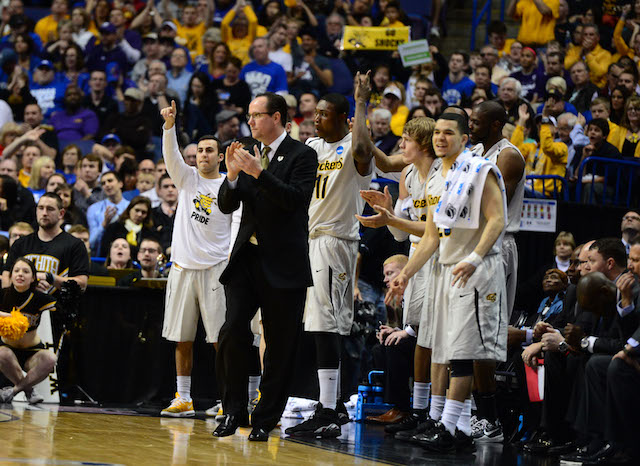 More: NCAA Tourney News | Bracket Hub | Expert Brackets
Saturday's action didn't live up to the excitment that the Round of 64 provided for the first half of the day, but it wasn't a complete loss (like any day of the NCAA tournament ever is?). Dayton upset Syracuse, Oregon vs. Wisconsin was an offensive explosion, Xavier Thames put on a show, Harvard pushed Michigan State to the limit, while Villanova and Connecticut battled. Sunday features one of the most anticipated Round of 32 games ever, plus several other intriguing matchups. One more day to just dive in at noon and sit on the couch all day. 
Note: All games are Eastern. 
No. 2 Kansas vs. No. 10 Stanford (12:15 p.m., CBS): I thought New Mexico would have given Kansas a heckuva of a game in the Round of 32, but Stanford got past the Lobos -- and the Cardinal could hang with a Joel Embiid-less Kansas team, too. Chasson Randle will be difficult for Naadir Tharpe to contain, and Stanford has plenty of size inside. Dwight Powell will also be a tough matchup for the Jayhawks. The Cardinal will have to keep Kansas out of transition, though -- and do they have an answer for Andrew Wiggins?
No. 1 Wichita State vs. No. 8 Kentucky (2:45 p.m., CBS): This is the one that everyone has their eyes on. Wichita State is 35-0 and hoping to prove that it's unbeaten regular season wasn't a fluke. Kentucky was the preseason No. 1 team in the country and looking to avoid a disappointing finish to the season. The Shockers' ability to defend on the perimeter and create matchup problems with Cleanthony Early will cause issues for Kentucky. Andrew Harrison's health is also a big question. Both teams have plenty on the line on Sunday.
No. 3 Iowa State vs. No. 6 North Carolina (5:15 p.m., CBS): Iowa State will be without Georges Niang, their matchup nightmare of a center who will miss the rest of the NCAA Tournament with a broken bone in his foot. The way he stretches defense and provides spacing offensively is a huge loss for the Cyclones, so it will be interesting to see how they operate without him. Moreover, North Carolina's size could cause problems for Iowa State down low. DeAndre Kane and Melvin Ejim have to come up big.
No. 11 Tennessee vs. No. 14 Mercer (6:10 p.m., TNT): A double-digit seed is guaranteed to reach the Sweet 16. Tennessee steamrolled Massachusetts in the Round of 64 after beating Iowa in the First Four, while Mercer pulled off the biggest upset so far, taking down No. 3 seed Duke. The Bears were able to constantly attack Duke inside because the Blue Devils were so vulnerable at the rim; Tennessee's duo of Jarnell Stokes and Jeronne Maymon won't allow easy shots. Mercer will have to get hot from the perimeter to have a chance.
No. 4 UCLA vs. No. 13 Stephen F. Austin (7:10 p.m., TBS): Can Stephen F. Austin keep the momentum going and get to the Sweet 16? The Lumberjacks came back in the final minute of regulation and then beat VCU in overtime -- with the help of an improbable four-point play with 3.6 seconds left in regulation. UCLA is a different animal than VCU, though, as the Bruins can really score the basketball -- but will also look to push the tempo offensively. Stephen F. Austin doesn't have an answer for Kyle Anderson.
No. 3 Creighton vs. No. 6 Baylor (7:40 p.m., truTV): One of the more evenly-matched games in the Round of 32, this should be an interesting game. Creighton is the nation's most efficient offensive team, and the Bluejays will be going against Baylor's zone defense. The Bears often don't guard 3-pointers consistently, which could be fatal against Creighton's crew of shooters -- led by none other than Doug McDermott. At the other end, Creighton has to keep Baylor's big men off the offensive glass, and slow down Kenny Chery.
No. 1 Virginia vs. No. 8 Memphis (8:40 p.m., TNT): A battle of tempos and styles. Virginia's slow tempo, pack-line defense, and grind-it-out philosophy will go up against Memphis' transition and ball-screen-based offense. The Tigers will have to knock down perimeter shots to beat the Cavaliers, though. Virginia packs it in and doesn't allow opponents to drive the gaps off the bounce. Can Memphis make 3-pointers? Virginia didn't look impressive against Coastal Carolina, but the Cavaliers have underrated weapons offensively.
No. 1 Arizona vs. No. 8 Gonzaga (9:40 p.m., TBS): Two of the West coast's best programs go at it. Arizona only beat Weber State by nine in the Round of 64, but the Wildcats are still a Final Four favorite. Meanwhile, Gonzaga prevented a potential Arizona-Oklahoma State Round of 32 game by knocking off the Cowboys. There are a few interesting individual battles here. Sam Dower could find life difficult against Arizona's big men, and Kevin Pangos needs to repeat his slump-breaking 26-point performance from Friday. The Zags also have to keep Arizona off the offensive glass.
Neither the Bearcats nor the Bruins have a top-60 KenPom win, but that will change Saturda...

Northern Colorado will be on probation through 2020 due to academic and recruiting violati...

You might not see a projected NCAA Tournament bracket quite like this one anytime soon
The Wildcats, once written off after a three game skid, appear poised to enter Pac-12 play...

The Ducks are riding a three game winning streak yet are slight underdogs against the Bulldogs...

The Hurricanes are one of only a handful of unbeaten teams left in college hoops