Viewer's Guide: Things heat up in major conferences
Teams in play for No. 1 seeds, several bubble games, and some quality NCAA Tournament-caliber matchups too.
• 3 min read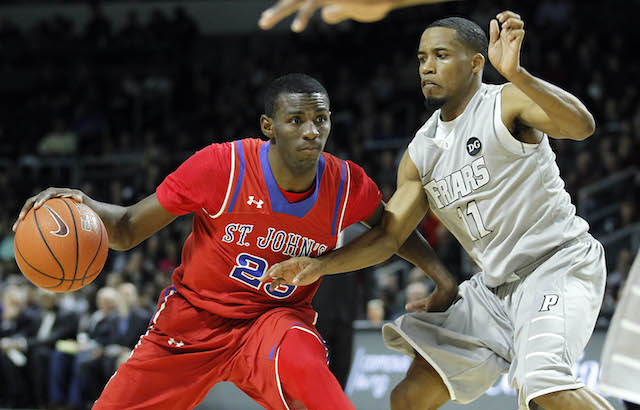 Latest in hoops: Top 25 (and one) | Bracketology | Bubble Watch
Thursday is when the major conference tournaments really get going. We're entering the quarterfinals in the Big 12 and Pac-12, which means we're getting eight quality matchups – plus quarterfinals in the AAC mean a top-25 showdown in Memphis. Plus, plenty of bubble games.
Note: All times are Eastern, and the rankings are according to the AP Poll.
Best games:
Kansas State vs. No. 16 Iowa State (12:30 p.m., ESPN2): Iowa State is still in line for a top-three seed in the NCAA Tournament – while Kansas State wants to wear home jerseys in the Round of 64.
Oklahoma State vs. No. 10 Kansas (3 p.m., ESPN2): The Cowboys are likely in the field, but they can really make a move, seeding-wise, with another win over Kansas. How will the Jayhawks look without Joel Embiid?
Baylor vs. No. 17 Oklahoma (7 p.m., ESPN3): The Bears moved off the bubble and into the field with wins seven of their last eight games, while Oklahoma is trying to draw attention to its impressive profile.
No. 19 Memphis vs. No. 21 Connecticut (9 p.m., ESPNU): This should be a terrific guard battle between Shabazz Napier and Joe Jackson, as well as their crew of complementary options. Are the Tigers readying a run at home?
Oregon vs. UCLA (9 p.m., Pac-12 Network): Both teams are comfortably in the field of 68, but going in opposite directions. Oregon has won eight in a row, but UCLA has lost three of five and got crushed at Washington State.
Bubble games:
Florida State vs. Maryland (12 p.m., ESPN): The Seminoles likely need to win their conference tournament to have a shot, but they need to keep winning either way.
Texas A&M vs. Missouri (1 p.m., ESPN3): The Tigers' blowout loss to Tennessee could have sealed their fate, but a run to the title game could save it.
Wake Forest vs. Pittsburgh (2 p.m., ESPN): The Panthers saved their season with a season-ending win over Clemson, but they need to avoid a loss to Wake.
St. John's vs. Providence (2:30 p.m., FOX Sports 1): The bubble game of the day. Both teams absolutely need a win to keep their hopes alive – and maybe one more.
Fordham vs. Dayton (2:30 p.m., NBC Sports Network): The Flyers' collection of quality wins leaves them in good shape, but they can't lose to Fordham.
Utah vs. No. 4 Arizona (3 p.m., Pac-12 Network): The Utes probably need to win the conference tournament, but maybe we can talk if they beat Arizona.
South Carolina vs. Arkansas (3:25 p.m., ESPN3): A season-ending blowout at the hands of Alabama leaves the Razorbacks right on the cutline.
Colorado vs. California (5:30 p.m., Pac-12 Network): Colorado left itself in good shape with a win on Wednesday, while California desperately needs a victory.
Penn State vs. Minnesota (6:30 p.m., ESPN2): The Golden Gophers beat Penn State in the season finale, and now need to do it again to stay alive.
Marquette vs. Xavier (9:30 p.m., FOX Sports 1): The Musketeers probably need one win to move off the "last four in" line in most fields. Marquette won't be easy.
Stanford vs. Arizona State (11:30 p.m., FOX Sports 1): Stanford avoided a bad loss against Washington State, but both teams could solidify things with a win.
Best of the rest:
AAC: SMU doesn't want to suffer a bad loss to Houston (1 p.m., ESPNU); No. 5 Louisville has a favored draw to get to the title game (3 p.m., ESPNU); Cincinnati seemed disappointed by conference awards (7 p.m., ESPNU).
ACC: Can T.J. Warren continue his assault on the ACC record books? (7 p.m., ESPN).
Atlantic 10: Massachusetts was taken to the wire twice by Rhode Island during the season (9 p.m., NBC Sports Network).
Big East: Villanova needs to keep winning to get a No. 1 seed (12 p.m., FOX Sports 1); Creighton received a favorable quarterfinal draw (7 p.m., FOX Sports 1).
Big Ten: Ohio State will look to build off its win over Michigan State (2:25 p.m., Big Ten Network); Iowa has to shore up defensively and get some momentum (8:30 p.m., ESPN).
Big 12: West Virginia is considered a potential bid stealer – Texas has to beware (9:30 p.m., ESPN3).
Conference-USA: Southern Miss might have the best at-large profile, but it has to play at UTEP (8 p.m.); four quarterfinal matchups.
Mountain West: San Diego State is hoping to move as high as a No. 2 seed (3 p.m.); New Mexico faces Fresno State (9 p.m.).
SEC: LSU can make a run with its talent, but it starts vs. Alabama (7 p.m., ESPN3).
Others: Big West (quarterfinals), Big Sky (first round), MAC (quarterfinals), MEAC (quarterfinals), Southland (quarterfinals), Sun Belt (first round); SWAC (quarterfinals), WAC (quarterfinals)
The top 10 gets a major shakeup after a wild week of upsets

The Sun Devils make a big jump and the Jayhawks slide after ASU pulls the big upset

Gary Parrish and Matt Norlander spend some time on the SEC, too
Having shocked Kansas at Allen Fieldhouse, Duke legend Bobby Hurley is coaching the Sun Devils...

Jay Wright's undefeated Wildcats are now No. 1 in the Top 25 (and one)

Coach K's Blue Devils are the fourth preseason top-10 team to lose to a sub-75 KenPom team