Viewer's Guide: Two Big Ten showdowns lead the way
There aren't too many truly marquee games this weekend, but there are a ton of bubble games as well as a couple of intriguing battles at the top of the Big Ten standings.
• 8 min read
You're probably noticing something different about the Weekend Viewer's Guide. There's an easy explanation. Because everyone loves delicious hoagies, the Friday version of our Viewer's Guide will now mirror the "Hoagie Scale" used for Jason La Canfora's NFL Game Rankings. Nothing much will change with the content; only the categories separating the games. Now I'm hungry.
The first full weekend after the Super Bowl means there is only about a month remaining until Championship Week -- and it means that Selection Sunday is just around the corner. Not surprisingly, there are plenty of intriguing games this weekend involving bubble teams. Moreoever, there are two high-level showdowns in the Big Ten and a non-conference game between two teams looking to solidify their resumes. 

No. 10 Michigan at No. 17 Iowa (Saturday, 2 p.m., ESPN)
The Big Ten has gone through cycles this season. Iowa was the flavor of the week back in mid-January after winning at Ohio State and blowing out Minnesota – but the Hawkeyes have lost three of five, including a home defeat to Ohio State on Tuesday. Michigan had all the buzz after starting 8-0 in the league – including a road win at Michigan State – but a loss at Indiana on Super Bowl Sunday took some of the shine off. Can Michigan keep pace with Michigan State? Can Iowa get back in the title hunt? The Wolverines and Hawkeyes have two of the most efficient offenses in the country, although they do it in different ways. Michigan will rely on Nik Stauskas – only averaging 7.5 points in his last two games – and the 3-point shot, while Iowa will bring waves of players who can score at the rim or draw contact.
No. 9 Michigan State at Wisconsin (Sunday, 1 p.m., CBS)
Will Michigan State ever be healthy? The Spartans got big man Adreian Payne back from a foot injury on Thursday, but point guard Keith Appling missed the win over Penn State with a wrist injury. And Branden Dawson is still out until March. Michigan State had lost two of three before beating Penn State on Thursday, but the Spartans weren't the only Big Ten team not playing their best. Wisconsin has lost five of six before beating Illinois on Tuesday. Sam Dekker broke out of a shooting slump against the Fighting Illini, making four 3-pointers and scoring 16 points. He needs to continue playing well, and the Badgers have to make shots from the arc. Wisconsin has been susceptible to dribble penetration in the half-court, and Gary Harris and Appling (if available) are capable of getting to the rim off ball-screens and isos.  
No. 23 Gonzaga at No. 24 Memphis (Saturday, 9 p.m., ESPN)
After playing each other six seasons in a row, the two teams haven't played since 2011. In the past, it was a non-conference game between two heavy league favorites that needed to prove they could beat quality opponents. It's not the same anymore. Memphis plays better competition on a nightly basis, but Gonzaga is still relatively in the same situation. The Bulldogs don't have a great non-league resume this season, with the best wins over West Virginia and New Mexico State. A road win in Memphis would be enormous. The Tigers have won five of their last six, including Tuesday's 32-point drubbing of Rutgers. Gonzaga has the size to bang down low and defend inside, so Memphis might need to knock down some jumpers. Kevin Pangos is just 3-for-12 from 3 in his last three games, averaging 8.7 points. He needs a big game.  

No. 7 Cincinnati at SMU (Saturday, 7:30 p.m., ESPNU)
If you like great defense and physical interior play, this is the game for you. These are two of the best defenses in the country, with both teams ranking among the top-eight nationally in 2-point percentage defense. Cincinnati has won 15 in a row and is 11-0 in the AAC, while SMU has run off seven wins in eight games. Can the Mustangs get buckets inside against Cincinnati's length and size? Markus Kennedy has scored in double-figures in 14 straight games, but SMU also allowed 13 offensive rebounds in the first meeting. As usual, the key for Cincinnati will be Sean Kilpatrick. He's playing as well as any guard in the country, averaging 25.3 points in his last four games.
No. 15 Texas at Kansas State (Saturday, 1:30 p.m., ESPN3)
In early January, Texas was 0-2 in the Big 12 and Rick Barnes was squarely on the hot seat. Four weeks later, the Longhorns are one of the hottest teams in the country, winning seven in a row and sitting just one game out of first place in the Big 12. Moreover, Barnes is pretty comfortable now. Another road victory would be big for the Longhorns' resume. Kansas State has fallen down the bracket after losing three of four, but now the Wildcats return home to face Texas and Kansas. Bruce Weber's crew needs to keep Texas off the offensive glass and free-throw line, but also needs to knock down perimeter shots.
Oregon at Arizona State (Saturday, 5 p.m., FOX Sports 1)
Oregon continues to suffer close losses that could end up really costing them come March. The Ducks' last five losses are by a combined 18 points, including Thursday's two-point defeat at Arizona. On the other side, Arizona State has started rolling since its 2-3 Pac-12 start, winning four of five. The Sun Devils have two straight home games: Oregon and Arizona. Expect plenty of transition basketball on Saturday with Oregon's guards and Jahii Carson, but Oregon needs to slow down Jermaine Marshall on the wing. The Ducks also need a good game from Dominic Artis; he hasn't been the 2012-13 Artis all season, but had 10 points and four assists on Thursday.

Providence at Xavier (Saturday, 3 p.m., FOX Sports 1)
Two teams that are slipping in the Big East. Providence was looking solid after a five-game winning streak in January, but the Friars have lost two of three. Xavier is in the same boat, dropping four of six after winning eight straight. The battle between Semaj Christon and Bryce Cotton should be terrific.
Missouri at Ole Miss (Saturday, 5 p.m., ESPN3)
Two bubble teams in the SEC. Missouri had two chances at marquee wins in the past week, and the Tigers lost to Kentucky and Florida. Meanwhile, Ole Miss has just one good win – and that was over LSU a month ago. The Rebels need this one for the resume. This one is going to come down to the peirmeter groups; both teams are talented in the backcourt.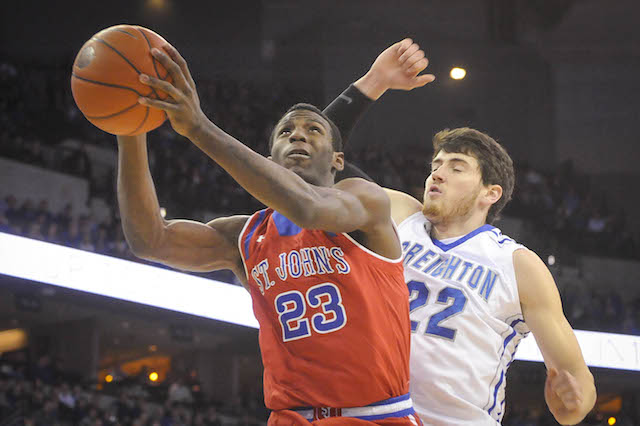 No. 12 Creighton at St. John's (Sunday, 7 p.m., FOX Sports 1)
A rematch of last week's classic game that ended on a Doug McDermott 3-pointer in the final seconds. Creighton hasn't played a game since then, although the Bluejays do play at home on Friday and then have to travel to New York. St. John's needs to play aggressively on the defensive end, but also have to be disciplined on the perimeter.

West Virginia at No. 8 Kansas (Saturday, 4 p.m., ESPN)
Winners of four of its last five, West Virginia is suddenly a factor in the Big 12 standings. Kansas looks to cement its first-place hold on the league. 
Baylor at No. 21 Oklahoma (Saturday, 7 p.m., ESPN2)
At ninth place in the Big 12, Baylor has a ton of work to do. It starts with a road trip to Oklahoma, who has lost two straight games. 
VCU at Saint Joseph's (Saturday, 8 p.m., CBS Sports Network)
Saint Joseph's missed a big chance for its at-large resume by losing to Saint Louis during the week, but a win here could get them back in the hunt. VCU has won six straight.
Indiana at Minnesota (Saturday, 8:15 p.m., Big Ten Network)
Two teams that really need a win. Minnesota has dropped three in a row after a solid stretch, while Indiana needs to prove it can win on the road.
No. 4 Wichita State at Northern Iowa (Saturday, 9 p.m., ESPN2)
This is the toughest test remaining for Wichita State, who went into Indiana State and got a win on Wednesday. Northern Iowa has won 10 of 11 at home. 
Other games to watch:
FRIDAY
Seton Hall at No. 6 Villanova (7 p.m., FOX Sports 1)
DePaul at No. 12 Creighton (9 p.m., FOX Sports 1)
SATURDAY
Alabama at No. 3 Florida (12 p.m., ESPN)
No. 20 Virginia at Georgia Tech (12 p.m., ESPN3)
Virginia Tech at No. 25 Pittsburgh (12 p.m., ESPN3)
North Carolina at Notre Dame (12 p.m., ESPN3)
Butler at Georgetown (1 p.m., CBS)
No. 18 Kentucky at Mississippi State (1:30 p.m., ESPN3)
Robert Morris at St. Francis (N.Y.) (2 p.m.)
Florida State at Maryland (3 p.m., ESPN2)
South Carolina at Tennessee (3 p.m., ESPNU)
TCU at No. 16 Iowa State (4 p.m., ESPN3)
Dayton at St. Bonaventure (4 p.m.)
Fordham at George Washington (4 p.m.)
Arkansas at Vanderbilt (4 p.m., ESPN3)
Auburn at LSU (4 p.m., ESPN3)
Norfolk State at Morgan State (4 p.m.)
Saint Mary's at Pepperdine (4 p.m., ROOT)
No. 13 Saint Louis at La Salle (5 p.m., ESPN2)
IPFW at North Dakota State (5 p.m.)
No. 11 Duke at Boston College (6 p.m., ESPN)
Purdue at Ohio State (6 p.m., Big Ten Network)
McNeese State at Stephen F. Austin (7 p.m.)
Washington State at Utah (8 p.m., Pac-12 Network)
Northern Colorado at Weber State (9 p.m.)
San Francisco at BYU (9 p.m.)
No. 19 Oklahoma State at Texas Tech (9:30 p.m., ESPNU)
Nevada at No. 5 San Diego State (10 p.m., ESPN3)
UCLA at USC (10:30 p.m., Pac-12 Network)
SUNDAY
Iona at Canisius (2 p.m.)
Massachusetts at Rhode Island (4 p.m., CBS Sports Network)
Clemson at No. 1 Syracuse (6 p.m., ESPNU)
No. 22 Connecticut at UCF (6 p.m., ESPN2)
Oregon State at No. 2 Arizona (7 p.m., Pac-12 Network)
Washington at Colorado (8 p.m., ESPNU)
'If you want it, you're world champs,' A-Rod told the Spartans, which isn't exactly correc...

The players have the right to appeal the decision within three business days

Young is coming off his worst game as a Sooner and will try and bounce back vs. the Cowboy...
The Wildcats face a surging Stanford team that has risen as a potential Pac-12 contender

The reeling Mountaineers look to get back on track against Texas at home

The first-ranked Wildcats travel to UConn to face a middling Huskies team that is 3-3 in league...