Viewer's Guide: UCLA-Cal leads three important Pac-12 games
The Pac-12 pecking order will undergo some changes on Wednesday, while both Syracuse and Wichita State are in action.
• 3 min read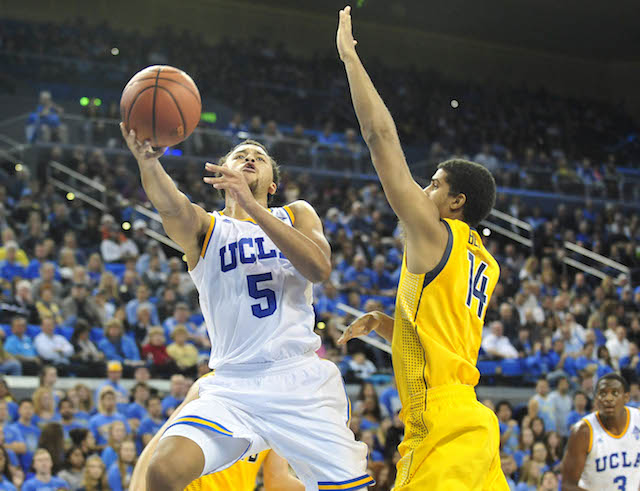 Tuesday didn't have too many headliner games, but it turned out to be a very solid day of hoops. Villanova defeated Providence in double-overtime, while Andrew Wiggins made a layup in the final seconds to keep Kansas from losing to Texas Tech. Wednesday is highlighted by a trio of Pac-12 matchups.
Note: All times are Eastern, and the rankings are according to the AP Poll.
Best game: No. 23 UCLA at California (10:30 p.m., Pac-12 Network). UCLA has suddenly moved within one game of Arizona at the top of the standings, after winning six of its past seven games. However, four of the Bruins' final six games are on the road, starting on Wednesday with California. The Golden Bears have bounced back from a three-game losing streak with wins in three of their last four games. The battle on the perimeter will be entertaining, with Kyle Anderson and Jordan Adams leading the way on one side, and Justin Cobbs and Tyrone Wallace the headliners for California. The key for Cal will be its ability to defend the paint, and keep UCLA out of transition.
Second-best game: Arizona State at Colorado (11 p.m., ESPNU). If Spencer Dinwiddie were healthy, this would be a battle between two of the best point guards in the country. As it stands, the Buffaloes are starting to get used to playing without Dinwiddie, winning four of their last five after going 1-4 in the previous five games. Xavier Johnson has stepped up lately, while Josh Scott has scored at least 17 points in four of his last five games. Arizona State has put itself in good position for the NCAA tournament, winning six of its last seven games – including Friday's double-overtime win against Arizona. Colorado needs this win more than the Sun Devils, but will the Buffs be able to stop Jahii Carson and Jermaine Marshall?
Another one to watch: No. 11 Creighton at Marquette (8 p.m., FOX Sports 1). Is Marquette on the bubble? The Golden Eagles are starting to play well at the right time, winning three in a row to move to 7-5 in the Big East and 15-10 overall. They have four top-60 wins and just one bad loss. There is a lot of work to be done, and it could start on Wednesday against Creighton. The Bluejays are coming off another blowout win over Villanova; is a letdown on its way? Marquette actually defended Creighton pretty well in the first meeting, but couldn't make anything from the perimeter. That obviously has to change.
Guaranteed win: Boston College at No. 1 Syracuse (7 p.m., ESPN2). Syracuse escaped twice last week, but the Orange won't have much difficulty getting past Boston College to move to 26-0. The Eagles actually played Syracuse fairly well in January, but they have defeated just one Division-I team since November. Syracuse won't be the second team. Kansas State will also cruise past TCU (9 p.m., ESPNU).
Potential upset: No. 4 Arizona at Utah (10 p.m., FOX Sports 1). Utah nearly handed Arizona its first loss back in late January, and the Wildcats have since lost twice – and also lost starting forward Brandon Ashley. Arizona simply isn't the same team without him, and Utah has the pieces to create issues for the Wildcats with Delon Wright and Jordan Loveridge. Also, look for Rhode Island to pose a major problem for Saint Joseph's (7 p.m.).
Three things to keep an eye on:
No. 3 Wichita State hopes to move to 28-0 when it visits Loyola-Chicago (8 p.m., ESPN3).
First-place in the Patriot League is on the line as American takes a trip to Boston University (7 p.m.)
UNLV has won six of its last seven games, and the Runnin' Rebels will pose a tough threat for New Mexico (11:05 p.m., ESPN2).
Other games to watch: 
Auburn at No. 2 Florida (7 p.m., ESPN3)
No. 7 Cincinnati at UCF (7 p.m., ESPNU)
No. 10 Saint Louis at George Mason (7 p.m., NBC Sports Network)
Northwestern at No. 24 Ohio State (7 p.m., Big Ten Network)
DePaul at Xavier (7 p.m., CBS Sports Network)
Akron at Buffalo (7 p.m., ESPN3)
Western Michigan at Ohio (7 p.m.)
Evansville at Indiana State (7:05 p.m., ESPN3)
Houston at SMU (8 p.m., ESPNEWS)
Mississippi State at LSU (8 p.m., ESPN3)
Vanderbilt at Missouri (8 p.m., ESPN3)
La Salle at Dayton (9 p.m., CBS Sports Network)
South Carolina at Arkansas (9 p.m., ESPN3)
Washington at Oregon (9 p.m., ESPN2)
Illinois at Minnesota (9 p.m., Big Ten Network)
The selection committee will again reveal what it is thinking ahead of Selection Sunday

Teams not in Power 7 leagues who may earn a bid if they don't win their conference tourney...

The nation's No. 3 player will commit Saturday and here's his impact on each of his finali...
Gary Parrish and Matt Norlander also preview the weekend and Zion Williamson's announcemen...

The Sun Devils started 12-0, but since then are 2-4 after Wednesday's loss to Stanford

Andrew Jones is Texas' second leading scorer