Wakeup Call: Louisville introduces new uniforms
Borzello is steering the ship for only one more day, but feel free to send him any interesting links at jborzello@gmail.com in the future.
• 2 min read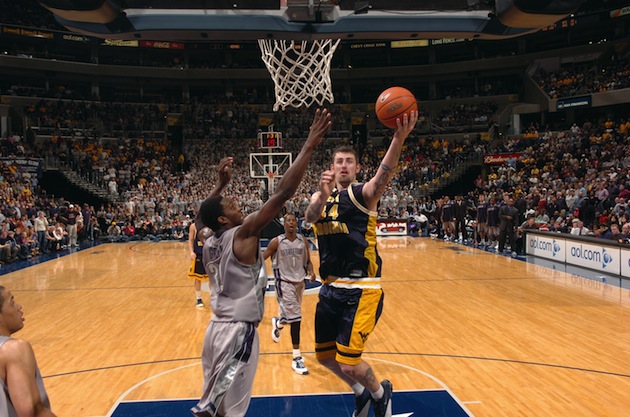 It felt cool throwing up a Chris Paul Wake Forest photo on Thursday, so here's Kevin Pittsnogle. No reason. (Getty Images)
Since I dominated my Wakeup Call duties on Thursday morning, I'm taking the reins one more time. Norlander will likely regain the honors on Monday morning, since he doesn't trust me with this. Dig in.
Around the World
If you watched the 30 Rock finale, you saw a new Ben & Jerry's flavor. || Worst household chores? Drew Magary ranks them. || These aren't photographs. They're pencil drawings. Wow. || Someone's got questions about the new Geico talking pig commercial. || Got a referee fighting a player in Russian hockey. || Why does China keep hacking The New York Times?
Layup Line
Moving Pictures and Music
»» A third grade class lip-syncing and dancing through a song about Indiana basketball? Even if you're not a Hoosiers fan, it's pretty cool.
I wasn't sure I was going to get a chance to bring some more house music to the Wakeup Call. This was a close runner-up on Thursday -- and I bet you won't get it out of your head.
________________________________________________________________________
For more college basketball news, rumors and analysis, follow @EyeOnCBB on Twitter, subscribe to our RSS Feed and subscribe to our College Basketball Newsletter. You can follow Jeff Borzello on Twitter here: @jeffborzello
Marvin Bagley, if eligible at Duke this season, projects as the country's top power forwar...

The Big Ten Tournament is a week earlier than usual, so the regular-season schedule may look...

Arizona, Grand Canyon and Tulane are also in Barcelona and have reported to be accounted for...
The Kansas forward is no longer accused of walking out on an $88 tab

Cavaliers basketball coach tapes statement on behalf of his university and his city

Gary Parrish and Matt Norlander discuss all things Marvin Bagley and his immediate future