Wayman Tisdale Watch: Chris Perry Frosh of Week, Parker at No. 1
South Florida's Chris Perry is this week's Freshman of the Week, while Duke's Jabari Parker stays at No. 1 for the season.
• 3 min read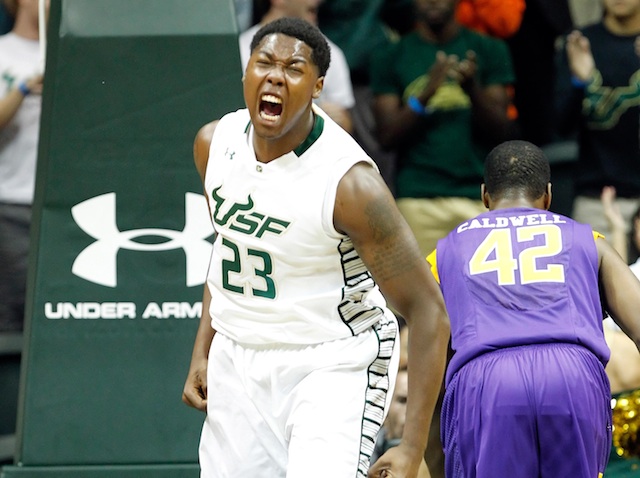 You might notice a bit of a change in our Freshman Watch column this season. We have teamed up with the Wayman Tisdale Award, and so our Freshman of the Week is now the Wayman Tisdale National Freshman of the Week. And our Freshman of the Year rankings are now the Wayman Tisdale Award Watch. What is the Wayman Tisdale Award? It's selected annually by the United States Basketball Writers Association and given to the best freshman in the country. The award will be announced in March, and handed out in April in Oklahoma City.
In a season thus far dominated by freshmen, most of the focus has been on the elite prospects, the future lottery picks and former McDonald's All-Americans. Chris Perry was none of those things. In fact, he wasn't even a top-150 recruit in most recruiting rankings.
But that doesn't take into account what the South Florida big man did this past week, and what he did was good enough to garner Wayman Tisdale National Freshman of the Week honors.
Perry, a 6-foot-8 Florida native, averaged 14.0 points, 12.5 rebounds and 1.5 blocks to help lead South Florida to a couple of two-point wins over George Mason and Alabama. He started with 14 points and 11 rebounds on 5-foor-7 shooting against George Mason, then followed that up with 14 points and 14 rebounds on 6-for-10 shooting against Alabama.
As the Bulls are turning it around after a two-game losing streak, Perry is coming into his own once again. He started the season with 13.5 points and 5.5 boards over his first two games, but his minutes took a significant dip during the rest of November. After playing 29 and 30 minutes in his two games last week, though, Perry is set to emerge as one of the better freshmen in the American Athletic Conference.
On the season, Perry is averaging 9.4 points and 6.1 rebounds, while shooting 62 percent from the field.
Other standout freshmen performances this past week included: Sean Obi, Rice (25 points, 19 rebounds vs. South Alabama); Daishon Knight, Illinois State (17.5 ppg, 6.5 rpg); Isaiah Taylor, Texas (14.5 ppg, 5.0 apg); Andrew Wiggins, Kansas (22 points vs. Colorado); Bobby Portis, Arkansas (14.5 ppg, 4.5 rpg); Kennedy Meeks, North Carolina (13.5 ppg, 7.5 rpg); Noah Vonleh, Indiana (15.0 ppg, 8.5 rpg); Julian Jacobs, USC (16 points, eight rebounds, five assists); and Jalen James, San Jose State (12 points, 13 rebounds, 10 assists); Dallas Moore, North Florida (27 points vs. Indiana).
Past winners:
Nov. 12: Julius Randle, Kentucky
Nov. 19: Jabari Parker, Duke
Nov. 26: Jabari Parker, Duke
Dec. 3: Tyler Ennis, Syracuse
Wayman Tisdale Award Watch
 Stats: 22.1 ppg, 7.8 rpg, 54.8 FG%, 46.7 3PT%
 Comment: Parker only had one game last week, a 10-point win over Michigan. It wasn't his best game, but Parker still managed to get 15 points and six rebounds. One thing to notice: over his last three games, Parker is 0-for-7 from 3-point range. Hitting that shot consistently makes him borderline unguardable.
---
 Stats: 17.9 ppg, 12.1 rpg, 52.6 FG%
 Comment: Randle ended his seven-game streak of double-doubles with back-to-back eight-rebound performances – although his season averages are still outstanding. The past couple of games, teams have used zone defenses with length at the back, and it's slowed down Randle. That might be the only way.
---
 Stats: 15.3 ppg, 5.5 rpg, 51.2 FG%
 Comment: Even though Kansas lost to Colorado on Saturday, we saw a version of Wiggins we haven't seen all that much this season. He finished with 22 points and five boards, but it was more than that: he was aggressive with the ball and showed a determination to get baskets late in the game. We need more of that from him.
---

 4. Noah Vonleh
 Stats: 13.3 ppg, 10.0 rpg, 52.2 FG%
 Comment: The only other freshman besides Randle averaging a double-double, Vonleh has terrific season averages – despite a zero-point, two-rebound effort against Connecticut a couple of weeks ago. He has six double-doubles on the season, and just needs to stay out of foul trouble in order to keep producing.
---

 5. Aaron Gordon
 Stats: 12.0 ppg, 9.0 rpg, 47.7 FG%
 Comment: It was a mixed bag for Gordon last week. He started with 19 points and eight rebounds against Texas Tech, but followed that up with a 2-for-10 game against UNLV, finishing with four points and eight boards. He won't put up the same numbers as the "big three," but he will certainly have his moments.
---
Next in line: Jordan Mickey, LSU; Tyler Ennis, Syracuse; Eric Mika, BYU; Zach LaVine, UCLA
Freshman leaders: Points: Jabari Parker, Duke (22.1 ppg); Rebounds: Julius Randle, Kentucky (12.1 rpg); Assists: Kareem Canty, Marshall (6.7 apg). 
The NCAA formally notified MSU of its investigation into Nassar on Tuesday

The Sooners' freshman, pilloried for his recent performances, showed a different side Tues...

Young is leading the NCAA in both scoring and assists per game
Our advanced computer model simulated Tuesday's UNLV vs. Fresno State game 10,000 times

Our advanced computer model simulated Tuesday's Kansas-Oklahoma game 10,000 times

Our advanced computer model simulated Tuesday's Virginia vs. Clemson game 10,000 times